What are the Best Online Games to Play With Friends?
Even though we can't see much of our friends these days due to Covid-19, it doesn't mean that we can't connect online. You may be looking for something to do to pass the time online with friends and have a little fun and we've got just the thing! After looking through a bunch of different game genres, we came up with this list of the best online games that you might enjoy playing with friends.
Last Updated: January 2021
Best Online Games to Play With Friends
We focused on the multiplayer side of games, so you'll see that each game has a short review to help you decide what to play. Most of the games we chose can be played by more than 2 players and up to well… an infinite number of players, if you count in MMORPGs!
You'll notice that some games are free to play, while others require payment or monthly subscriptions. We also made sure to include enough games that are available on various platforms, such as PS4, Xbox One, PC, Nintendo Switch, iOS, or Android. All you'll need to do is make sure you have a proper internet connection.
So… sit down, text your friends, and press play!
Shooters and Battle Royales
Borderlands 3
Available on: Xbox One, PS4, PC, Stadia
This latest looter-shooter in the franchise offers so much content, compared to its predecessors. Explore planers, try various classes, and when single-player mode feels a bit boring, bring a friend online to make missions more fun. The loot system in this game enables players to have their own drops, which will ensure that you and your friends won't be fighting over any loot!
Call of Duty: Warzone
Available on: Xbox One, PS4, PC
This free-to-play battle royale is set in the Modern Warfare universe. 150 players can join in a battle, so no matter how many friends you have, there's surely enough room for them in Call of Duty: Warzone. Team up in trios and fight enemy squads in this exciting first-person shooter.
Tom Clancy's The Division 2
Available on: Xbox One, PS4, PC, Stadia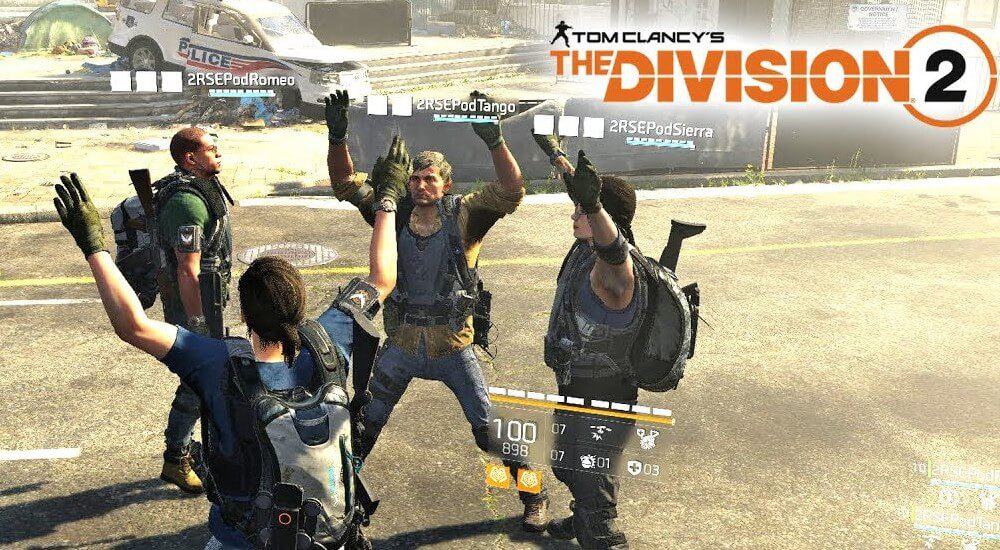 Tom Clancy's The Division 2 is now available at under $10 and for that price tag, it's a must have! The shared-world shooter will let you and your friends play in campaign missions and side missions. Fight other squads and fight by your friends' sides in this game where teamwork and cooperation are the keys to success.
Available on: Xbox One, PS4, Switch PC
Blizzard introduced their popular shooter Overwatch in 2015. We have to admit that playing with friends is a lot more fun than playing alone. You get to create the perfect team and communication is key to reveal your enemies' positions. Protect objectives and you'll be victorious. Overwatch must be purchased, but it's only $19,99. If one friend bought the legendary edition ($39,99), all the other friends get to play that extra content, although they do have the base edition.
Fortnite
Available on: Xbox One, PS4, Switch, PC, Android
Another free-to-play battle royale game is Fortnite. Already popular worldwide, Fortnite supports cross-play among all the platforms mentioned above. It's the perfect game to play with friends, and there are always new events and content to keep players online.
Other similar games: PUBG, Counter-Strike: Global Offensive, Apex Legends, Rainbow Six Siege.
Now let's head over to MOBA games and see what your options are.