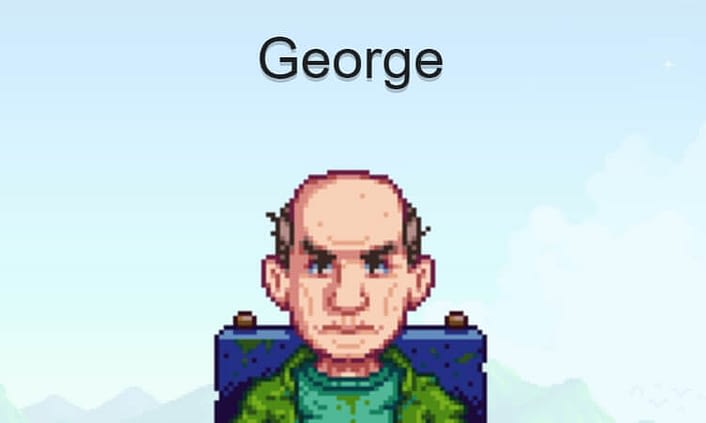 In our George Stardew Valley article, we'll tell you everything you need to warm the heart of this grumpy granddad!
Last Updated: October 2021
Stardew Valley has a colorful cast of characters, many of whom are quirky and lovable. Upon arriving in Pelican Town, your character's met with cheery greetings and heartfelt welcomes. But not everyone is happy with your arrival. George, Alex's elderly grandparent, doesn't seem to care much. Not only that but he's constantly grumpy and overall unpleasant. In fact, the very first thing he says to you is:
"Hmmph… It's irritating to have to meet all these new people, huh? Name's George, by the way. Now buzz off… Hmmph."
So it's no surprise that he's one of the most underrated characters in the game. Yes, you read that right — underrated. Because despite the negative first impression, George is one of those characters that softens up over time. And as you progress through his friendship route, you'll find that he starts acting more and more like a lovable grandpa. I highly recommend that you pursue his heart events, and our George Stardew Valley Guide should help you unlock them!!
GEORGE STARDEW VALLEY: CHARACTER DETAILS
George lives on 1 River Road with his wife, Evelyn, and his grandson, Alex. Because he can't walk, he's confined to a wheelchair and rarely leaves the house. Although on Saturdays, he goes to the small chapel in Pierre's house to pray. And on the 23rd of every month, he and Evelyn go to Harvey's clinic for a checkup. 
George might seem like a stereotypical grinch on the outside, but after playing through his friendship route, I've realized that there's more to him than meets the eye. Although George is prone to grumbling and complaining, he shows a softer (and sadder) side of him during his heart events. But that's for you to discover! For now, let's go through all the ways you can improve your friendship.
GEORGE STARDEW VALLEY: GIFT GUIDE
Loved Gifts
All Universal Loves

Golden Pumpkin

Magic Rock Candy

Pearl

Prismatic Shard

Rabbit's Foot

Fried Mushroom

Leek
Liked Gifts
Most Universal Likes

Artisan Goods (except Oil and Void Mayonnaise)

Cooked Meals (except Bread, Fried Egg, Seafoam Pudding, and Strange Bun)

Foraged Minerals (except Quartz)

Fruit (except Banana, Mango, and Salmonberry)

Gems

Life Elixir

Maple Syrup

Vegetables (except Hops, Tea Leaves, Wheat, Unmilled Rice)

Daffodil
Neutral Gifts
Most Universal Neutrals

Bread

Clam

Coral

Duck Feather

Fried Egg

Hops

Nautilus Shell

Rainbow Shell

Roe

Squid Ink

Sweet Gem Berry

Tea Leaves

Truffle

Wheat

Wool

Chanterelle

Common Mushroom

Egg (except Void Egg)

Foraged Fruit

Ginger

Hazelnut

Magma Cap

Milk (any size)

Morel

Purple Mushroom

Snow Yam

Winter Root
Disliked Gifts
Most Universal Dislikes

Artifacts

Bombs

Building Materials (except Clay)

Cave Carrot

Crafted Floors and Paths

Driftwood

Fences

Fertilizer

Field Snack

Fish (except Clam, Carp, and Snail)

Geode Minerals

Geodes

Jack-O-Lantern

Metal Ore and Bars (except Copper Ore, Iron Ore, Radioactive Bar, and Radioactive Ore)

Miscellaneous Mined Items

Oak Resin

Oil

Pine Tar

Qi Fruit

Rice

Seeds and Saplings

Solar Essence

Sprinklers

Tackle

Tea Set

Unmilled Rice

Vinegar

Void Egg

Void Essence

Wheat Flour

Flowers (except Poppy)

Salmonberry

Wild Horseradish
Hated Gifts
All Universal Hates

Bait

Fossils

Monster Loot (except Solar Essence and Void Essence)

Trash (except Driftwood)

Artifact Trove

Bug Steak

Carp

Copper Ore

Crab Pot

Dragon Tooth

Drum Block

Energy Tonic

Error Item

Explosive Ammo

Fairy Dust

Flute Block

Grass Starter

Green Algae

Golden Coconut

Hay

Iron Ore

Journal Scrap

Monster Musk

Muscle Remedy

Oil of Garlic

Poppy

Qi Seasoning

Radioactive Bar

Radioactive Ore

Rain Totem

Red Mushroom

Sap

Sea Urchin

Seafoam Pudding

Seaweed

Secret Note

Slime Egg (any color)

Snail

Strange Bun

Sugar

Torch

Treasure Chest

Void Mayonnaise

Warp Totem: Beach

Warp Totem: Desert

Warp Totem: Farm

Warp Totem: Island

Warp Totem: Mountains

White Algae

Clay

Dandelion

Holly

Quartz
 MOVIE DATE GUIDE
Movies 
Loved
Liked
Natural Wonders: Exploring Our Vibrant World

The Brave Little Sapling

The Miracle At Coldstar Ranch

Wumbus
Disliked
It Howls In The Rain

Journey Of The Prairie King: The Motion Picture

Mysterium
Snacks 
Loved
Black Licorice

Stardrop Sorbet
Liked
Fries

Nachos

Personal Pizza

Popcorn

Salmon Burger

Salted Peanuts

Sour Slimes

Truffle Popcorn
Disliked
Apple Slices

Cappuccino Mousse Cake 

Chocolate Popcorn 

Cotton Candy 

Hummus Snack Pack

Ice Cream Sandwich

Jasmine Tea

Jawbreaker

Joja Cola

JojaCorn

Kale Smoothie

Panzanella Salad

Rock Candy

Star Cookie
GEORGE STARDEW VALLEY: HEART EVENT GUIDE 
Zero Hearts
Location: Farmhouse
Time: Anytime
Requirements: None.
George will send you 35 Stone in the mail.
Three Hearts
Location: Farmhouse
Time: Anytime
Requirements: None.
George will send you a recipe for Fried Eel in the mail.
Six Hearts
Location: 1 River Road (George's house)
Time: Anytime
Requirements: George is present.
(Spoiler warning!) When the player enters the house, they'll see George trying to get something from the bookshelf. George can't reach the item, so the player grabs it for him. After thanking the player, George tells them why he's in a wheelchair.
When he was younger, George worked as a miner. And 30 years ago, he got into an accident while handling dynamite. The doctors told him that he'd never be able to walk again, so he started living his life in a wheelchair.
After telling his story, George thanks the player again for being nice to him, stating that it's easy to forget that people care about you when you get old.
Seven Hearts
Location: Farmhouse
Time: Anytime
Requirements: None.
George will send you a recipe for Spicy Eel in the mail.
CONCLUSION
Admittedly, George doesn't have as many heart events as other characters, especially when compared to his grandson, Alex. (Side note: We've also got an Alex Stardew Valley Guide. *wink wink*) But that doesn't make him any less interesting. His sixth heart event explains why he holds so much frustration, while also showing the kinder, more appreciative side of him. Plus, his daily dialogue lines change depending on how many hearts you have with him. He goes from that grumpy welcome greeting to heartwarming lines, like:
"You know, I really have been a grumpy old man to everyone. But now I feel like I'm softening up like an old ripe fruit. Hehe! Take care, [son/hun]." 
I swear, I smile every time he starts acting like a nice old granddad. So, if you want to try out George's friendship route, head over to the Stardew Valley official website. You can download the game from there and read up on other character details. Good luck!