Our Louie Animal Crossing guide features the buff Donkey Kong lookalike in all his jock glory!

Last Updated: September 2021
Animal Crossing is that game that countless players fall back on to relax and destress. Its cute graphics and simple gameplay mechanics make it easy to play for casual fans and hardcore gamers alike. And who can forget all the adorable villagers—from the beloved Isabelle to the somewhat intimidating Cherry. Getting to build an entire community with all these quirky characters just makes the Animal Crossing experience that much more enjoyable.
Speaking of characters, let's talk about who you're really here for: Louie. One of the oldest villagers in the franchise, Louie has been around since Doubutsu no Mori. And even though he disappeared from the titles after that, he made a comeback in Happy Home Designer and again in the newest title, New Horizons. If you're wondering whether you want to let Louie live in your lovely village, wonder no more! Our Louie Animal Crossing Guide is here to answer all your questions.
LOUIE ANIMAL CROSSING: CHARACTER DETAILS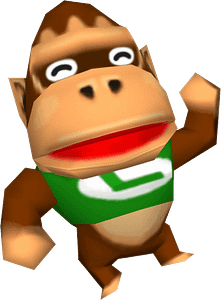 If you're familiar with Donkey Kong, then you can spot Louie from a mile away. Louie has a mix of brown fur and a light tan skin complexion. His eyes are round with black pupils and overshadowed by his forehead, which, admittedly, might look a little scary. But his large mouth always seems to be smiling, so that makes him look a little more friendly.
In earlier games, he wore the Lil Bro's shirt, which is green and once belonged to Luigi of the Maria brothers. But in New Horizons, he now sports a dark, greenish-blue Muscle Tee, which has a dumbbell logo. Now, if that doesn't scream "jock!" I don't know what does.
Now that you know how to spot Louie in a crowd, here are the rest of the specifics about his character:
Gender

Male

Personality

Jock

Species

Gorilla

Birthday and Zodiac Sign

May 26, Aries

Initial Phrase

hoo hoo ha (NL, NH)




odelay (HHD)




toots (PG)

Initial Clothes

Muscle Tee (NH)




Big Bro's Tee (HHD, NL)




Lil Bro's shirt (AF, AFe+)

Home Request

A 30th-anniversary party!

Skill

Doing handstands

Goal

Rugby player

Coffee

Blue Mountain,




No milk,




No sugar

Favorite Song

K.K. Fusion

Appearances

AF, AF+, AC, AFe+, HHD, NL, NH
LOUIE ANIMAL CROSSING: GETTING TO KNOW
LOUIE'S PERSONALITY
If you haven't noticed from his Muscle Tee, Louie loves sports, body building, and working out, in general. Unsurprisingly, he also has fitness as a hobby. When he isn't working on his muscles, Louie might talk to you. And though he's pretty easy to get along with, he might comment on the player's level of fitness. (Don't take it against him. He means well.) Other than that, his motivated and energetic nature is infectious. Although, he might get a bit too excited sometimes and border on hyperactive.
Even though Louie is easy to get along with for the player, other villagers may not take to kindly to the jock commenting about their fitness. Snooty villagers won't appreciate the physical critique, cranky villagers will be turned off by his energetic personality. But if you have a bunch of peppy, smug, and sisterly villagers, Louie will jive with them just fine.
LOUIE'S HOUSE
Louie's houses in the original Animal Crossing games and the latest title, New Horizons, are pretty different. His older houses seem to fit the Donkey Kong theme more than his actual personality. It's styled as a cabin, with plenty of drums, a wooden clock, and even a Totem Pole!
Though by the time New Leaf and New Horizons roll around, Louie's house goes through a complete makeover. In both titles, Louie's house is pretty much a gym. Both have exercise equipment, like weights and lockers. In New Horizons, Louie adds to his at-home gym collection, as he now has an exercise bike, a punching bag, and a pull-up bar stand. Apart from the gym equipment, Louie also has a shower booth, a water cooler, lockers, and even a changing room. Plus, like a true jock, he has a vanilla-flavored protein shaker!
LOUIE ANIMAL CROSSING: FRIENDSHIP TIPS
If you want to be friends with Louie, the basics apply: Talk to him every day, help with any of his tasks, and always remember his birthday!
If you want to give him clothes as a gift, opt for things that are gray or red and active or simple. Here are some examples:
Athletic Jacket

Cycling Shirt

Dress Shirt

Explorer's Hat

Flame Tee

Mario Hat

Plain Cap

Raincoat

Soccer Uniform Top

Sweatshirt
As for furniture, go for facility-type and living-room items. Louie would also appreciate outdoors furniture and even child-themed furniture. Here's some examples:
Ball

Exercise Bike

Floating Biotope Planter

Garbage Bin

Hay Bed

Protein Shaker Bottle

Round Space Heater

Upright Locker

Upright Vacuum

Wooden Waste Bin
CONCLUSION
Now that you know everything you need to know from our Louie Animal Crossing guide, then you can decide whether you want him in your village! Personally, I let him in because I like seeing him annoy my lazy villagers. But of course, that's just me!
If you don't have Animal Crossing: New Horizons downloaded yet, what are you waiting for? Head over to their official website to learn about the requirements. Then, boot up that Switch and start living an alternate life with plenty of animal friends! But if you wanna learn more about the game before you boot it up, that's cool too! Head on over to our Cherry Animal Crossing Guide to learn all about this gothic doggo.