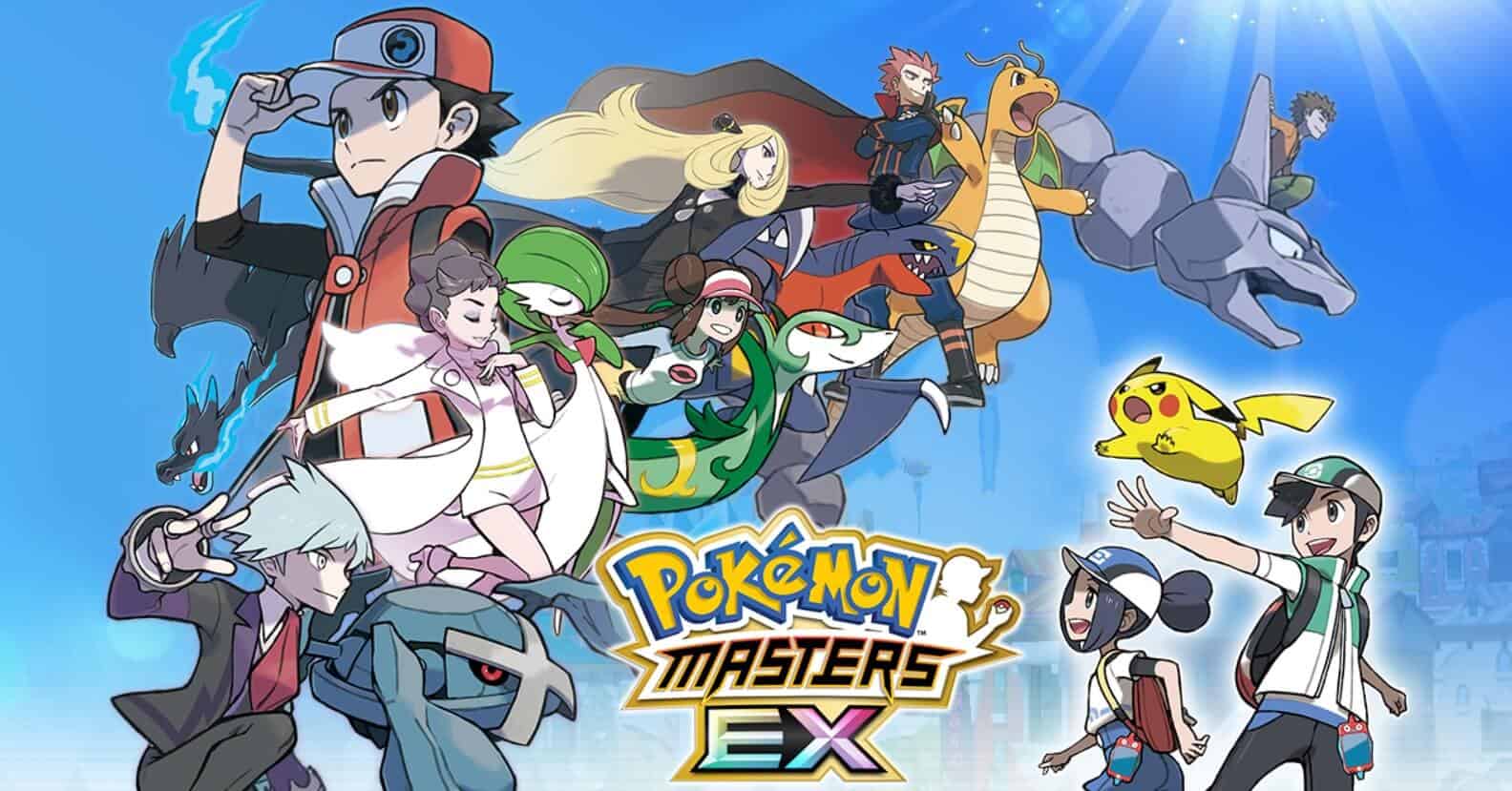 Our Pokemon Masters Tier List features some of the best sync pairs for each type of combination.
Last Updated: October 2021
TABLE OF CONTENTS:

Pokemon Masters Tier List: S-Tier Strategies
Pokemon Masters EX is a mobile spin-off game of the well-loved Pokemon series. Released in August 2019, the game has since garnered 22 million unique downloads and still has an active gaming community. Unlike traditional Pokemon games, Pokemon Masters EX features a unique gameplay format.
Players compete in 3v3 battles, with each unit being composed of a trainer and a Pokemon. Because each playable character has their own set of active and passive skills, the goal is to mix and match trainers and Pokemon to find the best possible sync pair. And because there are different types of sync pairs, this Pokemon Masters Tier List will be categorizing the best striker, tech, and support sync pair.
It's also necessary to highlight the importance of sync pairs.
Read on to see our top picks for Pokemon Masters EX sync pairs!
POKEMON MASTERS TIER LIST
With 65 trainers (including your character) and 65 unique Pokemon, there are thousands of possible pairs to try in Pokemon Masters EX. But, of course, some pairs work better than others based on their particular mix of skills.
For our Pokemon Masters Tier List, we're ranking sync pairs across five tiers: S, A, B, C, and D. We've also specified whether each combination is a striker-, tech-, or support-based pairing.
S-Tier
First is S-Tier sync pairs which have some of the most effective in the game. Their skill combinations allow for either hard-hitting or support-heavy plays.
Striker Sync Pairs
Cynthia & Mega Garchomp

Hilbert & Mightyena

Karen & Mega Houndoom

Leon & Charizard

N & Zekrom

Steven & Mega Metagross
Tech Sync Pairs
Acerola & Palossand

Bianca & Musharna

May & Swampert

Serena & Delphox

Sygna Suit Leaf & Mega Venusaur
Support Sync Pairs
Hilbert & Samurott

Player & Torchic

Professor Sycamore & Xerneas

Sabrina & Mega Alakazam

Skyla & Swanna

Sygna Suit Blue & Mega Blastoise
A-Tier
A-Tier sync pairs are still good picks, but don't have as much potential as S-Tier sync pairs. This is either because their skillsets require more setup or because their type-based capabilities aren't as powerful.
Striker Sync Pairs
Alder & Volcarona

Brendan & Sceptile

Blue & Mega Pidgeot

Iris & Haxorus

Lance & Dragonite

Lysandre & Yveltal

May & Mega Lopunny

Selene & Decidueye

Sygna Suit Cynthia & Kommo-o

Sygna Suit Grimsley & Mega Sharpedo
Tech Sync Pairs
Agatha & Mega Gengar

Dawn & Alcremie

Flannery & Torkoal

Ghetsis & Kyurem

Iris & Hydreigon

Koga & Crobat

Professor Oak & Mew

Serena & Whimsicott

Volkner & Luxray

Will & Xatu
Support Sync Pairs
Dawn & Torterra

Erika & Comfey

Jasmine & Mega Steelix

Lillie & Clefairy

Leaf & Eevee

Lyra & Meganium

Misty & Starmie

Piers & Obstagoon

Rosa & Delibird

Sygna Suit Elesa & Rotom
B-Tier
B-Tier sync pairs are combinations that are neither terrible nor spectacular. They're ideal for players who don't have access to S- or A-Tiers, but once you get your hands on a higher-tier pair, it's best to start investing in that.
Striker Sync Pairs
Burgh & Leavanny

Caitlin & Reuniclus

Cyrus & Palkia

Elesa & Zebstrika

Korrina & Mega Lucario

Lance & Gyarados

Lyra & Jigglypuff

Noland & Mega Pinsir

Player & Solgaleo

Wally & Mega Gallade
Tech Sync Pairs
Brock & Onix

Calem & Meowstic

Clemont & Heliolisk

Kukui & Lycanroc

Lisia & Mega Altaria

Mallow & Tsareena

Ramos & Victreebel

Skyla & Togekiss

Viola & Masquerain

Wallace & Milotic
Support Sync Pairs
Drake & Salamence

Elio & Primarina

Erika & Comfey

Glacia & Mega Glalie

Lana & Araquanid

Phoebe & Dusknoir

Plater & Pikachu

Rosa & Serperior
C-Tier
C-Tier sync pairs are passable, so unless you don't have any other higher-tier option that fits the team, steer clear of these pairs.
Striker Sync Pairs
Barry & Empoleon

Bruno & Machamp

Bugsy & Mega Beedrill

Ethan & Typhlosion

Gardenia & Roserade

Kris & Feraligatr

Molayne & Dugtrio

Pryce & Dewgong

Roxie & Scolipede

Silver & Ho-oh
Tech Sync Pairs
Acerola & Mimikyu

Blaine & Rapidash

Brawly & Hariyama

Crasher Wake & Floatzel

Erika & Vileplume

Gladion & Silvaly

Marnie & Morpeko

Siebold & Octillery

Sophocles & Togedemaru

Winona & Pelipper
Support Sync Pairs
Cheryl & Blissey

Liza & Lunatone

Maylene & Medicham

Roxanne & Probopass
D-Tier
Finally, D-Tier sync pairs are bottom-of-the-barrel options. You have little to no reason to invest in these combinations. So, the second you get your hands on better pairs, stop putting time into these.
Striker Sync Pairs
Hapu & Mudsdale

Marshal & Conkeldur

Norman & Slaking

Player & Solgaleo

Roark & Rampardos

Shauntal & Chandelure

Siebold & Clawitzer

Tate & Solrock

Valerie & Sylveon

Zinnie & Rayquaza
Tech Sync Pairs
Brycen & Cryogonal

Candice & Abomasnow

Grant & Aurorus

James & Weezing

Lorelei & Lapras

Lucy & Seviper

Lt. Surge & Electrode

Mina & Granbull

Thorton & Bronzong

Whitney & Miltank
Support Sync Pairs
Cheren & Stoutland

Marley & Arcanine

Marlon & Carracosta
On the next page, we'll be digging into all S-Tier stats and strategies.