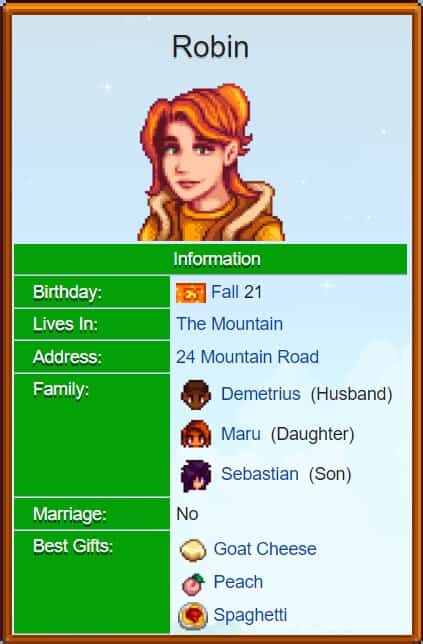 Make your farm the best place to be in Pelican Town with this Robin Stardew Valley schedule guide!
Last Updated: January 2022
Managing a farm in Stardew Valley isn't an easy task, and we all know that there's more to it than just planting crops or taking care of farm animals. To maximize your profit, you need to build and upgrade buildings that offer a wide range of different functionalities. And who better to help than the town's resident carpenter, Robin? We've got all the bases covered from silos to slime huts in our Robin Stardew Valley schedule and shop guide.
ROBIN STARDEW VALLEY: SCHEDULE AND SHOP INFO
Robin lives up in the mountains with her husband Demetrius and their children Sebastian and Maru. She's one of the first characters you meet as you move into your grandfather's farm, and she'll offer to construct any farm building you need—for a fee, of course.
You'll find yourself memorizing her schedule as you try to get your buildings constructed on time. Don't fret—because we've got her schedule laid out in this Robin Stardew Valley Guide, so you'll never miss her at her shop again!
GENERAL SCHEDULE FROM MONDAY TO SUNDAY, EXCLUDING TOWN FESTIVALS
8:00 AM – Wakes Up 
9:00 AM – At shop counter (Available for purchasing items and construction services)
5:00 PM – Leaves shop counter
9:00 PM – Bedtime
Not Available on:
Tuesdays (Exercise Class at Pierre's)

For two days after you've hired her to work on a farm building
Leaves early on:
Mondays, 12:00 PM to 4:00 PM after the Community Center has been rebuilt

Fridays, 4:00 PM to go to the Saloon
ROBIN STARDEW VALLEY: SHOP OPTIONS
Robin's construction shop offers a wide range of items and services for every player. You'll be able to find materials like wood and stone, as well as fixtures like windows and refrigerators in the shop. But most importantly, you'll be able to ask Robin to construct buildings for your farm. In this Robin Stardew Valley construction guide, we've listed out all the buildings you can purchase at her shop:
Farm Buildings (and corresponding costs):
Barn – Basic barn that will house 4 cows.

Big Barn – Upgraded to house 8 cows and/or goats.

Deluxe Barn – Max upgrade that will house 12 cows/goats/pigs/sheep.

25,000g

550 Wood

300 Stones

Coop – Basic coop that will house 4 chickens.

Big Coop – Upgraded to house 8 chickens, ducks, or dinosaurs (if you find a Dinosaur Egg)

10,000g

4

00 Wood

150 Stones

Deluxe Coop – Max upgrade that will house 12 chickens/ducks/dinosaurs/rabbits

20,000g

500 Wood

200 Stones

Shed – Empty building that you can store chests/furniture/machines in. Can be decorated inside.

Big Shed – Upgraded version that will double the interior size of the shed

20,000g

550 Wood

300 Stones

Fish Pond – Can store fish to be raised, multiplied, and harvested for produce like Roe

5,000g

200 Stones

5 Seaweeds

5 Green Algae

Silo – Stores cut grass to be used as hay for feeding animals

100g

100 Stones

10 Clays

5 Copper Bars

Mill – Lets you make rice, beets, and wheat.

2,500g

50 Stones

150 Wood

4 Cloths

Stable – Lets you raise a horse

10,000g

100 Hardwood

5 Iron Bars

Well – A place to refill your watering can when far away from bodies of water

Slime Hutch – Will let you raise up to 20 Slimes

10,000g

500 Stones

10 Refined Quartz

1 Iridium

Shipping Bin – Extra shipping box for accessibility

Stone Cabin – Extra house for multiplayer games

Plank Cabin – Extra house for multiplayer games

Log Cabin – Extra house for multiplayer games

House Upgrade 1 – Increases your house size and adds a kitchen inside

House Upgrade 2 – Adds an empty room and a Children's Room, increases the kitchen, and unlocks House Renovation functions in-game

House Upgrade 3 – Adds a cellar through the kitchen, with Casks to make different produce
CONCLUSION
We hope this Robin Stardew Valley Schedule Guide has been helpful in giving you everything you need to get your farm decked out in the game. For more Stardew Valley information and guides, check out our latest articles. You can also check out the main Stardew Valley site, or their Steam Page for more information on the game!