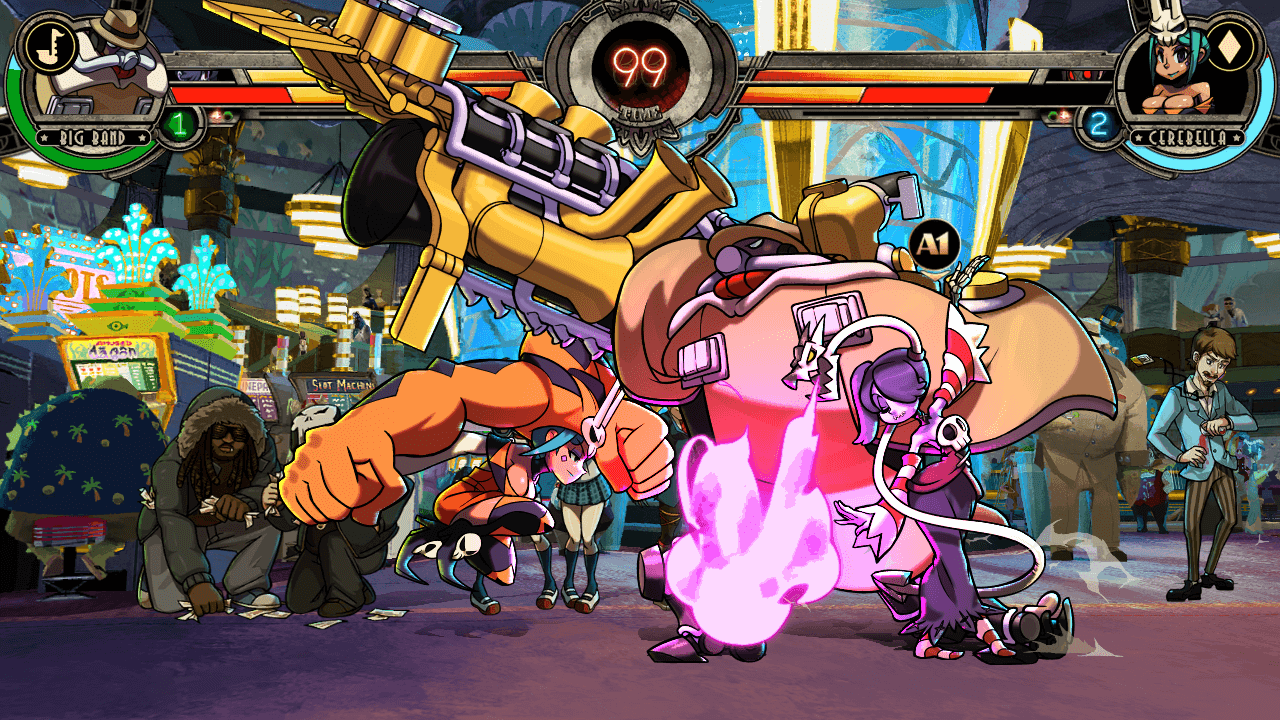 Our Skullgirls Tier List ranks every character variant in the game!
Last Updated: January 2022
Skullgirls Mobile is a fighting game that was released in May of 2017 for Android and iOS devices. It's a spin-off of the original Skullgirls title, which was ported to PC, the Xbox 360, and various PlayStation consoles. Set in Canopy Kingdom, Skullgirls Mobile is essentially a prelude to Skullgirls 2nd Encore. Players who advance the story learn more about the mysterious Skull Hearts and how they came to affect the main characters. And by level 20, you can even dive into each of the character's origin stories.
Gameplay-wise, Skullgirls Mobile has a unique roster, because while it only has 15 distinct characters, each one has a variety of abilities. These skill and stat variations come in the form of cards, which the player can collect throughout the campaign. For this Skullgirls Tier List, we're categorizing each and every character variant, so you know whom to invest in.
Check out the rest of the article to see where your favorite character's variants end up!
SKULLGIRLS TIER LIST
For this particular Skullgirls Tier List, we're categorizing the 170+ character variants in the game in one of five tiers: S-, A-, B-, C-, and D-Tier. S-Tier variants are your best options. They're good at both offense and defense. Plus, they can thrive in Skullgirl Mobile's different game modes. On the other hand, D-Tier variants are the least useful of the roster, primarily because of their low stats. You can keep them around, in case you need their specific skills, but you shouldn't invest in them too heavily.
Now that that's out of the way, we can get into the list!
S-Tier
Annie
Beowulf
Big Band
—
Cerebella
Double
—
Eliza
Filia
Fukua
Ms. Fortune
—
Painwheel
Biting Cold

Fly Trap

Neuromancer
Parasoul
—
Peacock
—
Robo-Fortune
Squigly
Valentine
A-Tier
Annie
Fire Branded

Moonstruck

Star Shine
Beowulf
Dark Might

Dragon Brawler

Weekend Warrior

Wulfsbane
Big Band
Cerebella
Brain Freeze

Harlequin

Heavy Handed

Star-Spangled

Toad Warrior
Double
Doublicious

Evergreen Evil

Heart of Darkness

Jawbreaker

Rainbow Blight

Xenomorph
Eliza
Diva Intervention

Red Velvet

Stand Out
Filia
Class Cutter

Idol Threat

Parasite Weave
Fukua
Phantom Threads

Splitting Image

Vaporwave Vixen
Ms. Fortune
Claw & Order

Hack N' Splash

Meow & Furever

Purrfect Dark

Rogue Agent
Painwheel
Buzzkill

Firefly

Freaky Friday
Parasoul
Primed

Shadow Ops

Summer Salt
Peacock
Robo-Fortune
Head Hunter    

Persona Assistant

X-Bot
Squigly
Valentine
Assassin's Greed

Silent Kill

Très Chic
B-Tier
Annie
Ageless Wonder

Materia Girl

Solar Flair

Timeless Hero
Beowulf
Big Band
Dream Band

Epic Sax

Megasonic

Private Dick
Cerebella
Armed Forces

Headstrong

Understudy
Double
Creature of Habit

Immoral Fiber

Nunsense

Temple Tyrant
Eliza
Bloody Valentine

Inner Pieces

Lapis Luxury

Scarlet Viper
Filia
Bad Hair Day

Bad Ms Frosty

Dread Locks

Frayed Ends

Hair Apparent

Rock Star

Windwwept
Fukua
Chameleon Twist

Feathered Edges

Souls Sister
Ms. Fortune
Furry Fury

Just Kitten

Ms. Trial

Time Thief

Wind Stalker
Painwheel
Grim Fan

Raw Nerv

Rusty

Twisted Mettle
Parasoul
Heavy Reign

Ivy League

No Egrets

Princess Pride

Regally Blonde

Sheltered

Star-Crossed
Peacock
Dream Catcher

Inkling

Pea Shooter

Prism Plumage

That's All Folks!

Ultraviolent

Untouchable
Robo-Fortune
Blue Bomber

Blue Screen

M-3OW

Prototype

Purrminator

Terror Byte
Squigly
Poltergust

Thrill Shrieker
Valentine
Graveyard Shift

Icy Hot

Last Hope
C-Tier
Annie
Galactic Glamour

Ninja Star

Star Child
Beowulf
Freedom Fighter

Hype Man

Underdog
Big Band
G.I.Jazz

Resonant Evil

Robocopy
Cerebella
Double
Eliza
Mummy Dearest

Tomb & Gloom
Filia
—
Fukua
Infernal Twin

Night Terror
Ms. Fortune
Painwheel
—
Parasoul
—
Peacock
Robo-Fortune
—
Squigly
Dead Heat

Dead of Winter

Necrobreaker

Scared Stiff
Valentine
D-Tier
Annie
Beowulf
Big Band
Bassline

Beat Box

Treble Maker

Vintage Virtuoso
Cerebella
Double
—
Eliza
Filia
—
Fukua
Ms. Fortune
—
Painwheel
Blood Drive

Rage Appropriate
Parasoul
Peacock
Robo-Fortune
Squigly
Nearly Departed

Stage Fright
Valentine
Conclusion
Skullgirls Mobile is a distinct game in the mobile gaming community. This is not only because of its novel gameplay mechanics but also for its innovative approach to the character roster. Additionally, the game's cute, cartoony style may seem reminiscent of titles like Genshin Impact and Pokemon Masters EX. But it offers a very different experience, compared to these games. High-octane battles, tactical combo executions, and on-your-feet thinking are what you can expect from Skullgirls Mobile. Pair that with a plotline that delves into ancient parasites, questionable lab research, and wars between nations, and you've got an engaging mobile game that takes itself seriously.
So, if you're looking to brush up on your fighting game skills, download Skullgirls Mobile from the official website to start collecting the variants you need.
Our Skullgirls Tier List should have told you everything you need to know about the best picks in the game. Alternatively, you can try the other Skullgirls games.
Lastly, the original Skullgirls is playable on the PC, PlayStation 3, Xbox 360. Meanwhile, its re-release, Skullgirls 2nd Encore, is available on PC, PlayStation 4, and PlayStation Vita.