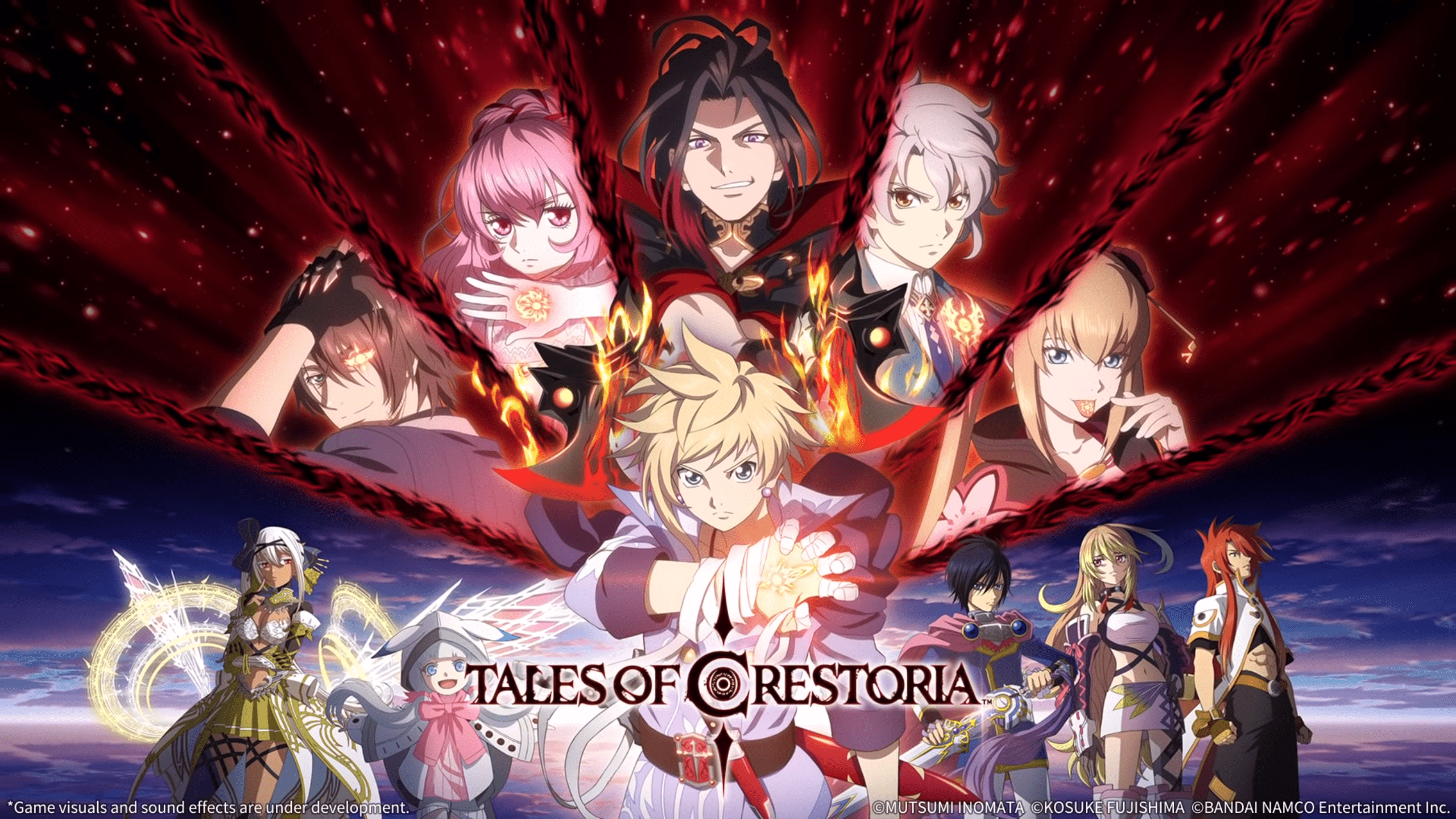 We are showcasing our Tales of Crestoria Tier List in this article.
Last Updated: August 2021
Tales of Crestoria is a gacha RPG developed by Bandai Namco. It belongs to the "Tales" series and is playable on Android and iOS. The game was released worldwide on July 16, 2020, making it the first entry in the series with a simultaneous release for both Japanese and overseas market.
The theme of the game is "crime" and the story is centered around a young man who carries a great burden and also lives for someone or something that is important to him. Each of the three initially teased characters have a certain "crime" they carry as a burden. The game is also one of the few games in the series which uses a turn-based combat system. The game features a unique cast of characters but also features returning characters from other games in the series.
The game is set in an unnamed world in which people are required to carry objects known as "vision orbs" at their side at all times. The images recorded within vision orbs can be transmitted via vision centrals that are structures located in places of importance, like plazas and churches. When a person is to be judged, the vision central shows a footage from orbs related to the crime and according to the "prayers" sent by the citizens watching the images, the individual in question is judged innocent or guilty. In case the person related to the crime is judged guilty, they are branded with a "stain," and an enforcer is dispatched to hunt the criminal down and pass the sentence. The game main protagonist is featured as someone who has been judged guilty because he protected someone important to him.
TALES OF CRESTORIA TIER LIST
Tales of Crestoria features a diverse set of characters and it can often be intimidating and daunting to players when they have to choose which ones to add to their party. Fortunately, our tier list filters characters into various tiers starting from S-Tier, which features the strongest characters in the game, which can also be considered the "meta" for the game and all the way to D-Tier which basically lets you know which characters to avoid.
S-Tier
These characters are the most overpowered and the strongest characters in the game. If you obtain one of these characters, don't look further add them to your party and they will carry you to victory.
Leon
Velvet
Stahn
Kohaku (Garden Party)
Kanonno (Greatsword)
Leon (Armed with Friendship)
A-Tier
These characters are still exceptionally strong choices and are solid choices for your team. The characters in this tier are just barely below those in S-Tier, but are slightly less favored. They can definitely be used to clear the most difficult content in the game, but sometimes won't be chosen right away for PvP.
Ludger
Reid
Rita
Dhaos
Milla
Kohaku
Rutee
Kanonno (summer)
B-Tier
These characters are average choices, you can't go wrong with these in your party either but we recommend not filling your party with majority of the characters in B-Tier as it would just give you a much harder time in the game. Their damage and support utility is generally good enough with a bit more investment and skill than the characters in the tiers above.
Luke
Cress
Asbel
Yuri (Summer)
Kanata
Rita (Waitress)
Chronos
Jude
Mikleo
Zelos
Misella
C-Tier
These characters fall quite low when their base stats are compared to the others already mentioned in the list. They're weak choices and only fit certain niche metas which save them from being in the D-Tier.
Yuri
Sophie
Sorey
Veigue
Lloyd
Aegis
Vicious
D-Tier
These are probably the worst choices in the game. Avoid these characters by all means.
Conclusion
We hope our Tales of Crestoria Tier List helps you make a better choice of which characters to keep in your party and which ones to avoid. Tales of Crestoria, while it falls short of other games in the Tales series, is still a solid game when looked upon on its own. It can provide you with hours and hours of fun and entertainment and provides the player with both PvE and PvP content. It can be played on both Android and iOS and features a decent player base for online matchmaking.
If you liked this article, make sure to check out our Arknights Tier List as well!