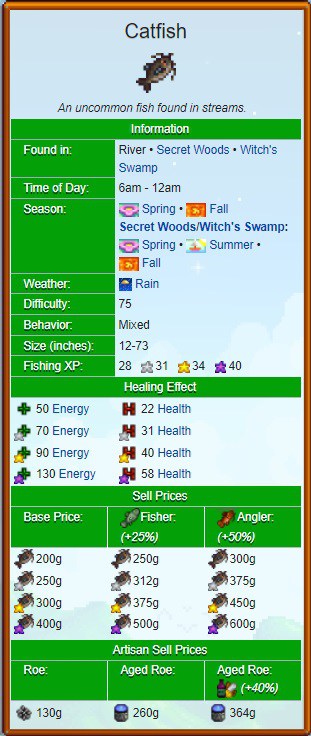 Our Catfish Stardew Valley Fishing Guide will give you the best information on how to catch this fish for bundle completion, gifting, raising, or cooking purposes!
Last Updated: January 2022
Stardew Valley is a farming simulation game with a lot to offer for every player–from extensive farming mechanics to a wide array of town characters to befriend or romance. In this article, however, we are focusing on a particular aspect of its gameplay: fishing for Catfish.
Every Stardew Valley player knows that fishing can be quite a complicated pursuit in the game, with all different types of fish requiring different weather conditions, seasons, locations, and times of day in order to be caught. With our Catfish Stardew Valley fishing guide, you'll have everything you need to know to catch this elusive fish.
CATFISH STARDEW VALLEY: WHEN AND WHERE TO FIND IT
The Catfish can be found throughout different parts of the Stardew Valley map. You must be fishing in rivers, which are located in Pelican Town, Cindersap Forest, and the Secret Woods. 
It's also available in the Witches Swamp, or in specific farm maps (Hill-top or Riverlands Farm) which you can set at the start of the game.
Catfish can only be caught during Rainy Weather. Be sure to check the weather forecast often to plan out your fishing trips, or use a Rain Totem to be able to manipulate the weather to your needs. It's mostly only available in Spring or Fall, but if using the Rain Totem can actually be caught in the Winter season.
If you're less inclined to catch fish and would like to spend your time doing other things in-game, you can also visit the Traveling Cart. The Catfish appears there from time to time, priced 600g-1,000g.
CATFISH STARDEW VALLEY: GIFTING, AND ALL ITS USES
This wouldn't be a Catfish Stardew Valley Fishing Guide without full information on how you can make the most out of this uncommon fish once you've caught it! The Catfish can be used in a wide variety of purposes in-game, from gifts to completing Community Center bundles.
GIFTING
If you're going to be giving the Catfish to Townies, take note of who would love to receive and who would despise it.
Willy (Loves it)

Demetrius, Leo, Linus, Pamela, Elliot, Sebastian (Neutral towards it)

Jodi, Wizard, Lewis, Kent, Gus, Harvey, Abigail, Alex, Sandy, Sam, Penny, Maru, Robin, Jas, Krobus, Clint, Dwarf, Emily, George (Dislikes it)

Haley, Pierre, Evelyn (Hates it)
COMMUNITY CENTER BUNDLES
One of the pinnacles of Stardew Valley gaming is completing the Community Center. And you can't finish the Center without the Catfish! This fish is necessary to complete the River Fish Bundle, which will reward you with 30 Bait and partial completion of the Fish Tank portion in the Community Center.
RECIPES
The Catfish can be used in a few recipes, all listed below.
Sashimi (use any fish to make; restores 75 Stamina and 33 HP)

Maki Roll (Any Fish, Seaweed, Rice; restores 100 Stamina and 45 HP)

Quality Fertilizer (Sap x2, Any Fish; used in plots to make quality crops)
OTHER USES
The Catfish can be used in the sewing machine to make a Fish Shirt or kept in Fish Ponds to produce Roe.
CONCLUSION
As with many uncommon fishes in the game, it's important for players to keep in mind times, seasons, weather, and other information in order to catch them and work toward game completion. We hope that our Catfish Stardew Valley Fishing Guide has helped you with this!
Want to learn more about Stardew Valley? Read our Ultimate Stardew Valley's Tiger Trout Fishing Guide! You may also visit their official website, or take a look at their Steam Page.
We'll see you around!