136 Highest Records Set at MSI MOA 2014 Grand Finals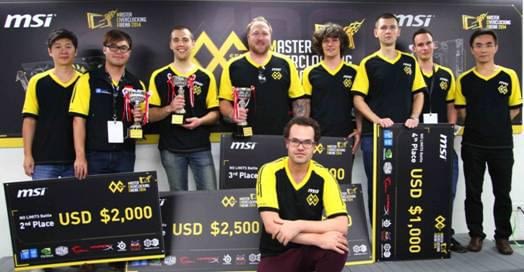 [Taipei, Taiwan] On October 19th, MSI Master Overclocking Arena (MOA) 2014 Grand Finals came to a history changing conclusion. In the end, these extreme overclockers achieved the highest records ever on 136 categories in the NO LIMITS battle. Wizerty from France, bboyjezz from Indonesia, Steponz from the U.S., T0lsty from Ukraine, and Vivi from South Africa defeated all opposition to won the NO LIMITS battle with a cash prize of $7,500 USD. Wizerty had achieved the highest records in 35 categories to become the champion and took home $2,500 USD prize money.
In MOA 2014 NO LIMITS battle, MSI X99S MPOWER and Z97 MPOWER motherboards were chosen by most of the contestants to achieve the highest records. Built from the ground up to be the no-holds barred attitude, X99S MPOWER and Z97 MPOWER are OC Certified, that means they can survive any overclocking situation. The exclusive use of Military Class 4 components, optimized CPU VRM and socket area design can provide the best cooling efficiency. OC Engine offers a dedicated clock generator for more flexible BCLK adjustments. Using these straps prevents system crashing while overclocking on the edge and opens doors to achieve the absolute maximum.
For graphics card, GTX 980 and GTX 970 are both the latest GPU in NVIDIA Maxwell series which are the overclocking monster. It's approved in MOA 2014 by 23 highest records in variety categories. MSI GTX 980 GAMING 4G and GTX 970 GAMING 4G are not only designed for easy gaming by new GAMING APP and the all-new Twin Frozr V, but also push core clock in unlimited range. Furthermore, half of the records are made by MSI R9 290 and 280, which show their immeasurable overclocking potential.
The summary of highest records winners as follows:
Rank

Contestant

Country

Motherboard

Graphics Card

Prize (USD)

1st

Wizerty

France

Z97 MPOWER

–

$2,500

2nd

bboyjezz

Indonesia

X99S XPOWER AC

Z97 MPOWER MAX AC

GTX 970 GAMING 4G

R9 295X2 Series

$2,000

3rd

Steponz

U.S.A.

X99S MPOWER

R9 280 Series

$1,500

4th

T0lsty

Ukraine

Z97 MPOWER

R9 290 Series

$1,000

5th

Vivi

South Africa

X99S MPOWER

Z97 MPOWER

GTX 980 GAMING 4G

GTX 970 GAMING 4G

$500
MOA 2014 NO LIMITS battle results details:
Classic Battle: http://hwbot.org/competition/moa_ww_2014_cb/
NO LIMITS Battle: http://hwbot.org/competition/moa_ww_2014_nlb/
2D Categories: http://oc-esports.io/#/round/moa_ww_2014_nlb_2d/submissions
3D Categories: http://oc-esports.io/#/round/moa_ww_2014_nlb_3d/submissions
About MOA
The MSI Master Overclocking Arena (MOA) is hallowed battleground for global overclocking masters. Every year, MSI invites worldwide overclocking gurus through on-line or on-site qualifications for a high-tech showdown. Equipped with today's most powerful computers, each invited master challenges the limit of their equipment with their excellent overclocking technique to win the honor of being crowned the worldwide overclocking master. These overclocking masters break world records under close watch of global media and fellow overclocking enthusiasts. MSI has achieved notable milestones in the field of extreme overclocking. Apart from the players-focused annual MOA (Master Overclocking Arena) contest, many other overclocking events are also hosted on-line or on-site to break worldwide overclocking records. The globally watched MOA competition has become the flagship of these overclocking competition series.
For more information about MOA, please refer to the links: http://www.msi-moa.com/