Achieve your Gaming Potential with the new ViewSonic Gaming Monitor Series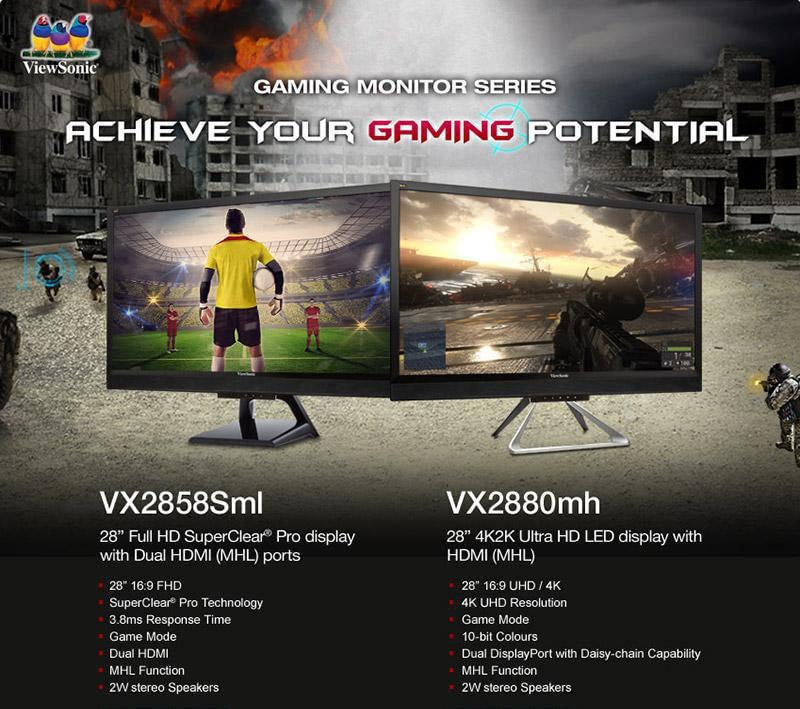 ViewSonic VX2858sml
The ViewSonic VX2858Sml is a 28″ (28″ viewable) Full HD 1080p display designed for entertainment and multimedia applications. Equipped with SuperClear® Pro technology, true 8-bit colours, and a 3000:1 static contrast ratio, the VX2858Sml delivers superior colour performance with excellent colour reproduction at nearly any viewing angle. Dual MHL ports enable seamless connectivity and simultaneous battery charging of MHL-enabled mobile devices—facilitating easy content sharing and mobile gaming on a larger screen. The MHL ports can also be used as HDMI ports for basic connection to gaming consoles, set-top boxes, and other multimedia peripherals, while a VGA port provides legacy connectivity. ViewSonic's proprietary Flicker-Free technology and Blue Light Filter helps to eliminate eye strain from extended viewing periods. Delivering the ultimate in screen performance and advanced connectivity options, the VX2858Sml is a premium entertainment display for the most demanding of users.
Link http://www.viewsonic.com.sg/products/lcd/VX2858Sml.php
ViewSonic VX2880ml
The ViewSonic VX2880ml is a 28" (28" viewable) 3840 x 2160 Ultra HD display that provides the highest resolution available in a desktop monitor. Delivering four times the pixels of Full HD displays, the VX2880ml features 4K2K resolution, 1.07 billion colours, and a 50M:1 Mega Dynamic Contrast Ratio for the ultimate in image colour, clarity, and detail. Versatile connectivity options include HDMI (MHL) for connection to smartphones and tablets, as well as dual DisplayPort inputs and one DisplayPort output for daisy-chain functionality. Dual integrated speakers provide enhanced audio for great multimedia and entertainment performance, while a VESA-mountable design offers additional convenience for use as a wall-mounted display. ViewSonic's proprietary Flicker-Free technology and blue light filter helps to eliminate eye strain from extended viewing periods. The ViewSonic VX2880ml is the perfect 4K2K multimedia display for power and professional users, including CAD/CAM drawing, content design, and development applications.
Link http://www.viewsonic.com.sg/products/lcd/VX2880ml.php
About ViewSonic
ViewSonic was founded in 1987 and quickly became a key player in the visual display market, driven by the belief that displays have the power to transform everyday lifestyles. ViewSonic has been a market leader with some of the latest visual technologies on the market for more than two and a half decades. We have more than 30 offices around the world and our products are sold in more than 125 countries. We have maintained our market dominance thanks to our commitment to quality, innovation and partnerships.
Today, ViewSonic is leading in user connectivity and sharing with versatile product lines of LED monitors, touch displays, projectors, large-format displays and virtual desktops. Always looking forward, we are dedicated to providing our customers and partners with complete, intelligent, interactive and integrated solutions that best meet their computing needs.