AMD Embedded G-Series SoC Powers New Line of Samsung All-In-One Thin Client Solutions.
AMD recently announced that Samsung Electronics Co., Ltd. selected the AMD Embedded G-Series SoC (system on chip) for a new line of all-in-one cloud monitors featuring integrated thin client technology. The Samsung 21.5-inch TC222W and 23.6-inch TC242W are powered by AMD Embedded G-Series SoCs that couple high-performance compute and graphics capability in a highly integrated, low power design. The AMD SoC improves data transfer rates and saves space on the motherboard, which makes it a perfect fit for the compact form factors required by thin clients.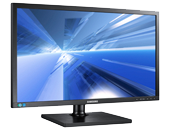 Planned availability starting in Q3 2015, the Windows®-supported Samsung cloud monitors will provide customers with expanded choice, capability and configuration flexibility. Complete with Samsung's professional-grade display panel, the cloud monitors will create a superior user experience through easy connectivity and high-quality reliability. As a superior option for effective desktop virtualization, Samsung's thin-client monitors will also enable improved productivity and optimized end-to-end performance.