Announcing The Lian Li PC-Q10WX a Mini-ITX Chassis With A Transparent Wall in the US
Mini-ITX Q Series Case Accommodates ATX Power Supply, Longer GPU, and Tall CPU coolers; Performance Level Hardware in a Tiny Chassis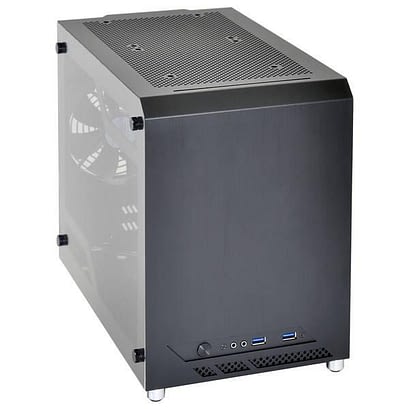 September 23, 2015, Keelung, Taiwan –
Lian-Li Industrial Co. Ltd
announces the PC-Q10WX Mini-PC chassis. A continuation of Lian Li's lineup of small PC cases, the PC-Q10WX is the first Q series case to feature an acrylic side wall: perfect for showing off the high-performance hardware and cooling systems this conveniently sized chassis can accommodate.
Fitting More in Less
The Lian Li PC-Q10WX is very compact, weighing only 2.3kg and measuring 207mm x 277mm x 335mm. Despite its size, its clever layout still offers enough space for a 270mm VGA card, a CPU cooler up to 140mm tall, and a PSU up to 150mm long.
Expandability Without Compromise
The PC-Q10WX supports up to two 3.5" drives or three 2.5" drives. A 5.25" drive bay fits a slim optical disk drive or an additional 2.5" or 3.5" drive. It supports a standard ATX power supply for builders who do not want to sacrifice high-performance components for a small form factor. Two expansion slots provide enough room for full-sized video cards.
Myriad Cooling Options
With space for a 240mm radiator on the top panel, and 120mm on the back panel – this little case gives builders enough flexibility to install almost any kind of water or air cooling setup. The water cooling grommets allow all-in-one cooler tubes to pass from inside to out; a small touch that gives DIY enthusiasts more freedom. And with room for up to 140mm CPU air coolers, it is possible to outfit the PC-Q10WX with air or water cooling.
Solid, Beautiful Construction
Almost entirely composed of brushed aluminum and acrylic, the PC-Q10WX is robust, beautiful, and minimal. Even its power button is cut from aluminum. Aluminum pegs with rubberized feet provide clearance along the bottom panel for increased airflow. The power button, two USB 3.0 ports, and HD audio ports are available on the front panel, along with a small air vent, for convenient connectivity. The top and side panels pop open and closed securely while the glass wall uses 4 thumbscrews for easy access.
Product Features of the PC-Q10WX
Easily removable acrylic side panel
Water cooling: 240mm on top, 120mm on back
Convenient rubber grommets for all-in-one cooling
Illuminated aluminum power button
ATX type PSU
Accommodates longer VGA card – up to 270mm
Accommodates larger CPU cooler – up to 140mm
Accommodates larger PSU – up to 150mm Long
Price and Availability
The PC-Q10WX will be available for USD $119 in US in early September.

For more information, visit Lian Li's website:
http://www.lian-li.com/en/dt_portfolio/pc-q10/
About Lian Li
Lian Li Industrial Co. Ltd is an Aluminum Chassis and Chassis peripheral manufacturer and provider of industrial wholesale as well as OEM & ODM services for the PC industry as required. With over 20 years of service excellence, ISO 9001 certification and a team of professional staff willing to do the utmost to deliver durable, superior quality products, all backed by a 2 year guarantee*; your satisfaction is guaranteed (*conditions apply). To learn more about Lian Li, please visit their websites at
www.Lian-Li.com
.