ASUSTOR Releases ADM 2.5 Beta
Enhanced ADM core functions, featuring iSCSI LUN snapshots, Internal Backup, shared folder based Network Recycle Bins, newly added Syslog Server and DataSync for Microsoft OneDrive.
Taipei, Taiwan, August 26th, 2015 – ASUSTOR Inc., a leading innovator and provider of network storage solutions, announced the release of the ASUSTOR Data Master (ADM) 2.5 beta version for all ASUSTOR NAS users. ADM 2.5 provides a variety of enhanced core functions and new applications including iSCSI LUN snapshots for virtual storage, fast and flexible internal backup and shared folder based network recycle bins. Furthermore, users can use App Central to download the newly added Syslog Server App, a management tool that enhances network maintenance productivity and the DataSync for Microsoft OneDrive App, which syncs the Microsoft OneDrive service with ASUSTOR NAS.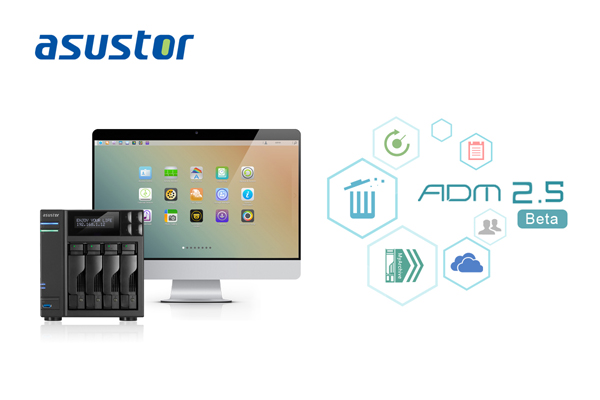 "With the explosion of digital data in the current information age, storage and backup has become a key issue for all users," said Vincent Tseng, Product Manager at ASUSTOR. "We are very excited to provide ASUSTOR NAS users with a more complete set of backup solutions and practical management tools in ADM 2.5, helping to keep their data more secure than ever before."
The ADM 2.5 Beta includes the enhancement of 3 important core functions and 2 newly added Apps:
iSCSI LUN Snapshots
ADM 2.5 features newly added iSCSI LUN snapshots and a snapshot manager. ASUSTOR's snapshot technology provides almost instantaneous creation of snapshots. This saves a significant amount of time and storage capacity when compared with traditional LUN backups. Should files become damaged or corrupted, the simple and intuitive interface allows administrators to quickly restore data, completing disaster recovery in the fastest time possible. Additionally, the snapshot manager helps users to view, manage and restore the up to 256 snapshots that can be created for each LUN.
Internal Backup
ASUSTOR's internal backup fully utilizes the SATA interface's 6Gbps high speed transfers for backup applications. No matter if it's confidential data storage or the archiving of video recording files, all can be scheduled to be backed up to MyArchive hard disks and then transferred to a secure location for safekeeping, meeting the goals of limitless expansion and off-site backup.
Enhanced Network Recycle Bin Mechanism
Files that are moved to the Recycle Bin now maintain their original directory structure, providing an easy way for users to search for and recover any accidentally deleted files. The simple one-click restore function also allows users to restore deleted files to their original directory path while maintaining all properties and permissions settings, removing the need to reconfigure these settings for any restored files. Furthermore, scheduled emptying allows for Recycle Bins to be emptied regularly freeing up used capacity, while filtering rules can allow certain file types to be maintained, avoiding accidental deletion. Network Recycle Bins are now available for each shared folder, giving users the option to enable Recycle Bins for folders based on their needs.
Syslog Server
Syslog Server centrally aggregates system logs that are spread out over various network devices for storage and management. Syslog Server also integrates with the NAS's Instant Notification function, allowing administrators to receive e-mails or SMS notifications when specified events occur, in order to quickly employ appropriate measures.
Furthermore, most network devices provide only a limited number of system logs. When a problem occurs, sometimes there is a lack of historical data required for appropriate analysis. Syslog server provides an automatic log archive function that archives logs according to size, number or time. Archived logs can be conveniently accessed, with Syslog Server retaining the last 3 archived logs that have been accessed for quick viewing. The advanced search function can also be used to find required logs, increasing the efficiency of network maintenance.
DataSync for Microsoft OneDrive
After installing the OneDrive App, each individual ADM account can log into a OneDrive account, combining the cloud storage service with personal storage on the NAS. This App allows for the configuration of sync folders, file filters, and bandwidth control settings. The supported transfer modes include NAS uploading/downloading to Microsoft OneDrive and a two-way synchronization mode which help to meet a variety of needs including data backup, data sharing and remote access.
For more information about the ADM 2.5 Beta Program, please visit: http://www.asustor.com/betaProgram
About ASUSTOR
Founded in 2011, ASUSTOR Inc., a subsidiary of ASUSTeK Computer Inc., is a leading innovator and provider of private cloud storage (network attached storage) and video surveillance (network video recorder) solutions. ASUSTOR is devoted to providing the world with unparalleled user experiences and the most complete set of network storage solutions possible.