CoolIT Systems Selected by Lenovo as OEM Liquid Cooling Supplier for NeXtScale M5
Server to be revealed at ISC High Performance 2016 in Frankfurt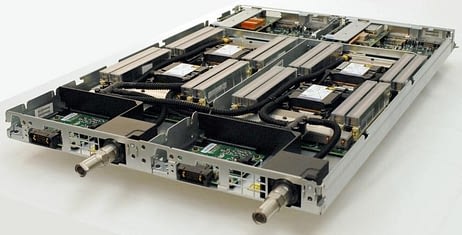 FRANKFURT, June 20, 2016 – CoolIT Systems, Inc. (CoolIT), the world leader in energy efficient liquid cooling solutions for the HPC, Cloud and Enterprise markets, today announced it has been selected by Lenovo to manufacture a custom Direct Contact Liquid Cooling (DCLC™) loop for its latest NeXtScale product offering. The integration of this direct cooling loop will allow Lenovo customers to maximize performance and lower operating expenses.
As part of the OEM agreement, CoolIT Systems will supply the liquid cooling architecture, designed by Lenovo, specifically for the NeXtScale M5 System.
The Lenovo NeXtScale M5 System is a 6U, 12 node bay enclosure that addresses the increasing data and computing challenges of the data center by delivering dense performance across a variety of functions—including compute, I/O, storage, and acceleration. Each 1U full-wide NeXtScale nx360 M5 Compute Tray (two nodes) will provide dedicated liquid cooling to four Intel Xeon E5-2500 v4 series processors, VR, Memory and IO cards. The solution uses warm water to cool critical components, eliminating the need for chillers that provide significant operational and capital expenditure savings for the data center. This impressive solution enables 2x the density of standard 1U rack systems, with space for up to 84 servers per rack, perfect for installations with space constraints.
A sample of the factory installed cooling system will be showcased by CoolIT Systems (booth #1210) and Lenovo (booth #1020) at the ISC High Performance 2016 event in Frankfurt from June 20 – 22.
By integrating the CoolIT Systems DCLC™ custom solution, Lenovo NeXtScale M5 will enable even greater performance, efficiency, density and flexibility for its customer's data centers. Providing a readily available OEM server system complete with robust liquid cooling will allow Lenovo's customers to reduce integration time and money spent on third party cooling hardware, while ensuring compliance with warranty terms.
"With the new NeXtScale M5, we are in our 4th generation of our Warm Water Cooling architectures since pioneering the concept in early 2012," said Brian Connors VP, Next Generation IT & Business Development, Data Center Group at Lenovo. "As the leader in warm water cooling technology, we are proud to partner with CoolIT Systems to continue driving innovations that save clients CAPEX and OPEX costs while improving reliability of critical components through optimized cooling of the entire system."
"As data center demands continue to rise globally, Lenovo is leading the effort in providing its customers with highly efficient, flexible and easily serviced factory installed liquid cooled servers," said Geoff Lyon, CEO & CTO at CoolIT Systems. "CoolIT Systems is proud to support this effort with its patented Direct Contact Liquid Cooling technology and anticipates further success from the innovative partnership."
The liquid cooled NeXtScale M5 System will be available in August, 2016. Those interested in incorporating the solution into their projects should start by contacting their Lenovo sales representative.
About Lenovo
Lenovo (HKSE: 992) (ADR: LNVGY) is a $45 billion global Fortune 500 company and a leader in providing innovative consumer, commercial, and data center technology. Our portfolio of high-quality, secure products and services covers PCs (including the legendary Think and multimode YOGA brands), workstations, servers, storage, networking, smart TVs and a family of mobile products like smartphones (including the Moto brand), tablets and apps. Join us on LinkedIn, follow us on Facebook or Twitter (@Lenovo) or visit us at www.lenovo.com.
About CoolIT Systems, Inc.
CoolIT Systems Inc. is a world leader in Direct Contact Liquid Cooling (DCLC) for the Data Center, Server and Desktop markets. As an experienced innovator with 50 patents and more than 2 million liquid cooling units deployed, CoolIT brings a wealth of design, engineering, and manufacturing knowledge to the table. CoolIT's Rack DCLC™ platform is a modular, rack-based, advanced cooling solution that allows for dramatic increases in rack densities, component performance, and power efficiencies. The technology can be deployed with any server and in any rack making it a truly flexible solution that allows for an edge in today's highly competitive marketplace.