CRYORIG Chromatic and Golden Special Edition
Heatsinks Giveaway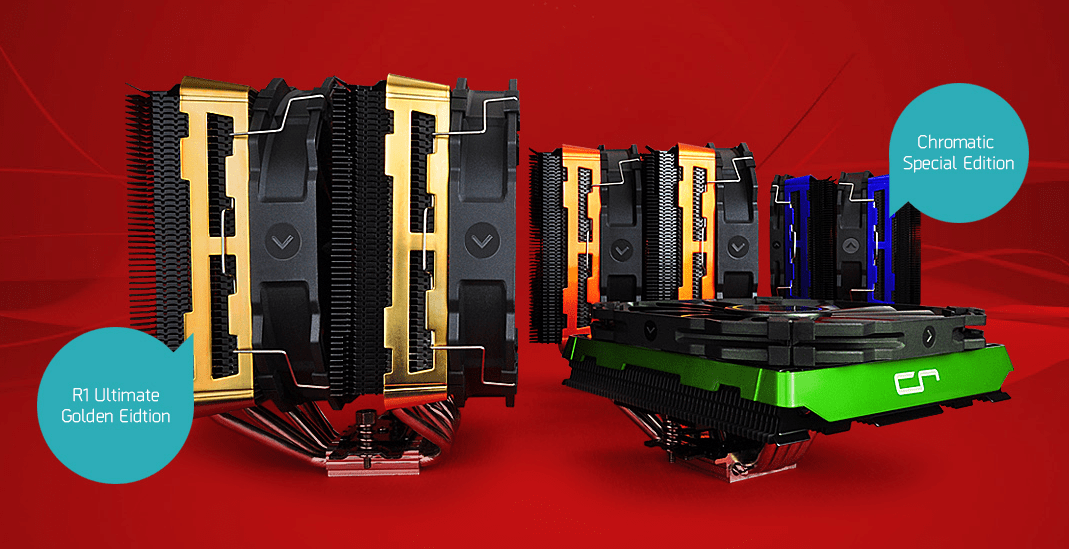 08.12.2014, Taipei, Taiwan – In a gesture to thank the world wide PC community for the great support, CRYORIG is holding a total of two year-end giveaway events, with the grand prize being one 24 Karat Gold Plated R1 Ultimate CPU Cooler. At the end of the two separate events, CRYORIG will be handing out a total of 4 Special Edition heatsinks. The first event is opened only to CRYORIG VIP members, meaning members who have purchased and registered at least one CRYORIG product. One winner will be chosen after all entries end on December 31st, for a 24 Karat Gold Edition Gold Plated CRYORIG R1 Ultimate.
The second event is opened for all users worldwide, where they have the chance to win one of total 3 CRYORIG heatsink model and color of their choice. Possible color combinations include: True Red, Deep Blue, Vibrant Orange and Fresh Green. The Chromatic Special Edition Heatsinks are designed to match color schemes from popular mainboard series. Application cutoff date also ends on midnight December 31st.
CRYORIG Year End Giveaway
CRYORIG's Offizielle Facebookseite
About CRYORIG
Officially founded in 2013, CRYORIG is a fresh new comer to the PC peripherals and Cooling market with a core team of seasoned veterans. The team's resumes include experiences with renowned brands such as Thermalright, Prolimatech and Phanteks. The members are overclockers and PC modding enthusiasts, with a passion to strive for nothing but the best. With the long experience and drive for innovation and improvement, CRYORIG is about applying RESEARCH and innovative IDEAS making the coolest GEAR possible.