Huntkey Newegg Christmas Promo is ON!
Save up on these thoughtful gifts this season
SHENZHEN, CHINA, December 18th, 2015 – Huntkey, professional power supply solutions manufacturer is delighted to announce its latest promotion in the online store Newegg. Enjoy great discounts on Huntkey products including USB chargers and notebook adapters during this holiday promo and share with your loved ones the gift of convenient and fast-charging, brought to you by Huntkey.
Shop now at Newegg and get Huntkey products at discounted prices, a perfect gift idea for your loved ones, co-workers and friends especially in this highly connected world where you need juice anywhere.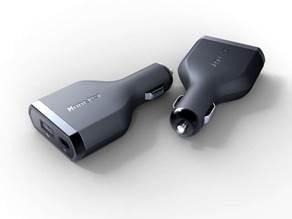 Got a friend who's always on the go? The Huntkey X-MAN 90W universal car laptop charger is a mobile warrior's best friend, compatible with popular brand notebooks and features a USB port for charging your mobile devices, all at the same time.
Know someone who needs a new charger? The Huntkey 90W ES Ultra-Thin universal laptop Adapter is a nice gift idea for someone who needs a new and efficient laptop charger. Its compact size and high-compatibility allows a wide array of uses for many popular laptop models and brands.
Check out more Huntkey products at Newegg and enjoy more than 30% savings in select items. FREE SHIPPING on all orders.
Huntkey at CES
Huntkey will be present this upcoming CES held in LV, Nevada to showcase their products and solutions.  More information to follow.
For more updates on Huntkey's activities, please visit the official Facebook page at https://www.facebook.com/HuntkeyDIY/?fref=ts
About Huntkey
Huntkey Enterprise Group, founded in 1995, is a professional provider that specializes in the development, design, manufacturing and marketing of power supplies. Huntkey's products include power supplies (1W~250KW), power systems, computer cases, universal notebook adapters, power banks, chargers, power supply converters, power strips, LED lights, and more. The industrial parks of Huntkey in Shenzhen, Heyuan and Hefei, which cover a total area of over 750,000 square meters, are now the largest IT manufacturing base in mainland China. Huntkey, with over 8,000 employees has set up its branch companies in Hong Kong and Japan. Its clients are found all over the world in more than 50 countries and regions, including Lenovo, DELL, Bestbuy, Exper, Vestel, Positivo, Durama, Unicoba, DSG, HCL, Carrefour, FPT, Siragon, Olidata, and others.
For more information about Huntkey, please visit http://dealer.huntkey.com/en/