MSI launches world's first Gaming All-in-One PCs featuring NVIDIA® GeForce® GTX980M and GTX970M graphics cards
(October 2014 / Taipei) MSI, world-renowned manufacturer in gaming hardware today introduces two 27-inch All-in-One Gaming PCs: AG270 2QE and AG270 2QC, the first in the world featuring the all-new NVIDIA® GeForce® GTX980M and GTX970M discrete graphics cards. Both PCs are equipped with a 4th gen Intel Core i7 quad-core processor and up to 16GB DDR3 memory to get the maximum out of PC games. The 27-inch display is also one of its kind, including Anti-Flicker and Less Blue Light technology applied to its anti-glare implementation, so gamer's eyes are protected better from eyestrain during long gaming sessions.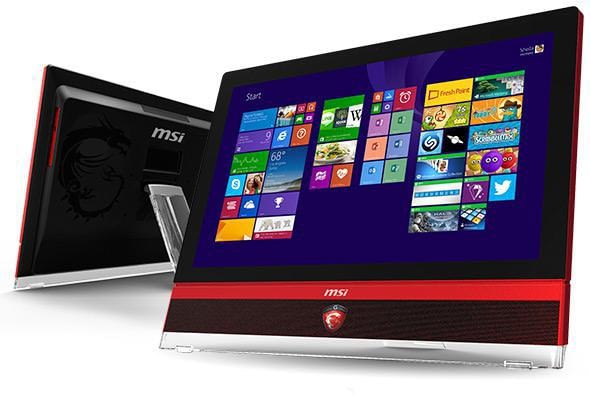 Using the most powerful NVIDIA® GeForce® GTX 980M
gamer-grade graphics card
MSI is the first manufacturer in the world to develop All-in-One PCs designed for e-Sports, packing a high-performance graphics card into the limited space of a highly-integrated All-in-One PC. The AG270 is the first AIO to introduce the latest NVIDIA® GeForce® GTX 980M/970M discrete graphics card with up to 8GB of GDDR5 RAM. The next-generation NVIDIA® Maxwell™ architecture delivers advanced performance, unmatched power efficiency, and cutting edge features for truly unique ways to game. Gamers will be able to enjoy perfect visuals without lag in both singleplayer or online MP modes in the latest or upcoming PC game titles such as Far Cry 4, Assassins Creed: Unity, and EVOLVE
.
Innovative Screen Protection for Gamer Eyes
To provide gamers with an even better gaming experience, the AG270 uses an anti-glare matte display featuring Anti-Flicker technology, which stabilizes the electrical current to prevent serious flickering seen in standard displays. Together with Less Blue Light technology, this helps to reduce eye fatigue after extended use while also enhancing the quality of the gaming environment.
Killer™ LAN
The AG270 is equipped with Killer Game Networking accelerator that prioritizes the gaming packet to greatly reduce the latency of online game data-streams. Killer LAN also improves the streaming of online videos, allowing users to enjoy even smoother high-quality video streams.
MSI Super RAID 2 for super-fast game loading times
Apart from the graphics card and network card, the best way to boost gaming performance lies in the storage media. The AG270 supports up to three mSATA SSDs that can be configured to run in RAID 0 for read speeds of up to 1500MB/sec, taking gaming loading times to unprecedented speeds.
Speakers & Amplifier empowered by Yamaha
In order to provide gamers with the best audio experience, MSI utilizes high-quality original Yamaha 5W + 5W Speakers & Amplifier within AG270's slim interior space. Each speaker features a built-in full-range monomer, and an independent subwoofer monomer to form a 2-way speaker system.
About MSI
Since its founding in 1986, MSI has been motivated by customer satisfaction. With its leading R&D staff, an annual production capability has an all-time high of tens of millions in motherboards and graphics cards and has accumulated sales in over 120 countries. Also adding to the lineup are notebook PCs, All-in-One PCs, servers, IPCs, robotic appliances and vehicle electronics that further demonstrate MSI's strengths and endeavors in consumer and commercial markets. With the brand slogan of "Innovation with Style," MSI spares no effort in the pursuit of excellent quality, user-friendly design and exquisite fashion products. MSI's core values "Innovation" and "Style" have made it the leading brand beyond customer expectations.