MSI R9 290X GAMING 8G graphics card now available
Future proof GAMING
MSI is proud to announce the availability of the new R9 290X GAMING 8G graphics card. Packed with 8 Gigabyte GDDR5 memory operating at 5500MHz and all the extra features stuffed with it, the new 290X GAMING 8G is sure to drive UltraHD gaming resolutions without any problem. The MSI Twin Frozr IV Advanced ensures your card runs cool so you can enjoy maximum performance while AMD's PowerTune technology enables the R9 290X GAMING 8G to run at highest clock speeds. With support for the latest industry standards and thrilling new technology such as Mantle support in Battlefield 4. Thanks to the bundled MSI GAMING App gamers can quickly switch between three pre-sets including a silent mode optimized for power efficiency and an overclocking and OC Mode to get the most power out of your graphics card, without worrying about learning how to overclock. The R9 290X GAMING 8G has been designed to give you a fluid and silent gaming experience that delivers you true next-gen performance for 4K UHD resolutions and up, without sacrificing on thermals or noise.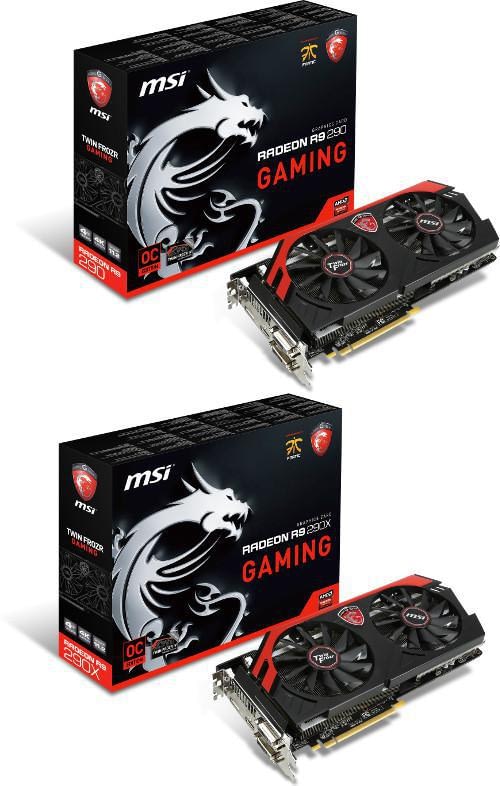 Stay cool in combat
The MSI Twin Frozr IV Advanced has been completely customized for the R9 290X GAMING 8G graphics cards to deliver the best thermal experience. The design uses a larger copper base for heat absorption and the heat pipes are in contact with a bigger part of the heat sink and exposed to more airflow to ensure the highest performance of the GPU because of optimal temperatures. Combined with the dual form-in-one heat sinks that add both cooling ability and structural reinforcement the R9 290X GAMING 8G stays cool, quiet and safe.
Optimized for Gamers
The new R9 290X GAMING 8G is packed with features that benefit every gamer. AMD TrueAudio technology allows far more realistic positional audio and the added benefit of surround sound over connected displays. Mantle allows game developers to directly speak to the GPU optimizing GPU performance. This can all be displayed in a glorious UltraHD / 4K resolution and even up as the new R9 290X GAMING 8G is offering unmatched performance at 4K resolutions. This can be easily connected through the DVI, HDMI and DisplayPort connectors. Up to six dedicated displays can be connected to the R9 290X GAMING 8G for an amazing Eyefinity experience.
R9 290X GAMING 8G
Technical specifications
| | |
| --- | --- |
| GPU | Hawaii XT |
| R9 290X GAMING 8G Clock speeds | 1040 MHz (OC Mode) |
| Memory size / Speed | 8096 MB / 5500 MHz |
| Connectivity | DisplayPort / HDMI / 2x DL-DVI-D |
| Card Dimensions | 276x127x39 mm |
| Afterburner OC support | GPU / VDDCI Overvoltage |
| Power connectors | 1x 8-pin, 1x 6-pin PCI Express |
About MSI
In the past 25 years, MSI always strived to provide products based on its core values –"Innovation" and "Style". The results are products with superior performance, trusted reliability, excellent user experience and expressive style. MSI mainboards and graphics cards are found among the top 3 in the world because of their great quality and maximum productivity. Our hard work have led us to become one of the finest brands in the industry with accumulated sales in more than 120 countries, 150 million mainboard users and 100 million graphics card users worldwide. MSI has won nearly 8,000 award recognitions from 350 media in 50 countries worldwide. MSI will continue to pioneer in the area of global consumer electronics technology with the needs of hardware enthusiasts, gamers and consumers at its core. For more information about MSI, go to www.msi.com.