OWC Unveils New 2.0TB Option for the Award-Winning Mercury On-The-Go Pro, Offering 33% More Capacity for this Popular Bus-Powered Portable Drive
Woodstock, IL – October 30, 2014 – Other World Computing (OWC®) http://www.macsales.com, a leading zero emissions Mac upgrade and storage technology company, announced a new 2.0TB option today offering 33% more capacity for the OWC Mercury On-The-Go Pro, a longtime customer favorite line of bus-powered portable storage solutions.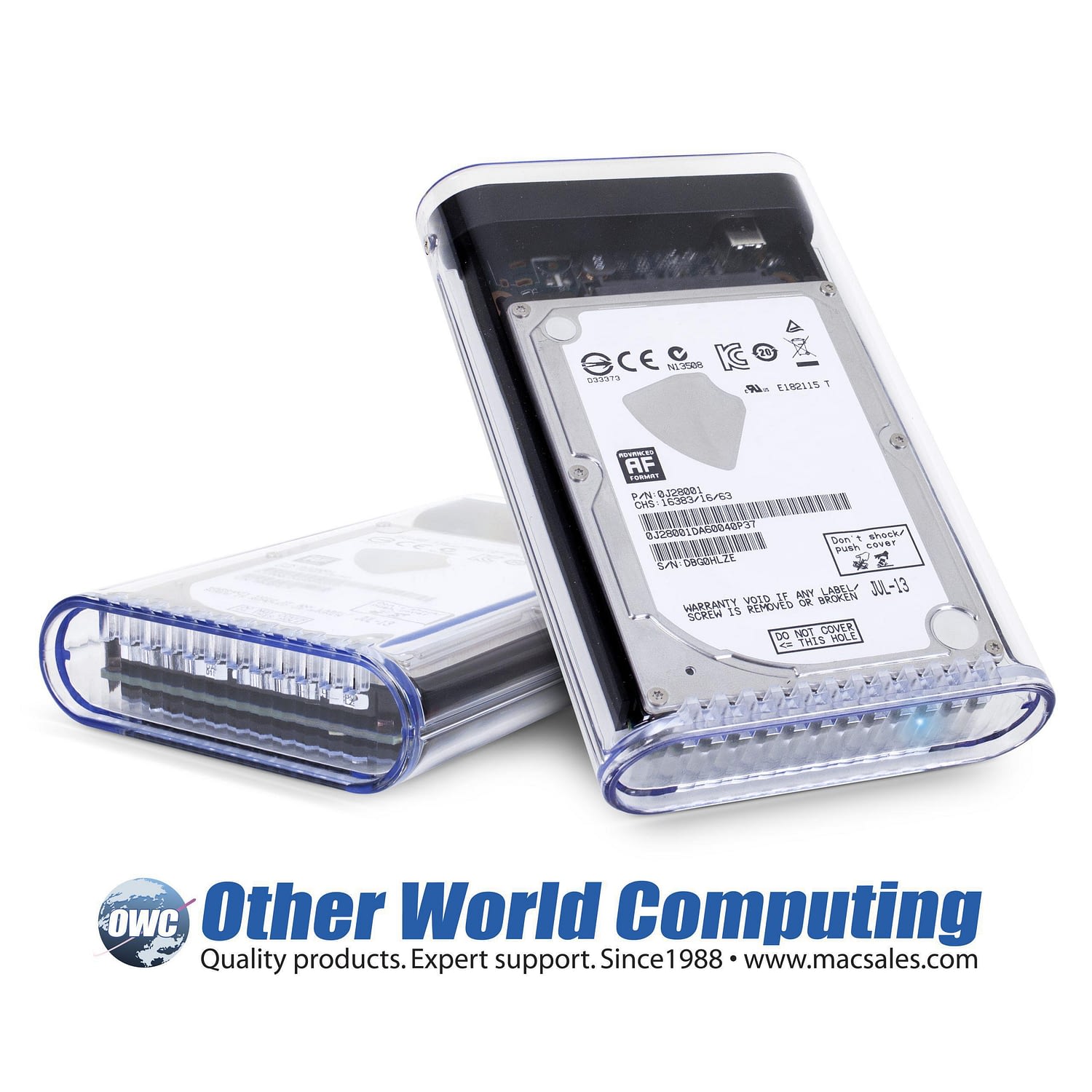 Pocket-Size and Bus-Powered – Perfect for the Mobile Office
Designed for mobile users, the OWC Mercury On-The-Go Pro is compact in size, measuring at 3.5"(W) x 5.5"(D) x 1"(H) – small enough to fit into a pocket, yet big enough to provide up to 2.0TB of capacity. Stylishly engineered in a sleek, impact-resistant acrylic enclosure, the Mercury On-The-Go Pro is bus-powered making it perfect for presentations, multimedia, fieldwork, and other "mobile office" uses.
Works with Macs, PCs, and Digital Devices
Featuring the latest FireWire and USB interfaces, the Mercury On-The-Go Pro offers convenience and flexibility because it's plug-and-play ready and can be used with Macs and PCs for additional storage, transporting large files between multiple computers, and for real-time A/V editing. This high-performance portable drive even works with digital cameras and camcorders equipped with FireWire and/or USB data ports for quick, convenient backups of images and videos while on the road.
"The Mercury On-The-Go Pro has been a leader in portable drive performance since the first model was introduced 12 years ago," said Larry O'Connor, Founder and CEO, OWC. "Expanding its capacity by 33% to 2.0TB underscores our commitment to providing a best-in-class portable storage solution."
Key Features:
– Mac and PC compatible
– Fully suitable for audio / video applications
– Bus-powered via USB, FireWire, and can also be used with optional AC adapter
– Compact size: 3.5"(W) x 5.5"(D) x 1"(H)
– Lightweight: 12 ounces for case plus drive
– Uses 2.5" Serial ATA (SATA) type Hard Disk or Solid State Drive
– Shock Isolation System
– Up to 32MB hard drive data cache
– Super quiet fanless operation
– Clear, impact-resistant polycarbonate acrylic case design
– Cool Blue activity indicator LED
– Solution and included connecting cables are fully backward compatible with USB 2.0
– Smart Power Switch to conserve energy during periods of disk inactivity
Includes:
– OWC Mercury On-The-Go Pro bus-powered portable drive
– Carrying case
– High-quality double-shielded connecting cables:
– FireWire 800 (9-pin to 9-pin)
– USB 3.0
– Intech HD SpeedTools Utilities™
– Prosoft Engineering Data Backup 3
– NovaStor NovaBACKUP®
– 3 year OWC solution limited warranty
https://www.youtube.com/watch?v=Smw4xw-Ooi0
Pricing and Availability:
Models Available

USB 3.0 / FireWire 800

USB 3.0

500GB (7200RPM)

$125.99

$97.99

1.0TB (7200RPM)

$149.99

$122.99

320GB (5400RPM)

$104.99

$75.99

500GB (5400RPM)

$109.99

$79.99

1.0TB (5400RPM)

$133.99

$99.00

1.5TB (5400RPM)

$175.00

$149.99

2.0TB (5400RPM)

$189.99

$159.99

60GB (OWC SSD)

$114.99

$99.97

120GB (OWC SSD)

$139.99

$114.99

240GB (OWC SSD)

$197.99

$174.99

480GB (OWC SSD)

$349.99

$319.99

0GB (Add Your Own Drives)

$59.99

$29.99
For more information on the complete Mercury On-The-Go Pro line, visit:
The OWC Advantage – Over 20 Years of Storage Design and Innovation
– OWC tested for guaranteed compatibility, speed, flexibility, and reliability
– Comprehensive step-by-step installation and support videos
– 24/7 award-winning, US-based support
About OWC
OWC is the manufacturer and upgrade provider of choice for Apple enthusiasts with OWC Memory upgrades for Apple computers dating as far back as the mid 90's. Over the last decade, OWC specifically built SSD upgrades for Apple computers winning multiple awards while also earning accolades for OWC External Drives and OWC Optical Drives. OWC also provides extensive US-based technical support for Mac users around the world. As a member of the Apple Developer Program, OWC also produces a catalog of upgrades and accessories having served the Apple community worldwide since 1988.
OWC's Industry Awards Include:
– Inc. 5,000 "Fastest Growing Privately Owned Companies in America" list honoree 2007–2013
– Reseller Ratings Elite Member 2009-2014
– Better Business Bureau Top Rating of A+ 2010–2014
– About.com Readers' Choice Award winner for best Mac Peripheral Reseller
– Business Intelligence Group 2013 Green Tech Company of the Year
– American Business Awards "Stevie" Gold (2012) and Silver (2014)