Presenting the BIOSTAR PRO Series AMD Motherboards: AMD A70MD PRO, A70MG PRO and A68MD PRO
Redefining affordable AMD motherboards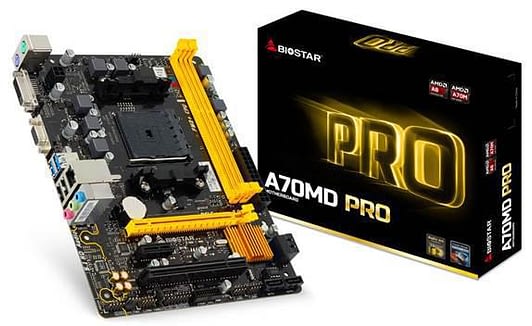 January 22nd, 2015 Taipei, Taiwan – BIOSTAR is heavily committed in delivering the absolute best value products for consumers and today marks the introduction of the new BIOSTAR PRO series line of motherboards for AMD processors. BIOSTAR has taken into consideration the demand of system builders for more cost-effective systems based around the AMD platforms and is introducing the AMD PRO series motherboard to offer a better value option for consumers who want to opt for an AMD system Redefining price-to-performance, the BIOSTAR PRO series is simply beyond better. The new BIOSTAR PRO series motherboards feature enhanced power design for increased stability and durability coupled with a reinforced metal CPU retention backplate for secure, long-term usage. Additionally, BIOSTAR has integrated an improved audio solution featuring Nichicon high-end audio capacitors for better sound quality
BIOSTAR PRO Series Features
BIOSTAR 6+ Experience
The new BIOSTAR PRO Series will carry on the exclusive BIOSTAR 6+ Experience feature set which delivers the best BIOSTAR has to offer: Speed+, Audio+, Video+, Durable+, Protection+ and DIY+.
BIOSTAR PRO Series Models
AMD APU Series
Available soon in BIOSTAR's eBay store: http://www.ebay.com/usr/biostar_microtech?_trksid=p2047675.l2559
Like us on Facebook https://www.facebook.com/BiostarHQ
ABOUT BIOSTAR
BIOSTAR, is a manufacturer dedicated to the production of motherboards, graphics cards and industrial computing systems. Since its establishment in 1986, the BIOSTAR GROUP has become a major motherboard supplier in the PC industry. In order to pursue continuous growth, BIOSTAR has invested heavily in acquiring the physical and human resources to excel at research and development. With a constant emphasis on quality, BIOSTAR always seeks to offer products with the highest price-performance ratio.