SP/Silicon Power Launches the Latest Mini USB Flash Drives — USB 2.0 Touch T50 & USB 3.0 Jewel J50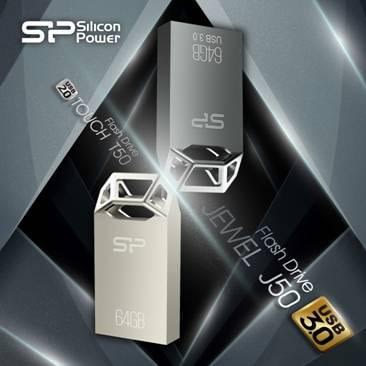 Taipei, Taiwan – October 8th, 2014 –SP/ Silicon Power, the world's leading provider of memory storage solutions, today launches the new collection of designed USB flash drives- USB 2.0 Touch T50 and USB 3.0 Jewel J50. The stylish exterior design, with exquisite openwork carving and matte-surface metallic casing, makes them stand out among numerous products in the market. Moreover, cap-less and compact Touch T50 and Jewel J50 are easy to be stored and carried around, and they will be an awesome choice as a storage device and a fancy accessory to impress people.
Masterpiece of Openwork Carving Design
Do you pursue high-quality life style in a fast-paced environment? Are you trying to keep personal space in an age of information explosion? The newly-launched USB 2.0 Touch T50 and USB 3.0 Jewel J50 can meet the above demands perfectly. By combining two concepts of structure aesthetics and stylish trends into design, Touch T50 and Jewel J50 feature hollow openwork-carving exterior which can show elegant and noble qualities. In addition, characteristics such as durable zinc alloy casing and compact size for easy carrying build up an extraordinary taste and a lifestyle of self-expression. By applying the COB (Chip On Board) technology, both Touch T50 and Jewel J50 offer complete data protections against water, dust and vibration to keep the golden finger away from impairments that might lead to data damages and losses. Users will enjoy safe and delightful storage experiences.
Breaking the Quality–Speed Compromise
Achieving high-quality user experiences is always our first priority, so SP never compromises on product performance and exquisite appearance. To better satisfy users' different mobile needs, there are two options of transfer interfaces – USB 2.0 for Touch T50 and SuperSpeed USB 3.0 for Jewel J50. At an affordable price, Jewel J50 provides blazing-fast data transferring speed to accomplish great efficiency. Meanwhile, both Touch T50 and Jewel J50 offer multiple choices on storage capacities with 8GB, 16GB, 32GB and 64GB to meet different demands. All Silicon Power USB flash drive products come with a lifetime warranty, SP Widget application software which provides seven major back up and security tools and a 60-day trial version of NIS (Norton Internet Security). Moreover, SP provides users with the Recuva File Recovery which allows users to easily rescue the deleted files including digital photos, documents, music and videos. For more information, please visit the Silicon Power website: www.silicon-power.com.
Touch T50 & Jewel J50 USB Flash Drives
Product Features:
Trendy accessory with openwork carving design
Stylish and sturdy zinc alloy casing
Cap-less design, no worries about cap loss
Compact size for easy carrying
COB (Chip-on-board) technology, water, dust and vibration proof
Recuva File Recovery, allowing recovery of erased files, such as digital photos, documents, music and videos
Product Specifications:
Size:24.3 x 12.2 x 4.6 mm
Weight:2.6 g
Capacity:8GB、16GB、32GB、64GB
Material:Zinc alloy
Color:Touch T50 – Champagne gold
Jewel J50 – Titanium
Interface:Touch T50 – USB 2.0 / USB 1.1 compatible
Jewel J50 – USB 3.0 / USB 2.0/ USB 1.1 compatible
Operating temperature: 0° C ~ 70° C
Supported OS Operation Systems:PC- Windows 8 / 7 / Vista / XP / 2000, Mac OS 10.3.x, Linux 2.6.x
Certification:CE/FCC/BSMI/Green dot/WEEE/RoHS/KCC
Warranty:Lifetime warranty
About SP / Silicon Power
Silicon Power Computer & Communications Inc., founded in 2003 by a group of enthusiastic specialists of flash data storage industry. Well dedicated in brand image and product quality, SP has been recognized and well accepted by millions of end-users in more than 100 countries, becomes the world's leading manufacturer of flash memory cards, USB flash drives, card readers, DRAM modules, solid state disks, and portable hard drives in less than a decade. Headquartered in Taipei, we continuously established various branches throughout the world including Netherlands, Japan, Russia, Mainland China and other emerging market. With superior quality and innovative design, our products stood out in many competitions and awarded with numerous well-known design awards, such as Taiwan Excellence, COMPUTEX Design & Innovation Award, red dot design award, iF Design Award and IDEA . Winning trust of global consumers SP holds a record of successive double-digit revenue growth for last ten years. For SP, the product we introduced is not only a digital storage device but also a real promise to create and preserve your most valuable memory in every moment.