Super Talent Updates its SATA Slim Flask Disk Modules
The SATA Slim SJ2 is Super Talent's latest flash solution for embedded systems
San Jose, California – July 14, 2015 – Super Talent Technology, a leading manufacturer of NAND Flash storage solutions, announces its SATA Slim SJ2.
Super Talent's SATA Slim flash disk modules are used extensively in industrial and embedded computing applications. These low power high performance SSDs are utilized in solutions such as: medical instruments, point–of–sale terminals, laptops, and surveillance set–ups every day. The SATA Slim is a great choice when physical space is a limiting factor for a host system.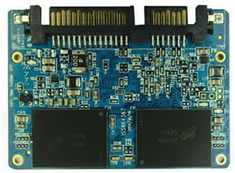 | | |
| --- | --- |
| Capacity | Part Number |
| 16GB | FML016MURM |
| 32GB | FML032MURM |
| 64GB | FML064MURM |
| 128GB | FML128MURM |
The SATA Slim SJ2 can be built with industrial parts that withstand extreme temperature ranges for applications in much harsher environments. Transfer speeds on the SATA Slim SJ2 can reach up to 480 MB/s reads and 400 MB/s writes which uses the SATA–III interface.
Additional information on Super Talent's SATA Slim SJ2 can be found here.

About Super Talent Technology
Super Talent Technology Corporation based in San Jose, California, designs and manufactures flash based SSD and USB storage devices for computers and consumer electronics. An ISO 9001 certified company, Super Talent utilizes its state-of-the-art factories and leading-edge components to produce award winning products with outstanding reliability. Super Talent is an active member of the JEDEC and ONFI. With over 200 patents, the company was ranked in the top 50 of the Wall Street Journal's Patent Scorecard ™ for the IT industry three consecutive times.