TRENDnet announces lifetime warranty for its metal-enclosed switches
TORRANCE, Calif. – Aug. 5, 2015 –
TRENDnet® (www.TRENDnet.com), a best-in-class wired and wireless networking hardware brand, announced today the introduction of its Limited Lifetime Warranty Policy on all of its metal-enclosed network switches.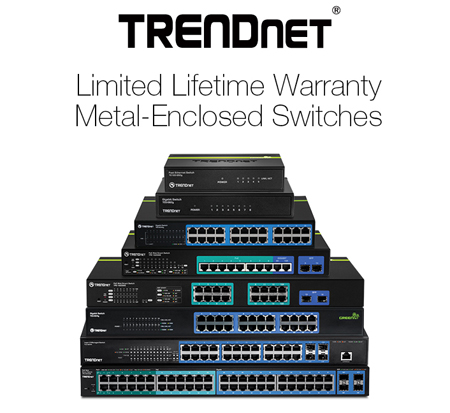 Retroactive to products purchased by Jan. 1, 2015, TRENDnet now offers a limited lifetime warranty on all of the company's switches with metal housing. The limited lifetime warranty is available on purchases made in the United States and Canada only.
"TRENDnet prides itself as the price-to-performance leader in the industry," said Sonny Su, technology director at TRENDnet. "Our switches have earned their reputation for being durable and reliable, and our limited lifetime warranty policy reflects this confidence in our products."
For more than 25 years, TRENDnet has been a global leader in networking hardware. The company's mission is to create simple and award-winning solutions to keep people connected at work and at home.

About TRENDnet, Inc.
TRENDnet is a global provider of award-winning networking and surveillance solutions to small- and medium-size business and home users. Building networking solutions since 1990, TRENDnet enables users to share broadband access, multimedia content and networked peripherals for true anywhere connectivity. TRENDnet's diverse product portfolio includes Wireless, Internet Cameras (IP Cameras), Switches, Power over Ethernet (PoE), Fiber, Gigabit, Home Automation, Network Video Recorders (NVR), Keyboard/Video/Mouse (KVM), Print Servers, Powerline, NAS Media Servers, Multimedia Accessories, and more. To learn more about TRENDnet, please visit www.trendnet.com.