Taipei, Taiwan – June the 18th, 2021 – Get dependable storage for your portable gaming consoles with Silicon Power's (SP) new gaming microSD card.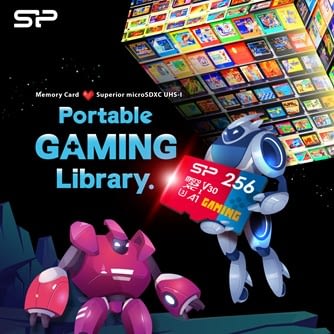 Storage Built For Gamers
Looking to expand your gaming library? This card was designed for gamers who use portable gaming consoles and need dependable storage. It comes in huge capacities up to 256GB so you can keep all of your favorite games in one place. No need to sacrifice classics for the latest releases!
Less Wait Time, More Play Time
This card packs a punch that'll boost your gameplay. Avoid slow load times and transfer games quickly with this V30 speed-rated card that leverages UHS-I technology to achieve game-changing read speeds up to 100MB/s. You'll spend less time waiting and more time conquering new levels.
For more information, please visit the Silicon Power official website: www.silicon-power.com.
About SP / Silicon Power
Founded in 2003 by a group of enthusiastic data storage industry experts, Silicon Power is committed to delivering outstanding product and service quality. Headquartered and with its own state-of-the-art production site in Taipei, SP has become a leading manufacturer of flash memory cards, USB flash drives, portable hard drives, solid-state drives, DRAM modules, and industrial-grade products. Successfully blending innovative technology with award-winning design, the international player with four branch offices around the globe continuously strives for perfection in preserving and protecting your valuable data. Because memory is personal.