Often, partitions in SD cards, Hard disks and USB drives etc. become a RAW partition. This will result in you not being able to access the data present in it. There are thousands of partition recovery tools present on the internet that can be used to resolve this issue and recover all the lost files. Most of these tools are free to use and are extremely popular among professionals as well as casual users. 
Lost partition recovery can be a complex task if you are not aware with the causes, symptoms and solutions for the issue. Also, make sure that you download a trusted recovery tool that supports the recovery of different types of files like images, videos, audios, documents etc. Ensure that it is easy to use and doesn't have a confusing user interface.
The following are some of the errors that you will notice if your partitions have become Raw Partitions.
Location is not available, G:\ not accessible

You need to format the drive before you can use it.

Parameter incorrect

Disk not formatted etc.
These are only a few errors that you will commonly receive when you try to access those raw files. This can be caused due to a variety of different reasons and most of them arise due to human error. In order to avoid such issues, it is important to be careful while handling storages devices like hard disks and SD cards etc. Have a look at some of the reasons that might be the reason behind why you need to recover raw partition.
Disk Drive or cable error
If the cable of the drive that you have plugged in is damaged or improperly connected while the file writing process is on, it will result in a RAW partition.
Improper shutdown
Due to sudden loss of power or not saving the file before shutting your computer down can also result in RAW partition. In order to avoid this, use UPS with desktops and try to save every file once you are done with it.
Errors when changing the file system
Different types of operating systems support different formats and hence, people who have multiple operating systems have to change the format of the drive before they can use it on other operating system. It can be done with the help of third party tool but if there is an issue while the conversion process in going on, it can result in a RAW partition.
Virus infection in system
Just like humans, computers have viruses as well. These are created digitally and can slow down your computer, corrupt and damage your files. If your disk gets infected by the virus, there is a high chance that a RAW partition can be created. If you wish to avoid this, make sure that you install antivirus software and update it from time to time.
Improper operation or handling
Another major cause of these issues is the improper handling of storage devices. One should practice good practices related to storage devices like keeping them in the right environment, ejecting it from the system before removing it and keeping them away from magnets and direct sunlight. This will avoid structural damage to the disk and will make sure that it keeps on functioning smoothly.
Bad sectors
If there are bad sectors present in the area where the files are being stored in the drive, it can result in issues while accessing the files. You will face slow processing and other similar issues. Make sure that you immediately backup your data before it gets completely corrupted.
Now, that you have completely understood the errors and the reasons behind them, it is time for you to know about the tools that can recover formatted partition for you. There are thousands of tools available across various operating systems that can be used for these requirements. If you are also looking for a tool that can recovery partition Mac, make sure that you give Recoverit a chance.
Recoverit is one of the most popular free to use recovery tools available across different operating systems like Mac and Windows. Despite the fact that this is a free to use tool, there are no compromises with the efficiency of the features that it provides. It can be used to recover any type of files from your system even if it is severely damaged. There are tons of features on this tool that make the overall user experience quite great. Some of those features of this partition recovery tool are listed below-
The overall recovery process is read only which means there is no affect on the original device and data.

It can recover deleted or lost file without size limits.

It can be used to recover files from damaged storage devices like hard disks, USB drives and SD cards.

Due to a professional looking and simple user interface, it is very easy to use and can be downloaded and used for free. 
The following is a step by step guide for using Recoverit to recover data from RAW partitions.
Step 1 Download Recoverit on your computer 
Go to the official website and download Recoverit on your computer. Once done, install and launch it. Select the Raw partition recover mode and continue.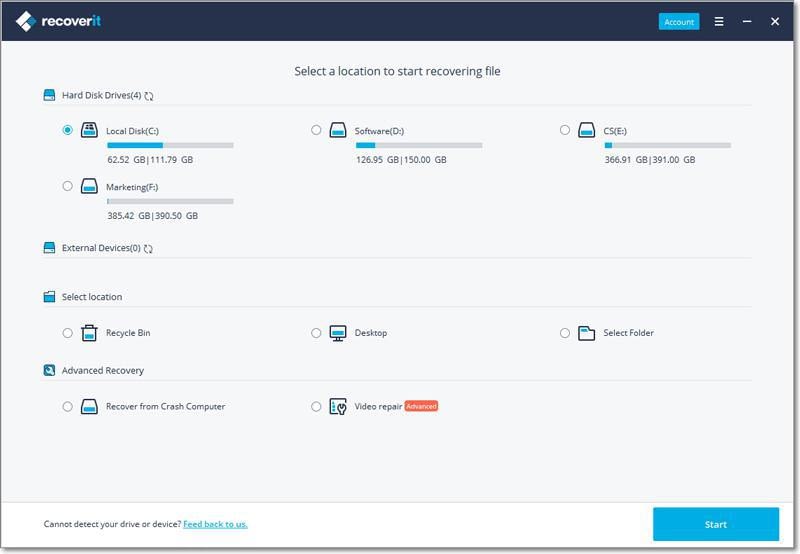 Step 2 Select the storage device
Now select the storage device from where you want to recover data from. If it is an external device, make sure that you plug it in before launching the software. Once the device is selected, click on the Start button.
 Step 3 Apply filters and pick out files
Now the scan would have begun and the tool will start bringing out the files. Make sure that you select the files that you want to recover. You can apply various filters in order to speed up the scanning process.
Step 4 Repair and save the files
When the scanning process ends, you will be able to preview the files. After previewing and making sure that its working fine, click on recover option.
Conclusion
If your hard drive is showing errors like Disk not accessible, parameters no met etc. it might mean that it has become a RAW partition. If such situation arises, you will not be able to access the files is that partition. There are a lot of third party tools like Recoverit that can easily resolve these issues and allow you to access your files. It is free and easy to use, which makes it great for beginners that don't know about recovering files from RAW partitions.