The world of gadgets is enormous right now, making your choices endless and pretty impossible. Most students have a low budget, so buying everything from smart pens to expensive tablets is definitely not an option. Even so, the academic tasks and errands nowadays are more demanding than ever. Students constantly use technology to make their lives easier and to be fair, there's quite the list of gadgets that would help out any student out there. So, how do you narrow down your choices?
Lucky for you, I've made a short list of five essential technology gadgets that all students should have today. These are also quite affordable and will help you a lot with your student life. Enjoy!
1.     Kindle Paperwhite
You'll need to read a lot as a student. Even when you do a short research on your smart phone or your laptop and find the best topics for persuasive speech or a research paper you have due, you'll still need to perform actual research. This means going through journals and articles, as well as books.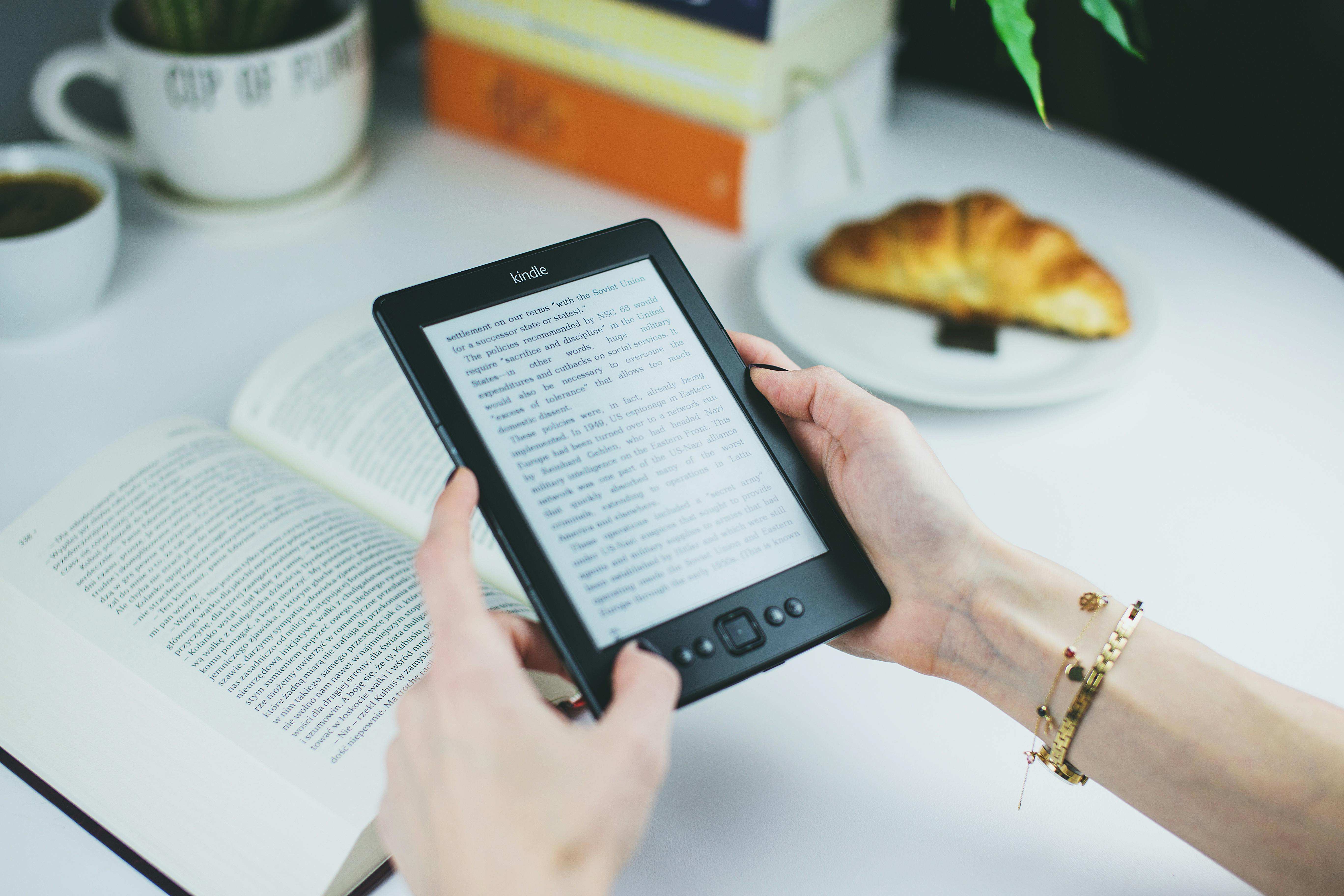 https://www.pexels.com/photo/reading-reader-kindle-female-7694
Well, this is where Kindle jumps in. One of the most popular Amazon features, the Kindle completely eliminates the need to carry dozens of books around campus. You can use it to study, read books, take notes, highlight the important things, and store every book you need for the semester. With many versions of Kindle available, you can definitely find one that will meet your needs and fit your budget.
2.     iPad Keyboard Case
Many students nowadays use their iPads to take notes and read things for school. To make this easier and faster, you should get a keyboard case such as the Logitech Slim Folio iPad case or the Create Backlit Keyboard Case. Cases with such vast variety of features will come really handy when you need to take notes, find things on your iPad, and use the features with ease.
https://www.pexels.com/photo/person-in-white-long-sleeve-shirt-holding-black-smartphone-while-using-tablet-3803221/
With a keyboard case attached to your iPad, you can write your papers on the go instead of having to wait to get to your laptop. Of course, you'll probably need to hire Edubirdie to take over if you forget an important deadline or have a tough paper, but having this gadget handy will sure make your writing endeavors easier.
3.     Wireless Earbuds
It's time to go modern and purchase the wireless earbuds. Everyone keeps telling you that you need to be active and exercise, and these buds can be perfect while you're running on the treadmill or taking a jog in between study sessions. They are simply more comfortable and ideal for casual listening. And earbuds like the AirPods by Apple have so many features available, that you don't even have to click pause or play to turn them on or off.
4.     Pocket Photo Printer
How many times have you had to rush to the printer to get a paper to submit to school? The big printers are out of fashion in the school world now that students have portable, mini printers like the HP Sprocket right there in their backpacks.
With the mini printer, you can instantly print out a paper you forgot about while you're at school, or get a real version of your smartphone photos to decorate the dorm room or hang on your fridge. They are lightweight and well-designed but most importantly – they can be really handy for a student.
5.     Mini PowerStation
Power is a constant problem with students. You're often using all your devices to communicate, research, or study, so you're often left with no battery in anything. Thankfully, someone has come up with an excellent solution – a mini PowerStation that weights nothing and will charge all your gadgets when you need it to.
Mini power stations are now sold separately and with different mAh capacities, in different forms and even in the form of a charging backpack. One of the most popular options among students is the Mophie PowerStation mini, which is highly affordable and costs around $30. This PowerStation packs extra 3000 mAh battery which is enough to fill the battery in your smart phone. It is enough to get you through your classes and possibly through your day. Because of its pocket size, you can easily stash it in the purse or the backpack.
The bottom line
Today, there are gadgets for all kinds of purposes. If you go online and do a short search for digitogy, you'll probably come across dozens of great ideas that would make your student life easier. However, you need to be mindful of your budget. This is why I've handpicked the five most affordable and most essential items that all students should possess.
Author's Bio
Emma Rundle is a gadget developer. She works at a US-based company creating all kinds of helpful technology gadgets. The company's goal is to find innovative ways to assist people in their daily tasks.