Closer look at the interior
Look at the inside of the Vs-9 for the first time we saw a very good looking and well workable case. The entire inside is painted in the black which is fast becoming a standard. For not being an extremely tall case there is plenty of room to work with.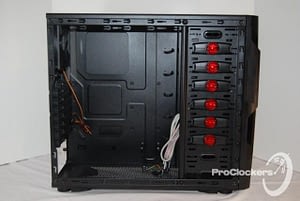 One of the first things we notice about the Vs-9 is the CPU cooler cut-out in the back of the motherboard tray. Another option that is quietly becoming a standard in the industry. And for cable management the case comes with built-in clips to hold cables in place. This is a decent option to not be able to place the cables behind the motherboard tray. Only negative is yu can only place about three legs of cables if you include the main ATC cable.If you are worried about having enough room for that very long GPU you have handy there is approximately 11.6 inches of space between the rear of the case and the drive bays.
 Like we stated before the Vs-9 has a ton of room for drives or other devices that utilize drive bays. A total of nine 5.25" bays but there are also five 3.5" bays and one 2.5" bay for your SSD. Drives are hold in place using these red and black plastic mechanisms. The front can also house up to three large diameter fans with special adapters as well. But we see the location ideal for a water-cooling radiator. In the front is the only location where you will find dust filters.
In the rear of the case we see the lone fan that comes with the Aerocool Vs-9. A solid black unit which we detailed earlier in this article. For I/O card security these black plastic clips holds them in place.
Here we have the top of the case from the inside.