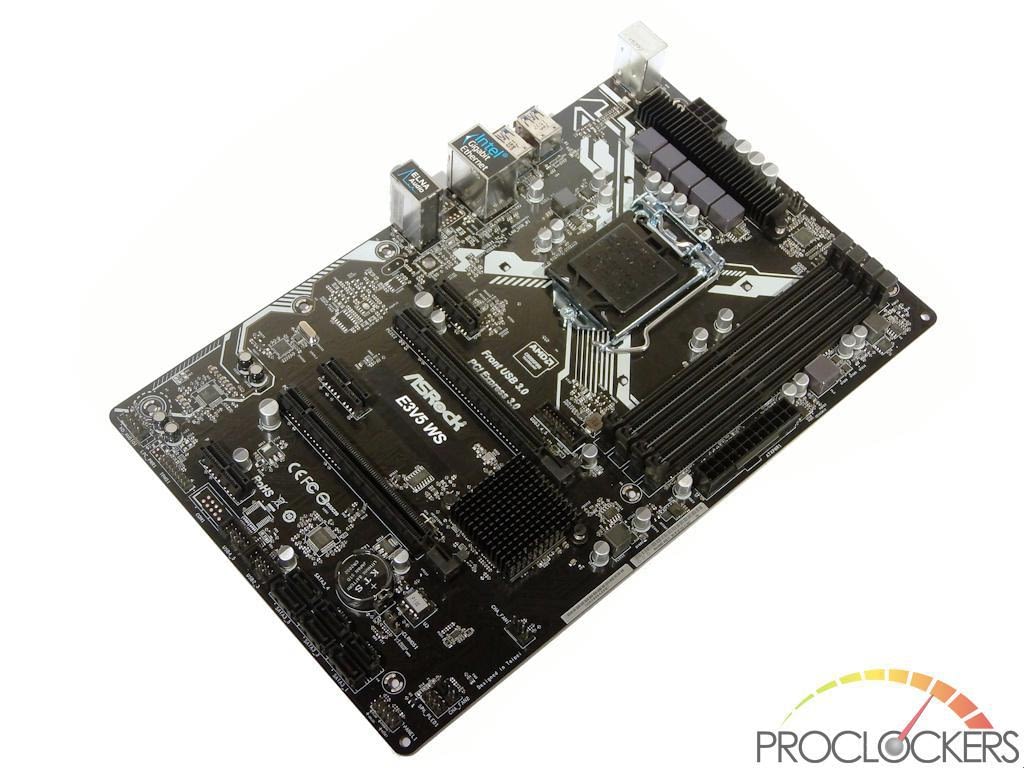 Introduction
Here at Pro Clockers we have reviewed quite a few motherboards over the years. I alone have reviewed close to thirty. Despite all these numerous reviews, we rarely get an opportunity to review motherboards that are not aimed towards the enthusiast market. Today is one of those rare occasions though, as we have the ASRock E3V5 WS for review.
The ASRock E3V5 WS is based around Intel's C232 chipset. The C232 chipset is specifically designed and tested for use with Intel's Xeon processors and the more rigorous environments that they might serve in. Feature wise, the C232 is most closely related to Intel's B150 business/consumer chipset, but adds RAID and is capable of splitting PCI-E lanes like the Z170 enthusiast chipset.
The E3V5 WS feature set is squarely aimed at the workstation market. Full Xeon E3-1200 v5 CPU and DDR4 ECC memory support is there. ASRock has also made sure that support for workstation graphics cards is not remiss. To top it off Intel's I219LM Gigabit LAN chip provides superior network support over the typical network chip. Add Server OS support and several other key features, then add an attractive price and you have the makings of a possible winner.
ASRock's take on the E3V5 WS
Motherboards Built for Content Creators
Supports Intel® Xeon Series CPUs
This motherboard offers the best flexibility with support for Intel® Xeon E3-1200 v5 and 6th generation Intel® Core i3, Pentium and Celeron processors.
Supports DDR4 ECC Memory Modules
Capable of supporting ECC memory modules with Intel Xeon E3, Core i3, Pentium and Celeron processors.
Supports NVIDIA® Quadro and AMD FirePro Workstation Graphics Cards
Two PCIe Gen3 x16 slots that not only support ordinary graphics cards, but are also fully compatible with professional NVIDIA® Quadro and AMD FirePro workstation graphics solutions.
Server Grade Intel® I219LM Gigabit LAN
A low power gigabit network controller that can be used for server or workstation system con‑gurations.
Supports Server OS
Besides the ordinary Windows® 10/8.1/7, this motherboard is also fully compatible with Server operating systems.
Premium 50A Power Choke
Compared to traditional chokes, ASRock's premium 50A power chokes effectively make the saturation current up to three times better, thus providing enhanced and improved Vcore voltage to the motherboard.
High Density Glass Fabric PCB
What you've never understood about your computer is that it is scared to death of water, H2O, humidity or whatever you'd like to name it. And even though you do not see the water, actually there may be lots of excessive moist in the air killing your motherboard silently and slowly. No, your motherboard doesn't melt when in contact with water like the wicked witch of the west, but it dies of short circuit. Luckily, ASRock has a new High Density Glass Fabric PCB design that reduces the gaps between the PCB layers to protect the motherboard against electrical shorts caused by humidity.
UEFI EZ Mode
EZ mode is a dashboard which contains multiple readings of the system's current status. You can check the most crucial information of your system, such as CPU speed, DRAM frequency, SATA information, fan speed, etc.
15μ Gold Contact in DIMM & VGA PCIe Slot
Unlike other motherboards come with only 3-4µ gold contact, this motherboard is coated with 15µ gold contact in the DRAM slots and PCIe x16 slot, thus providing better anti-oxidation protection than usual.
ELNA Audio Caps
Who says high quality audio is only available on high-end motherboards? ASRock applied ELNA audio capacitors on mainstream and entry-level motherboards! Compared with traditional solid caps, the leakage current of ELNA audio caps is merely 3uA. This is the key to reduce noise level significantly and satisfy even the pickiest audiophiles.
Solid Capacitor Design
ASRock applied solid capacitors on this motherboard. With these solid caps, this motherboard is allowed to perform more stably and ensure longer lifetime.
A-Tuning
A-Tuning is ASRock's multi purpose software suite with a new interface, more new features and improved utilities.
Live Update & APP Shop
ASRock Live Update & APP Shop is designed for your convenience. We provide various apps and support software for users to download. You can also easily optimize your system and keep your motherboard up to date with ASRock Live Update & APP Shop.
Full Spike Protection
Some sensitive digital components on the motherboard are vulnerable to power surges, the excessive current may cause your system to malfunction immediately. ASRock Full Spike Protection includes various technologies to prevent your motherboard's components from being damaged by these unexpected voltage spikes.
USB Key
In a world where time is money, why waste precious time everyday typing usernames to log in to Windows? Why should we even bother memorizing those foot long passwords? Nobody has time for that! Just plug in the USB Key and let your computer log in to windows automatically!
That is just a highlight of the E3V5 WS's many features. Let us take a look at the product specifications and packaging next.