Introduction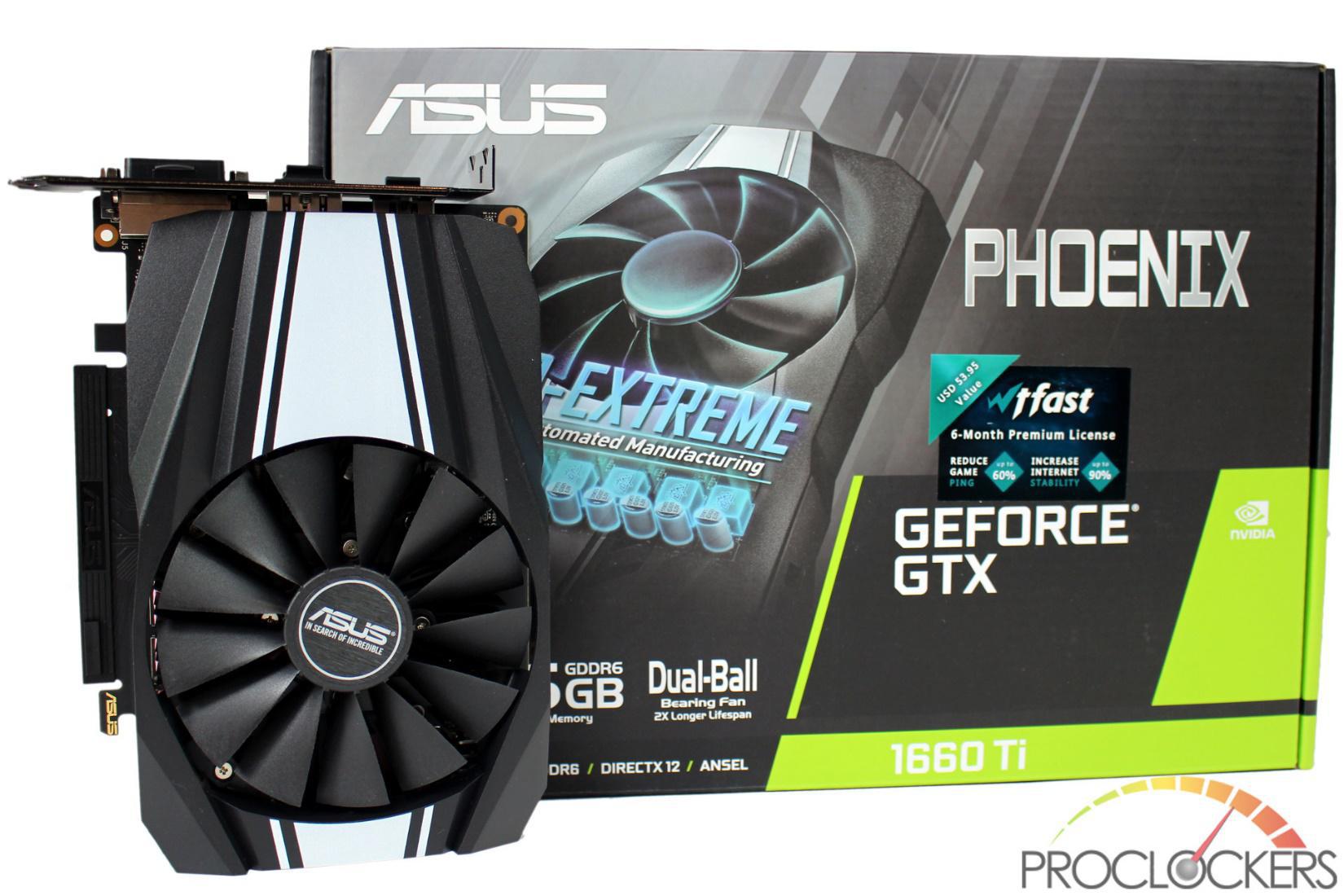 With Nvidia's recent launch of the GTX 1660 Ti last week, we've seen cards released anywhere from the base model MSRP of $279 up to flagship's like the ROG Phoenix  GTX 1660Ti OC we checked out recently. Today we have a card from ASUS that is close to the MSRP and small enough for SFF and ITX builds, but with a factory overclock to give it an edge. Can this phoenix fly you to gaming bliss? Let's find out!
ProClockers would like to thank ASUS for sending the ASUS Phoenix GTX 1660 Ti OC Edition over to check out!
ASUS's take on the ASUS Phoenix GTX 1660 Ti OC Edition:
The ASUS Phoenix GeForce® GTX 1660 Ti crams high performance into just 2 slots. Our patented Wing-blade design is coupled with a dual-ball fan bearing to bring high performance and incredible durability. If that doesn't already convince you of the Phoenix's resilience, consider that each card is manufactured using Auto-Extreme Technology, an automated manufacturing process that sets a new standard of quality. If you're looking for a long-lasting companion to power you through years of games to come, look no further than the ASUS Phoenix.
ASUS Phoenix GeForce® GTX 1660 Ti OC edition 6GB GDDR6 rocks high refresh rates for an FPS advantage without breaking a sweat.
The GeForce® GTX 1660 Ti is built with the breakthrough graphics performance of the award-winning NVIDIA Turing™ architecture. With performance that rivals the GeForce GTX 1070, it's a blazing-fast supercharger for today's most popular games.
Broadcast your gameplay: Get amazing performance and image quality while live streaming to Twitch or YouTube. The GTX 1660 Ti's dedicated hardware encoder delivers 15% improved efficiency over prior generation graphics cards and is optimized for Open Broadcaster Software (OBS).
GeForce Experience: Capture and share videos, screenshots, and live streams with friends. Keep your drivers up to date and optimize your game settings. GeForce Experience lets you do it all, making it the essential companion to your GeForce graphics card.
Wing-blade fan design incorporates drooped tips on each blade to reduce drag.
Dual-ball fan bearing design can last up to twice as long as sleeve bearing designs.
Auto-Extreme Technology uses automation to enhance reliability.
GPU Tweak II provides intuitive performance tweaking and thermal controls.