Features & Specifications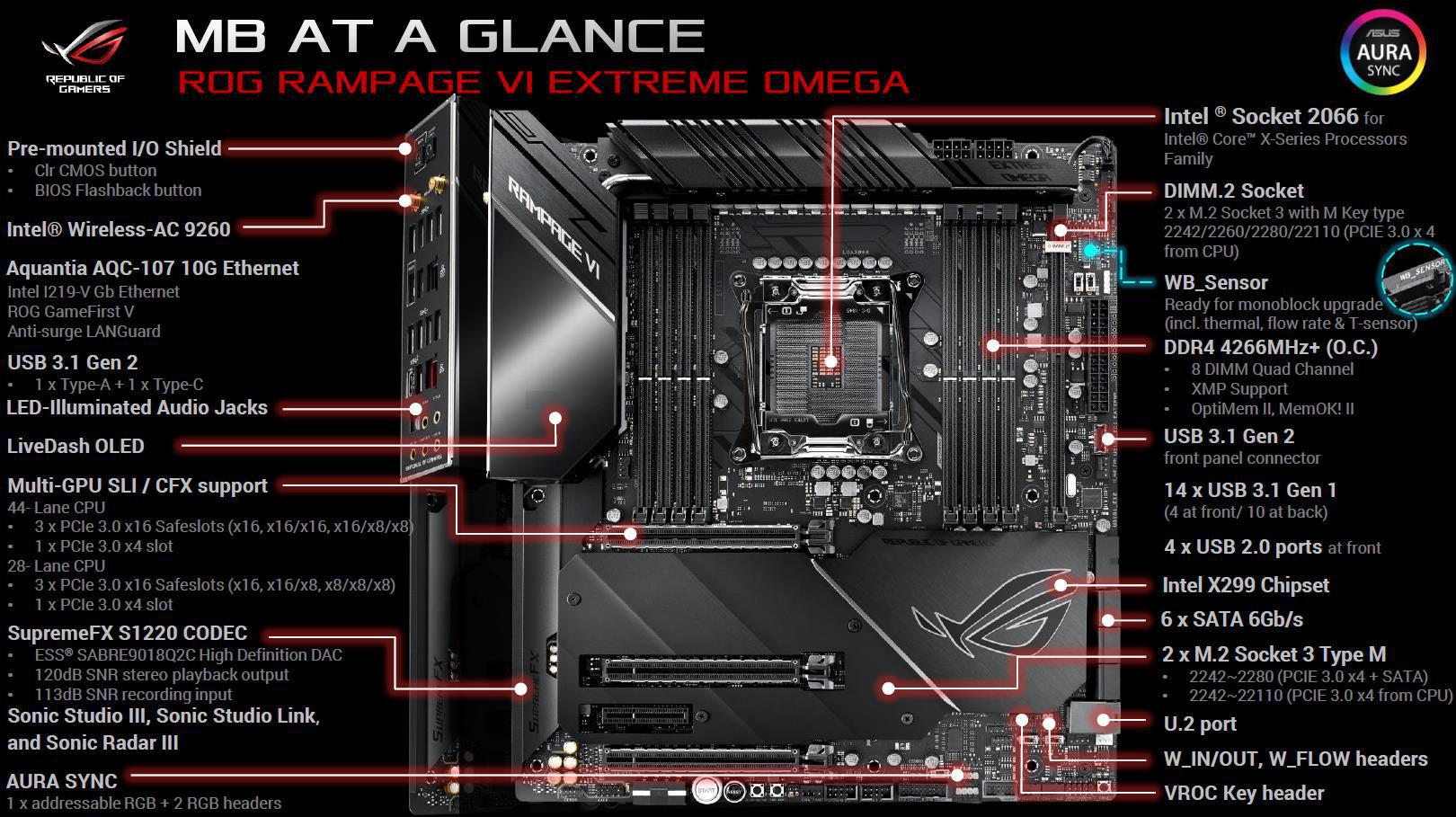 PERFORMANCE
We've rethought and refined every aspect of Rampage VI Extreme Omega to provide the solid foundation needed to create an extreme gaming system that delivers the highest performance.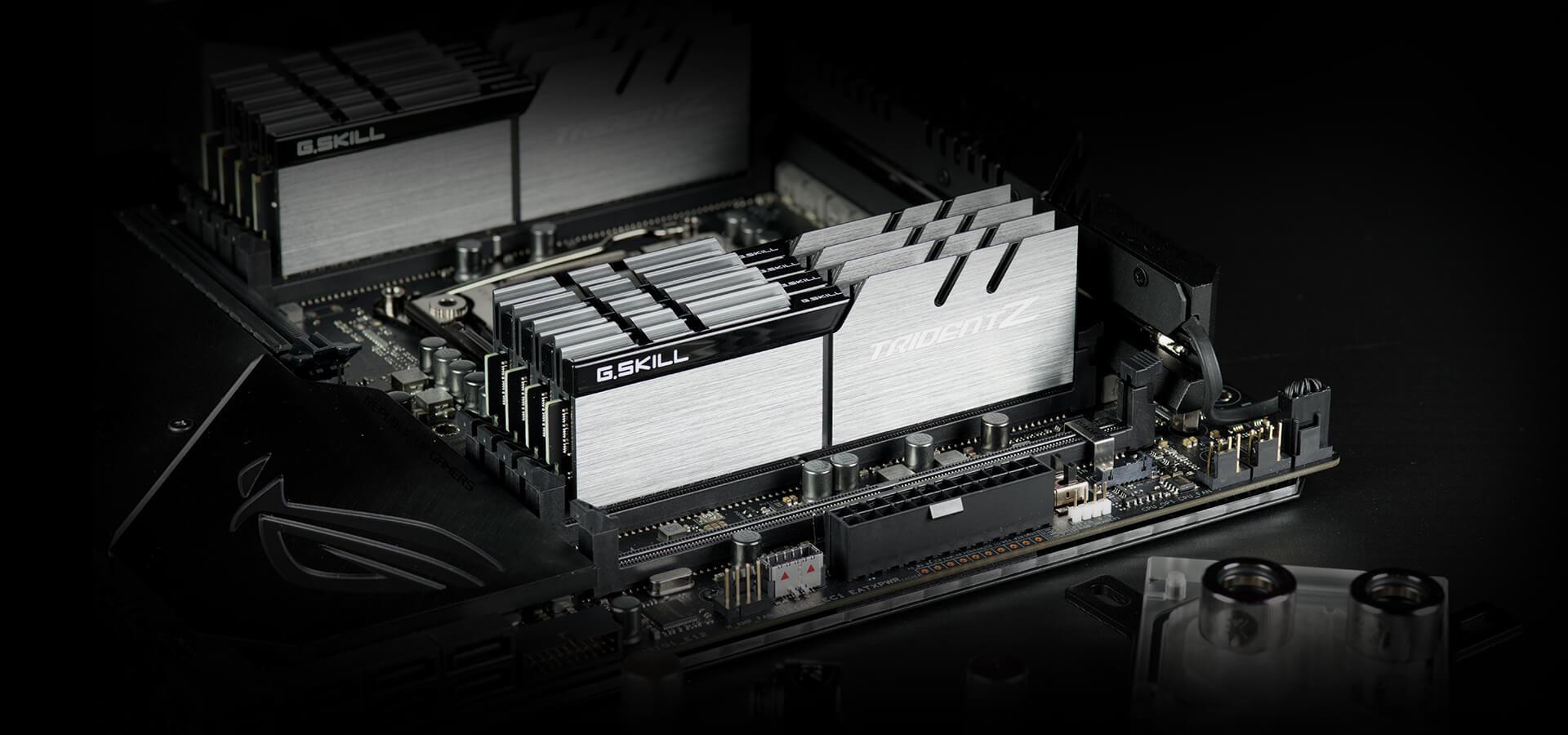 DDR4 4266MHZ+
HCC processors crunching multi-threaded compute workloads can demand colossal memory space and bandwidth. The Omega features choice Optimem II enhancements to maximize signal integrity and drive high-density memory configurations to speeds previously reserved for low-capacity setups.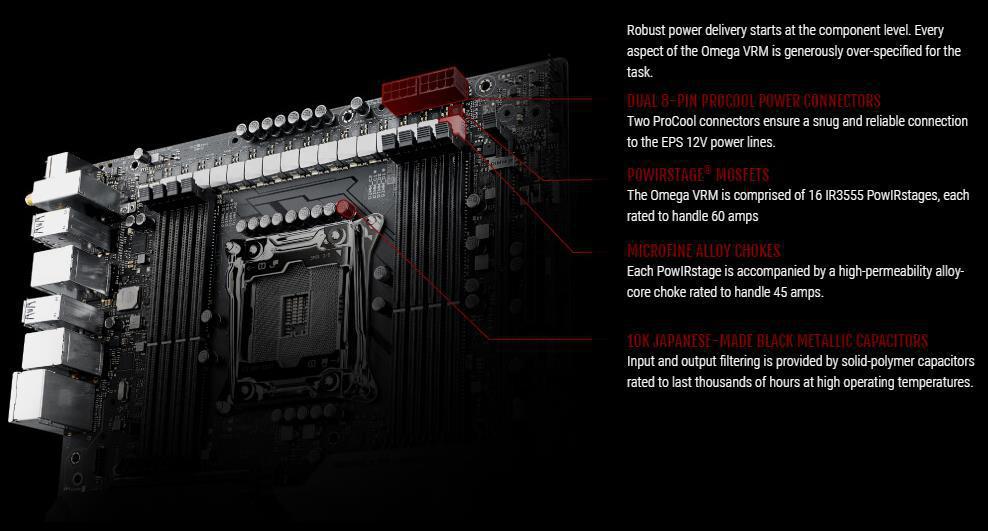 POWER DESIGN THAT BUCKS TRENDS
The monstrous compute power of high core count (HCC) processors necessitates a power circuit that rapidly responds to massive current swings. And those demands increase exponentially when the CPU is overclocked. Featuring an array of 16 strategically paired power stages, the Omega's VRM is geared for any workload and all operating conditions.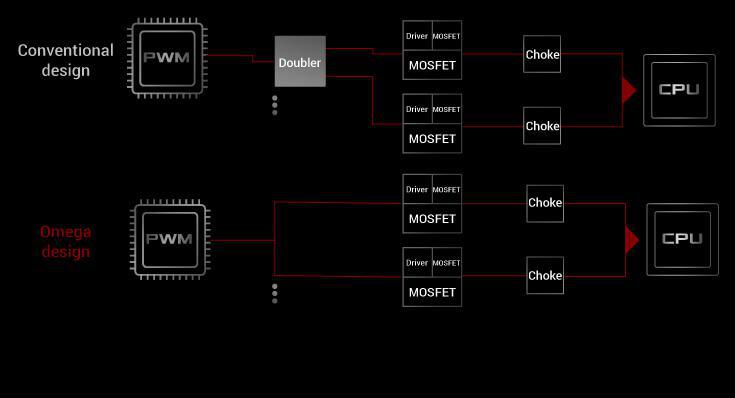 POWER ARCHITECTURE
Overclocked multi-core processors place incredible loads on the VRM when transitioning between load states. However, conventional motherboard design practices place primary focus on component specs without implementing circuit topologies that provide optimal transient response. The Omega bucks industry trends by utilizing teamed PowIRstages to double the burst current of each phase and rapidly respond to load changes.

The Omega's VRM reacts quickly to load changes and suffers from less overshoot and undershoot than alternative power solutions, allowing the processor to remain stable at lower average core voltages.
COOLING
Effective cooling is extremely important for up to 18-core processing beasts, even at stock speeds. That's why ROG Rampage VI Extreme Omega is fully armed to provide the best foundation for extreme PC systems, enabling higher performance at lower temperatures.
COOLING HEATSINKS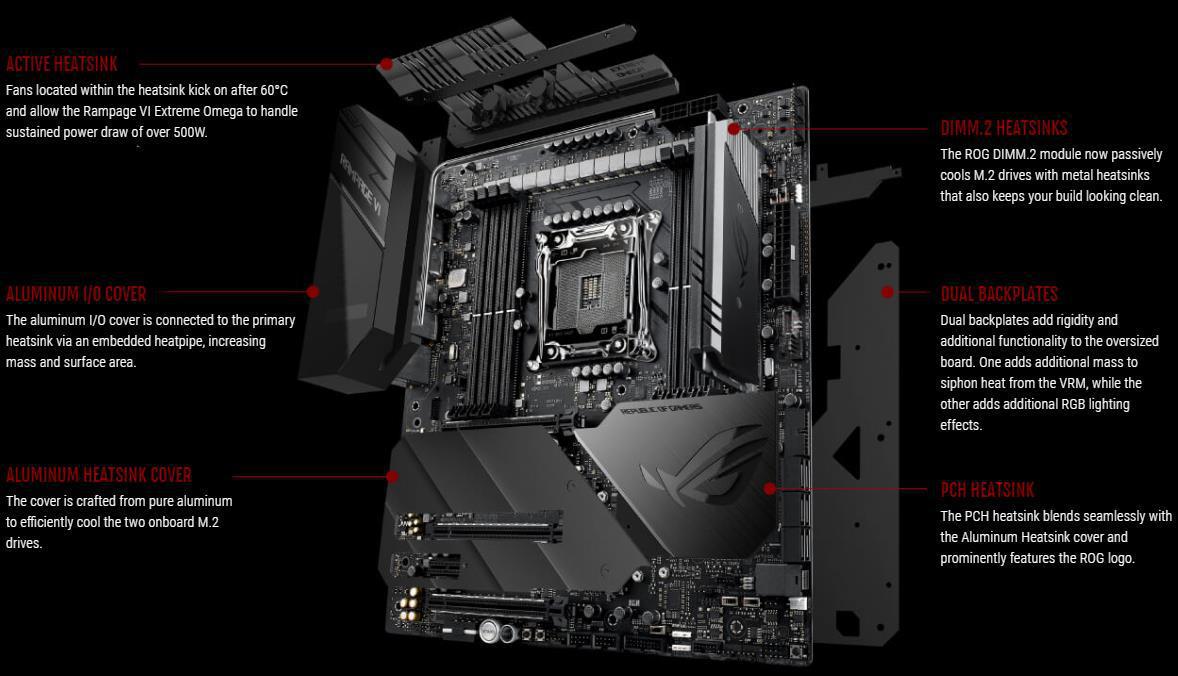 COOLER BY DESIGN
Rampage VI Extreme Omega features the most comprehensive cooling options ever, configurable via Fan Xpert 4 or the UEFI BIOS.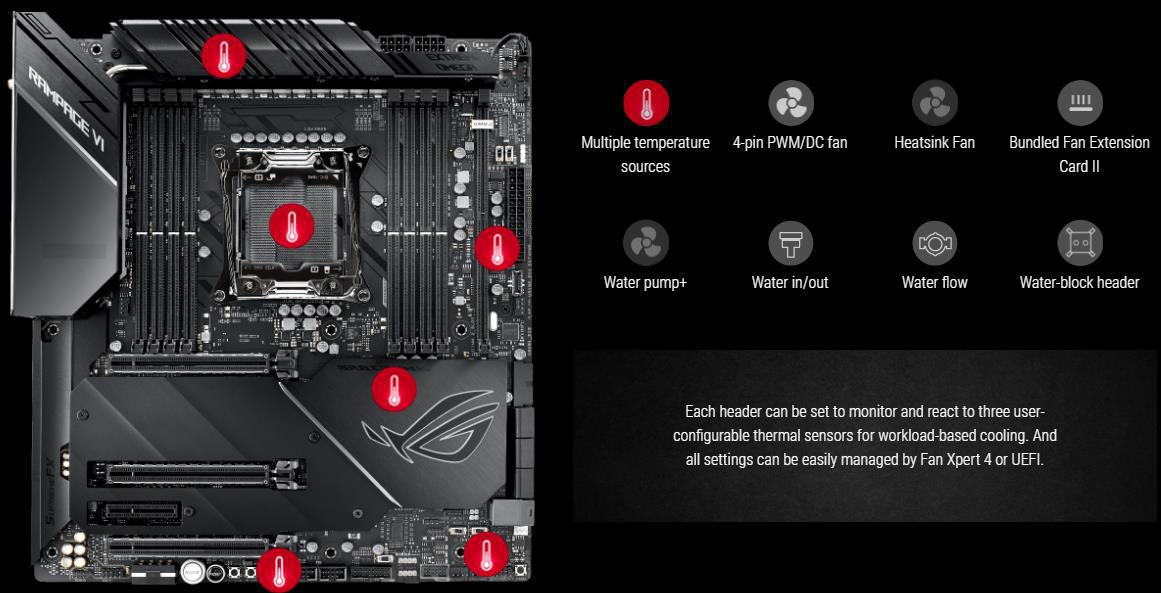 ROG WATER-COOLING ZONE
ROG Water-Cooling Zone's dual water-temperature headers and flow-rate header feed information straight into the AI Suite utility, so you can keep track of coolant temperatures, and the flow rate of the entire loop.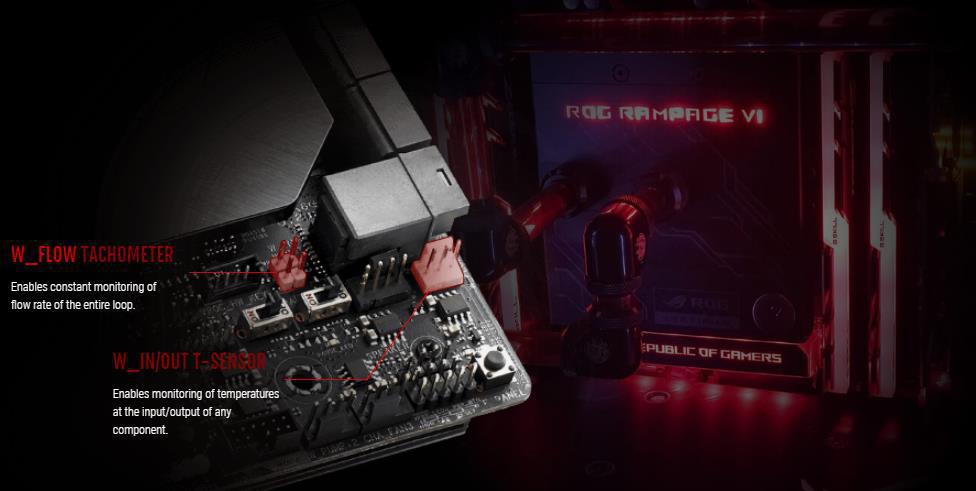 AN EXTENSION CARD II
ROG Rampage VI Extreme Omega includes our new Fan Extension Card II, which adds six headers that are controllable via FanXpert 4. The card has three temperature-sensor headers to complement the one available onboard and, more importantly, it comes with three thermistors that you can affix to different components. In addition to supplying extra headers for cooling, it has three primed for RGB LED strips.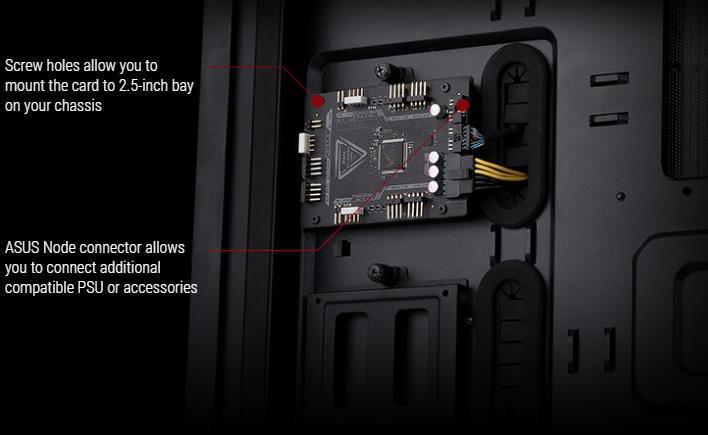 OPTIMIZATION
Rampage VI Extreme Omega is packed with intuitive and flexible tools that let you customize every aspect of your system to deliver the performance and features you want. Take advantage of 5-Way Optimization for intelligent, automatic overclocking or enjoy full manual control via comprehensive UEFI BIOS settings.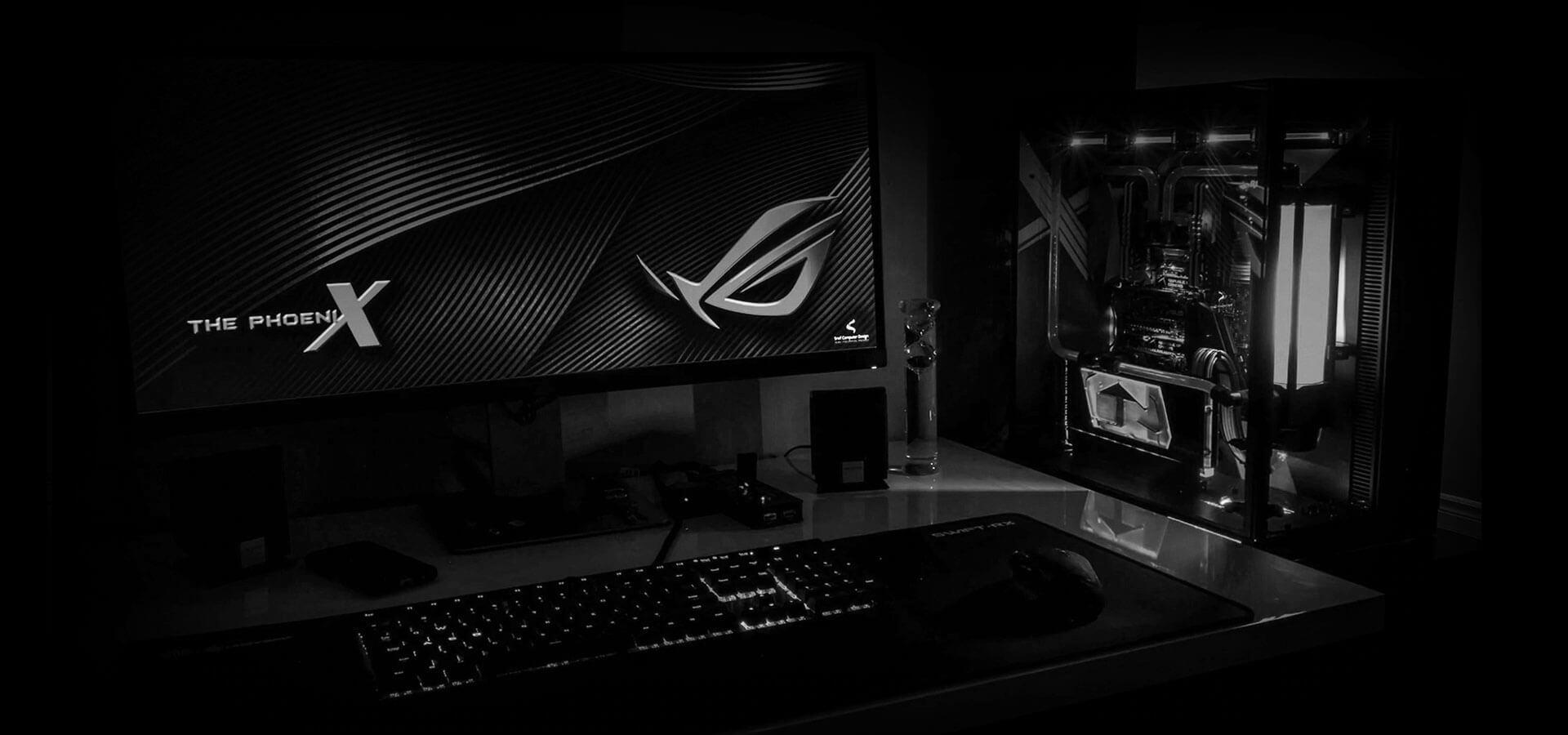 CONNECTIVITY
Every aspect of Omega is designed to enhance your gaming and creative experience. The Intel 10Gbps Ethernet controller opens the door to massive files transfers and ultralow latency, while four M.2 slots offer fast load times and flexible storage expansion. Finally, integrated SupremeFX audio enhances recording quality to ensure superb clarity for streaming, gaming chat and more.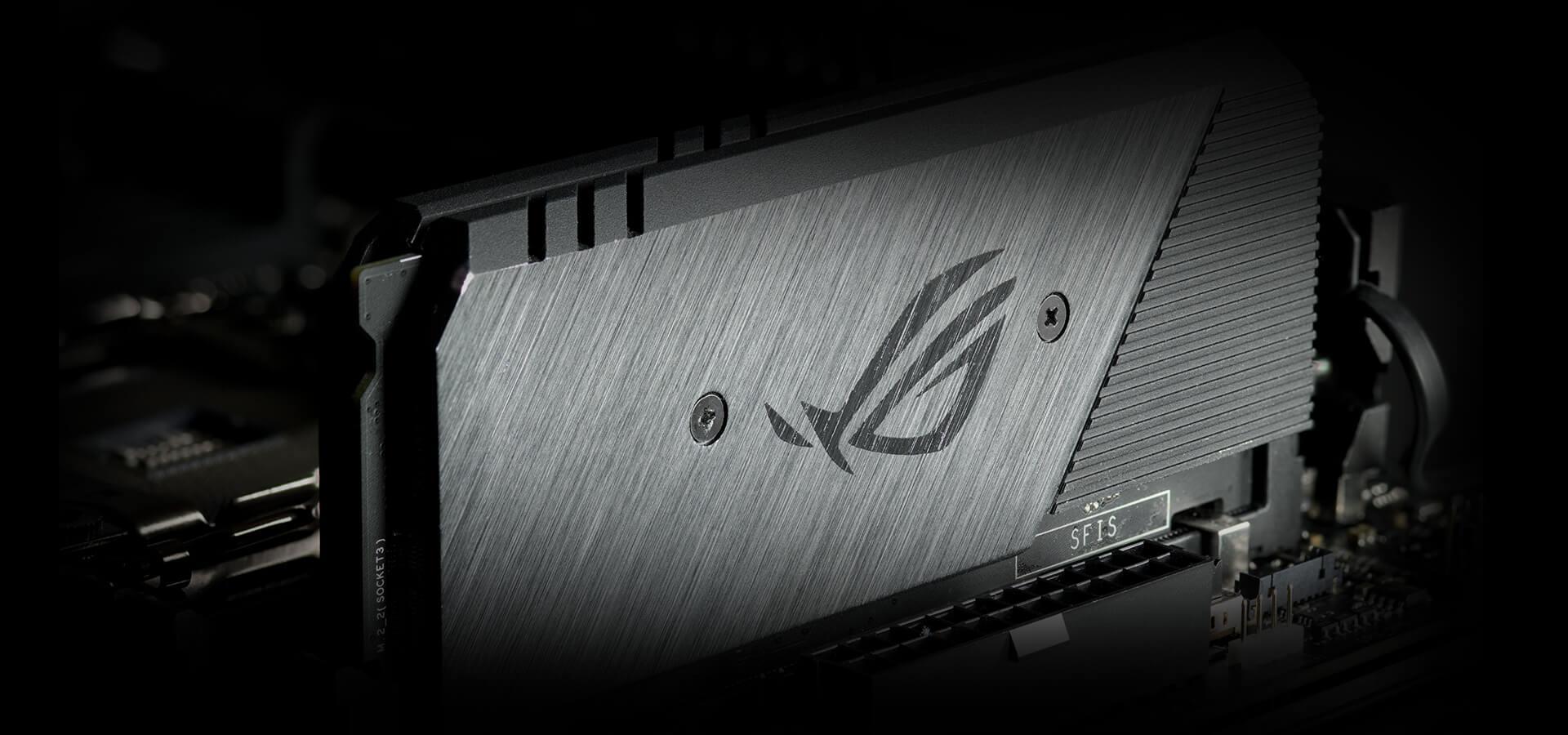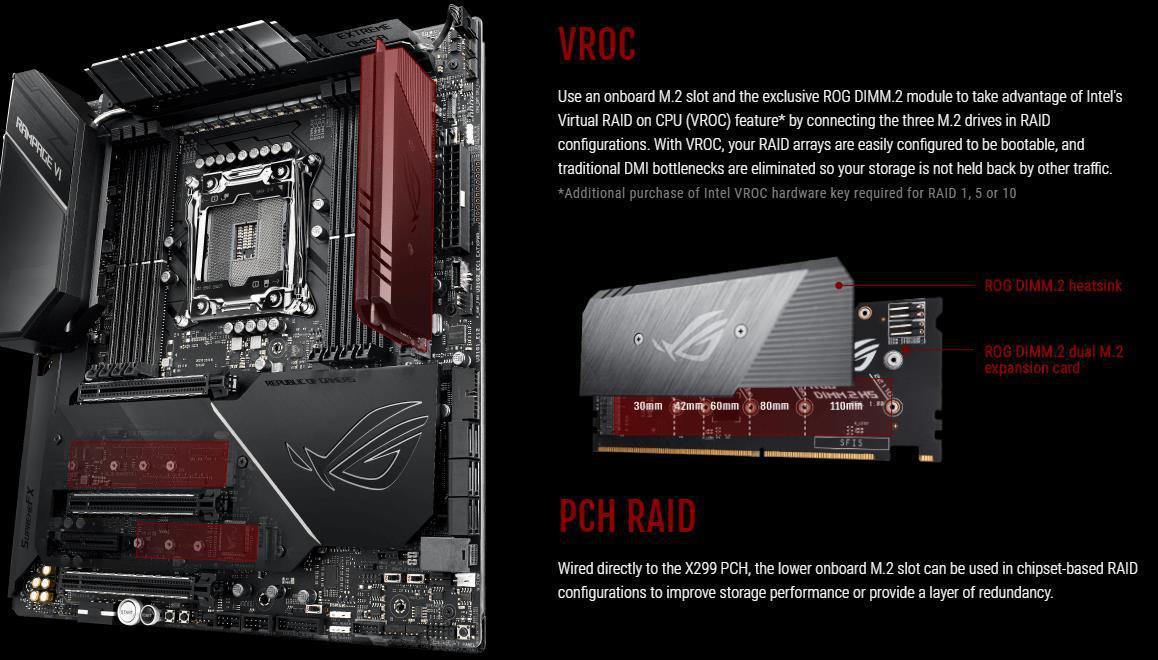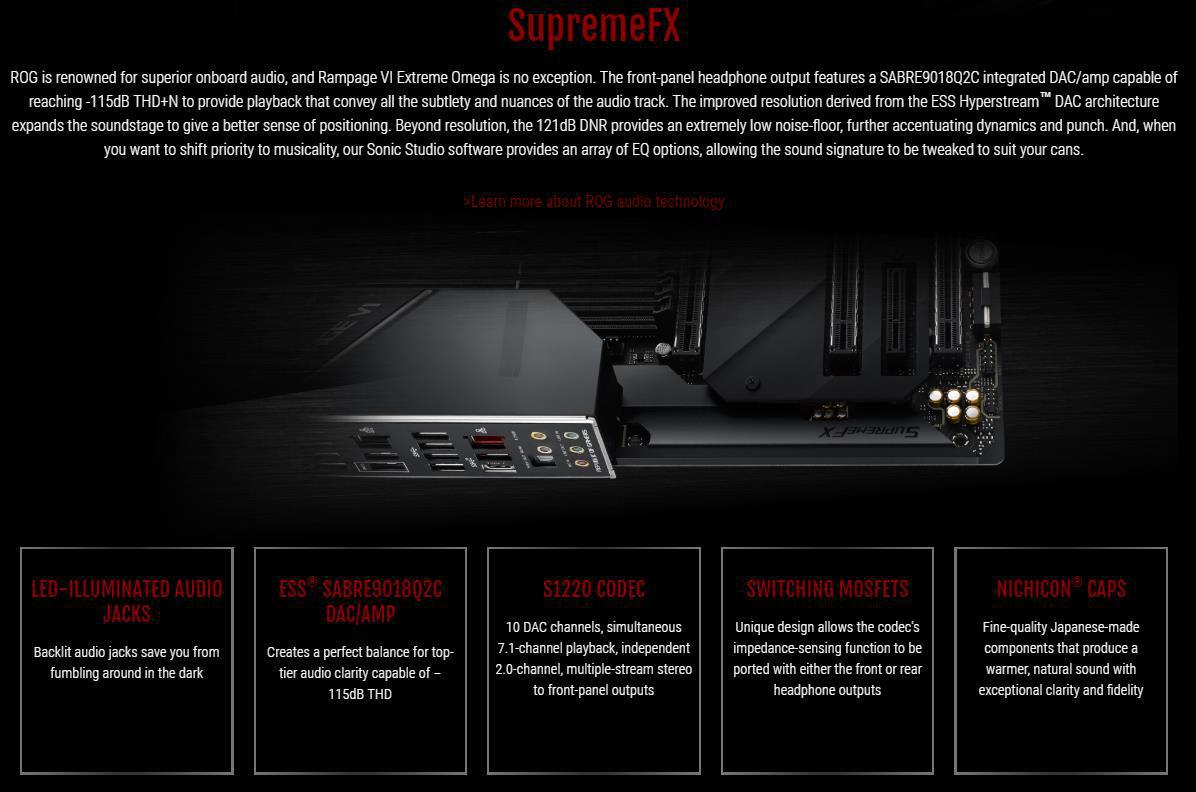 PERSONALIZED FOR YOU
In addition to extraordinary performance, Rampage VI Extreme Omega provides extensive styling and customization options to let you build a system that truly stands apart.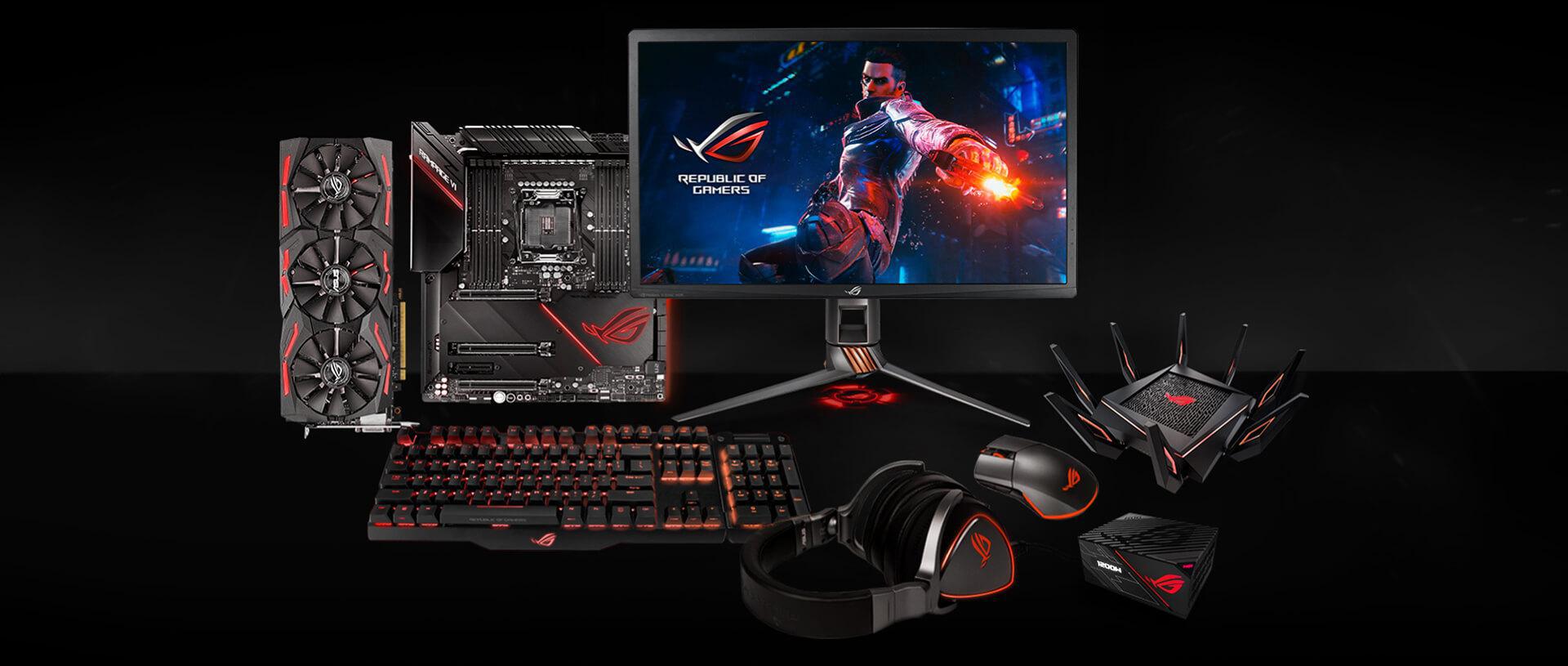 AURA SYNC
GROW YOUR GAMING WORLD
Gear up with ROG components, from graphics and monitors to mice and keyboards, and up your game with complementary aesthetics, control, and compatibility. The ROG ecosystem is more extensive than any competing brand, so enjoy greater choice as your system expands.
GAMEFIRST V
ROG FIRST
Interface directly with a ROG router and automatically configure QoS to prioritize network bandwidth to games.
RAMCACHE III
SMART MODE
Automatically caches all your storage devices to maximize your system's resources
SONIC STUDIO III
SONIC STUDIO LINK
The new Sonic Studio Link now allows you to apply Sonic Studio effects on all playback devices. Simply press the Sonic Studio Link button to enjoy the effect on any playback devices.
LIVEDASH
HARDWARE MONITORING
During the power-on, self-test (POST) phase, LiveDash shows key progress stats, in simple language and via traditional POST codes. Then, during normal operation, the vibrant panel shows a choice of CPU frequency, device temperatures, fan speeds or information from the Water Cooling Zone.
ARMOURY CRATE
The brand-new Armoury Crate portal keeps you updated with the latest drivers and BIOS releases. Its easy-to-use UI can be configured to show a variety of information, including security updates, bug patches, the latest ROG news, gaming events, and special offers.
SPECIFICATIONS