Software
ARMOURY CRATE
The brand-new Armoury Crate portal keeps you updated with the latest drivers and BIOS releases. Its easy-to-use UI can be configured to show a variety of information, including security updates, bug patches, the latest ROG news, gaming events, and special offers.
Armoury Crate needs to first be enabled in BIOS but is on by default.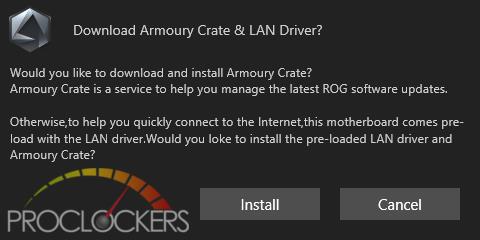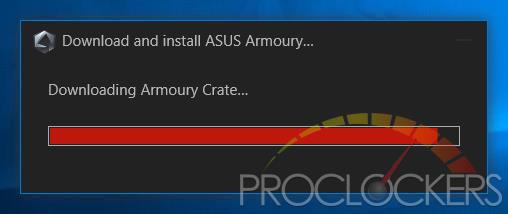 The first time you hit Windows, you get the following message. It's a bit all or nothing, but it does install LAN drivers almost instantly when you click Install and as soon as it establishes a network connection, starts downloading Armoury Crate. We wish you could install JUST the LAN drivers.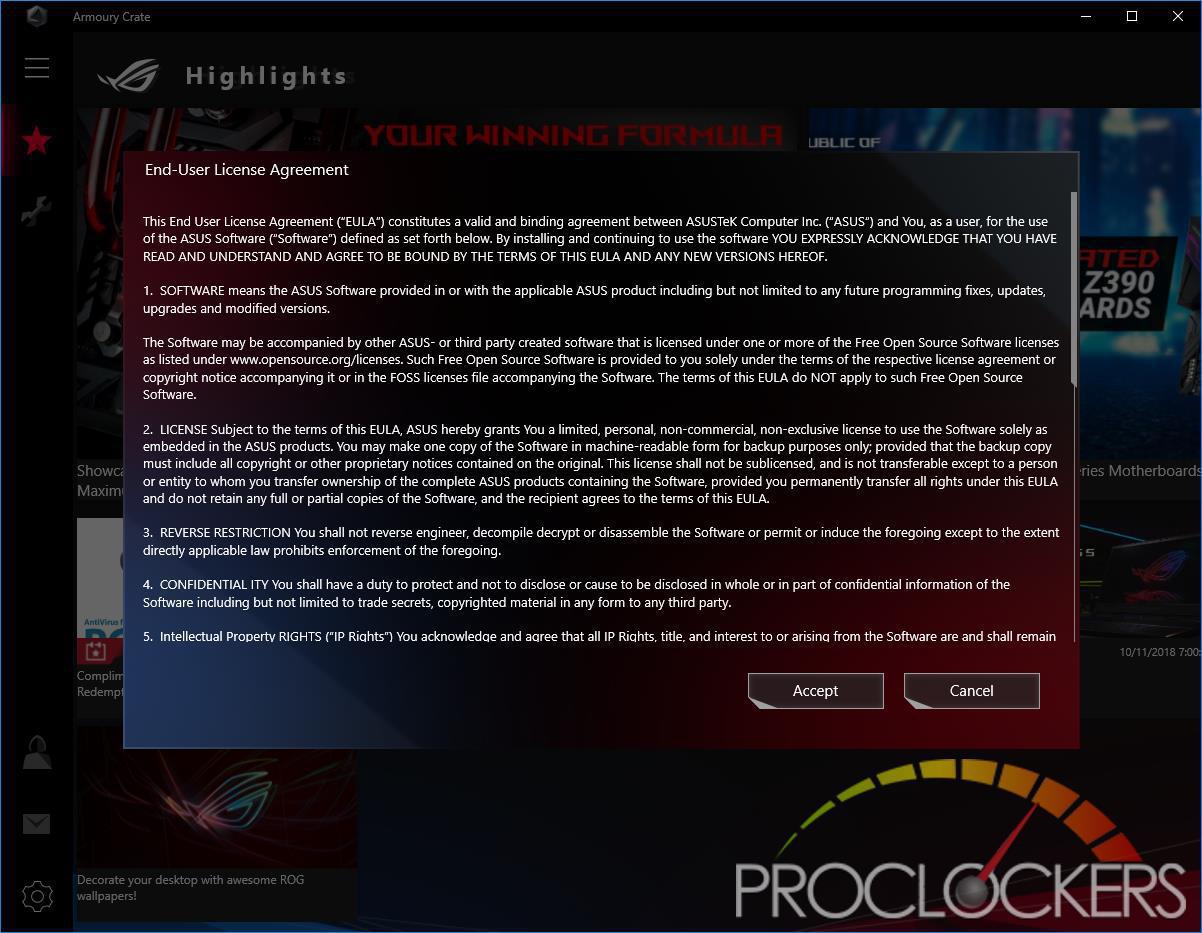 Once the installation is done, you are greeted with the usual EULA.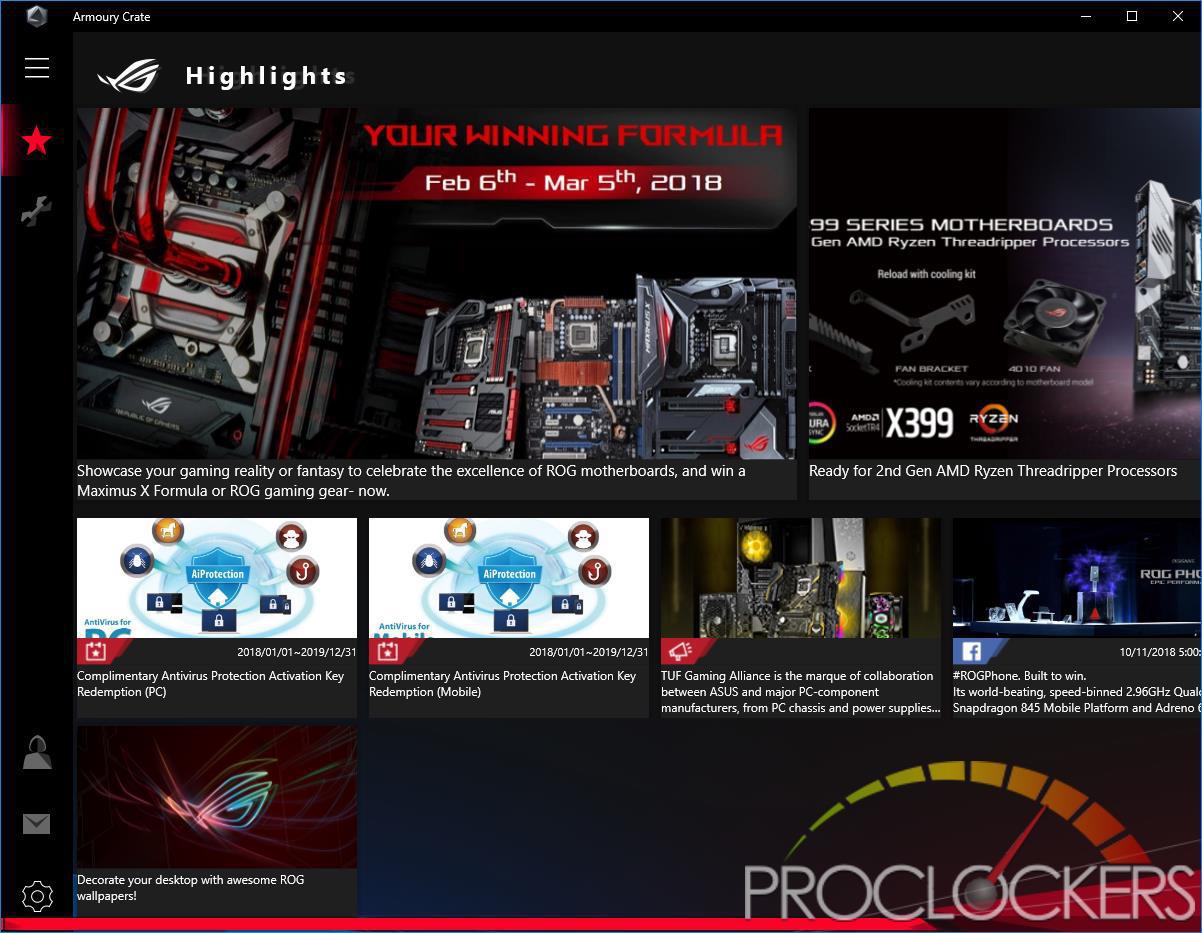 The landing page gives you ROG news and lots of other information.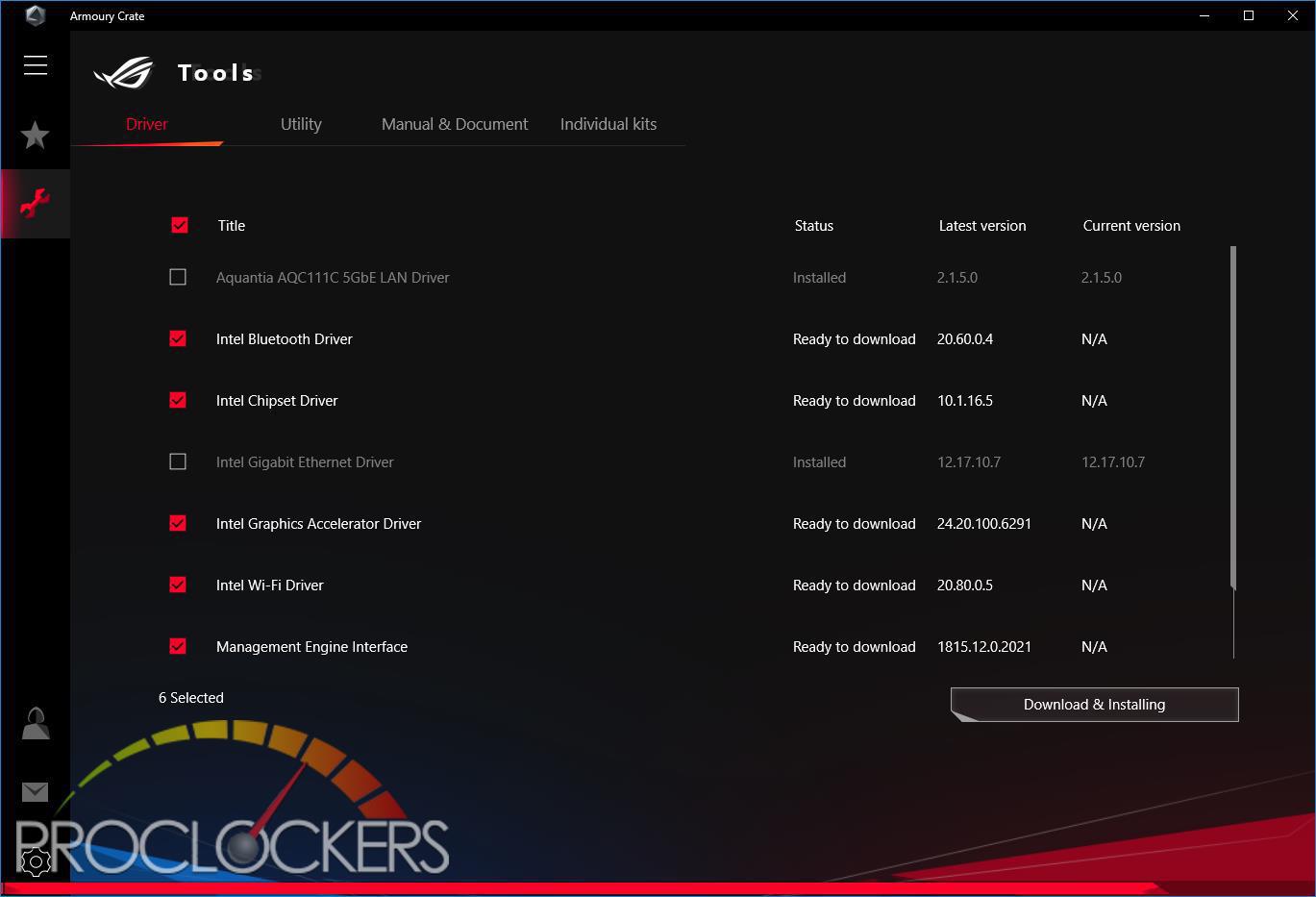 Hitting the wrench icon lets you install all missing drivers and utilities.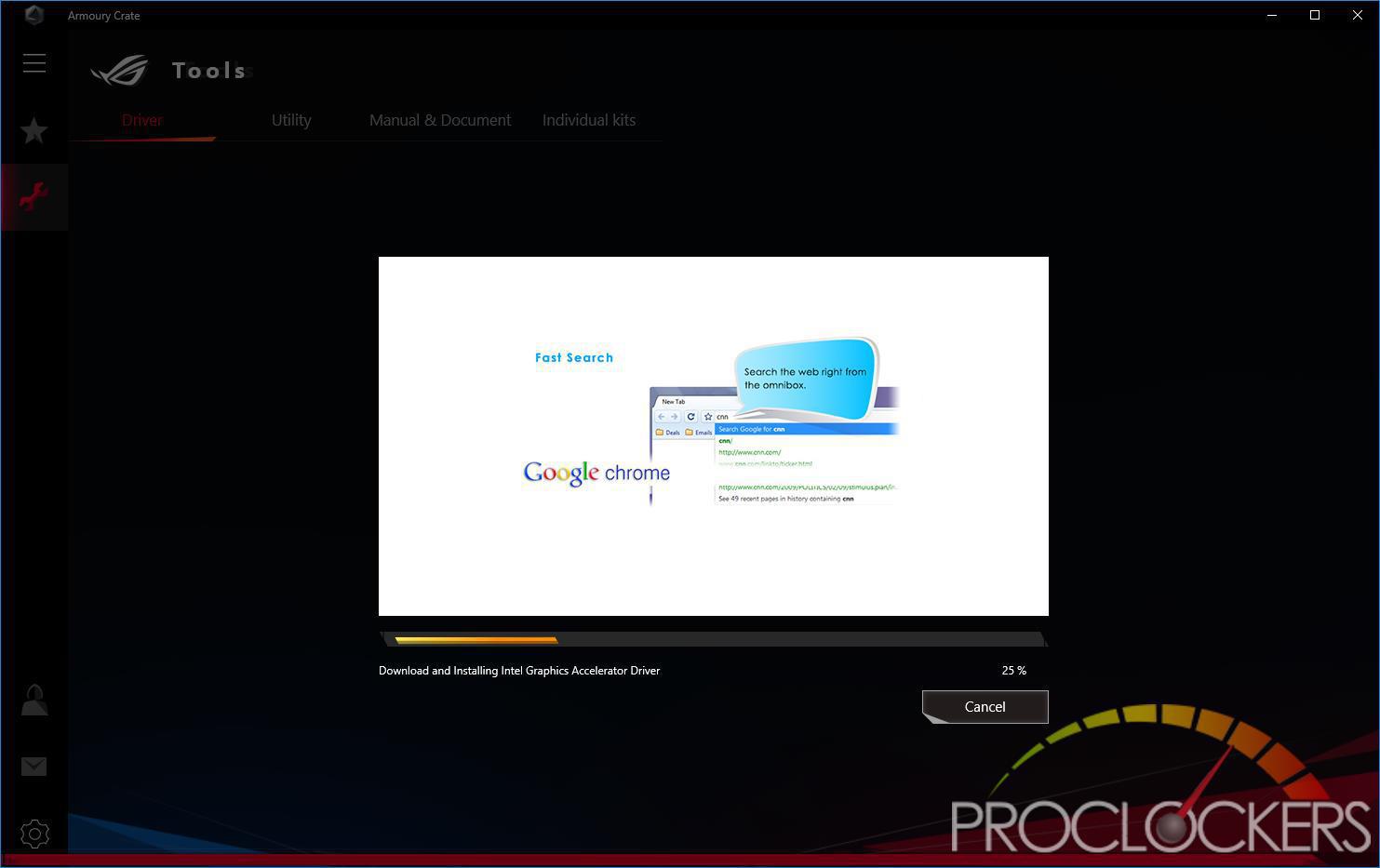 This part is just a waiting game for everything to download and install. But that's it, you get fully set up and ready to run the system in a few clicks.
ASUS AURA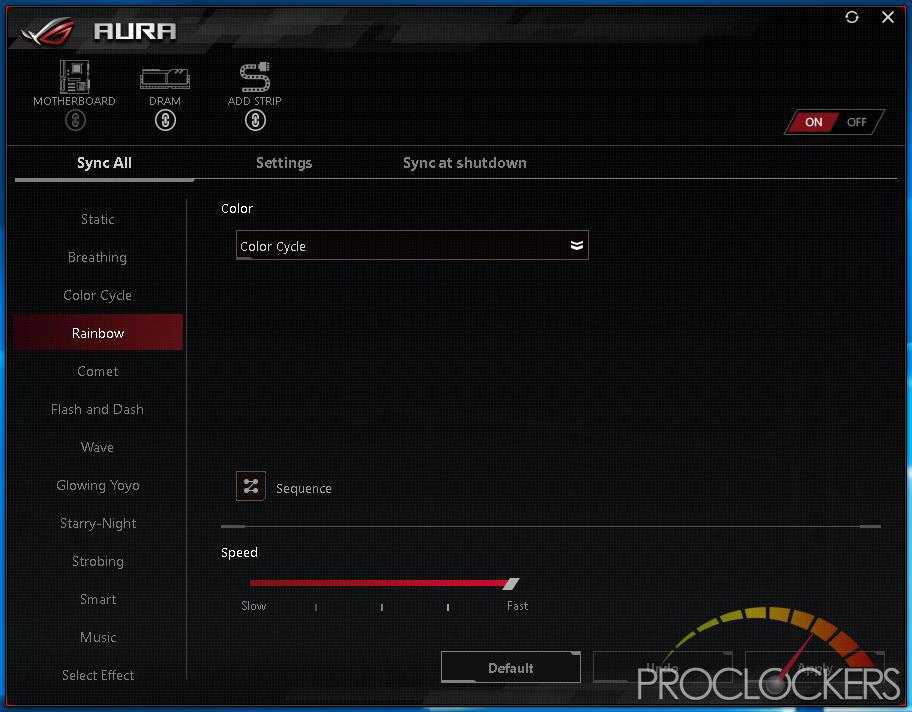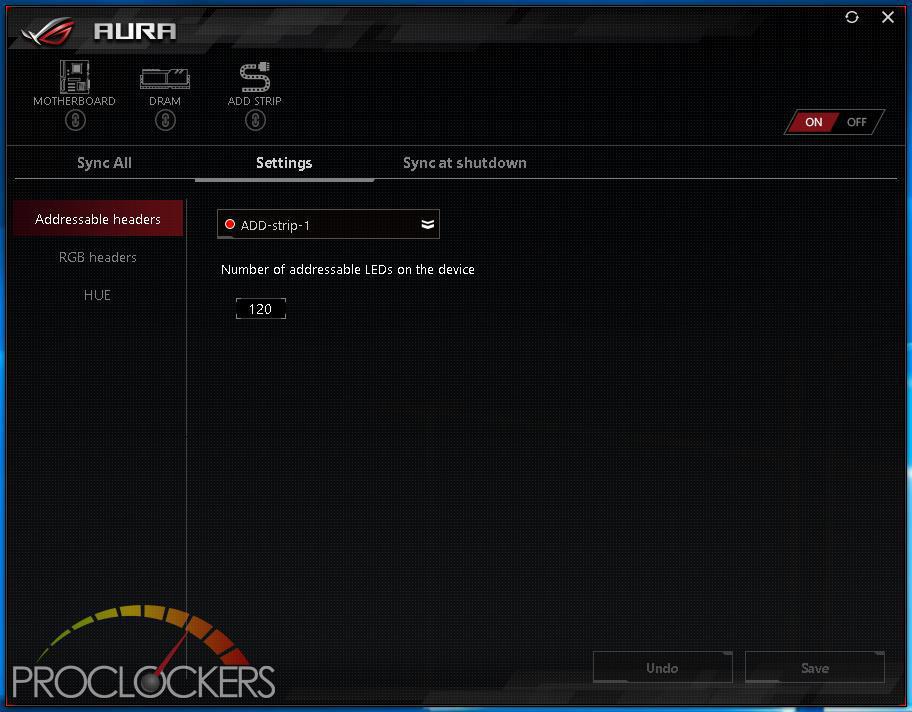 The Rear I/O Area lighting, as well as all analog RGB and Digital RGB headers, are controlled by ASUS's AURA software on the Extreme. There are quite a few effects to choose from, both static and dynamic, but our favorite was the Flash and Dance, as well as the Temperature mode.
Game First V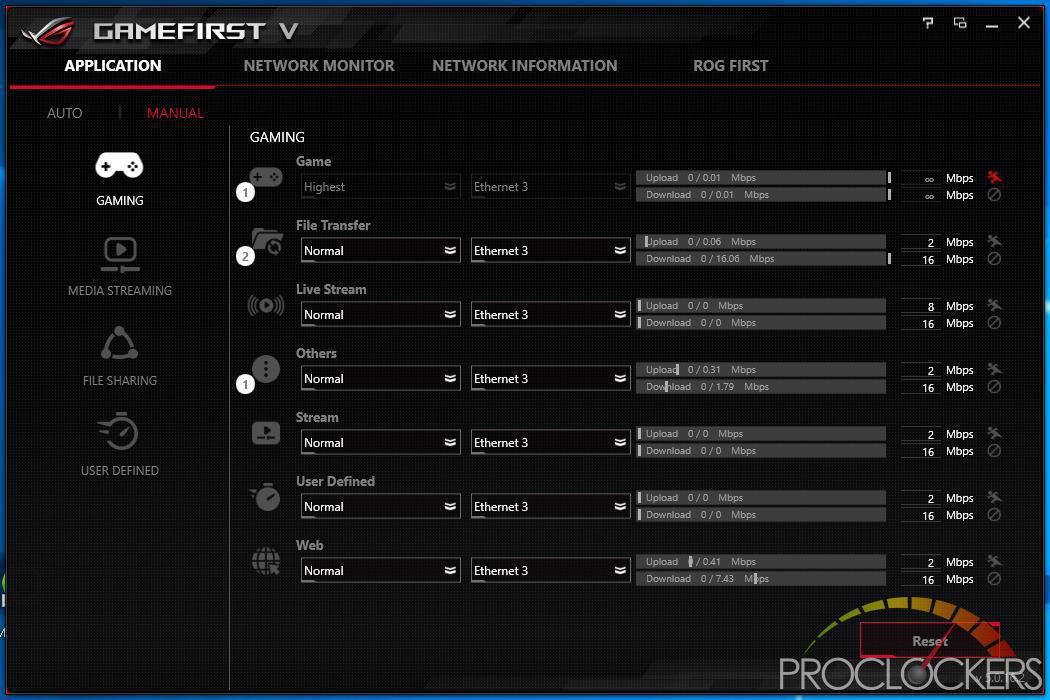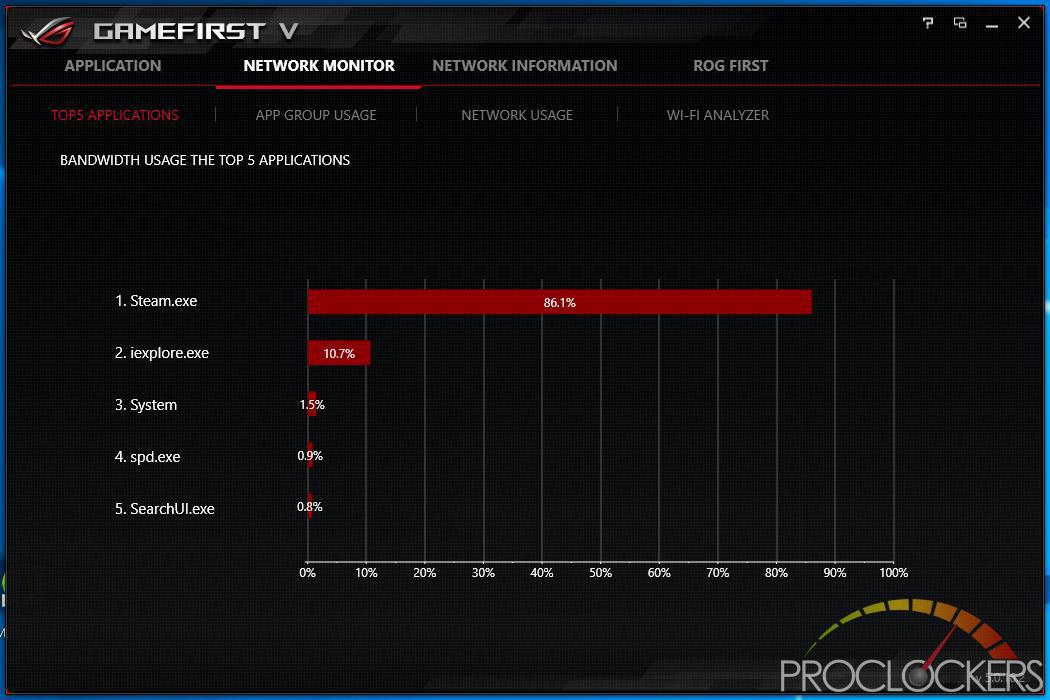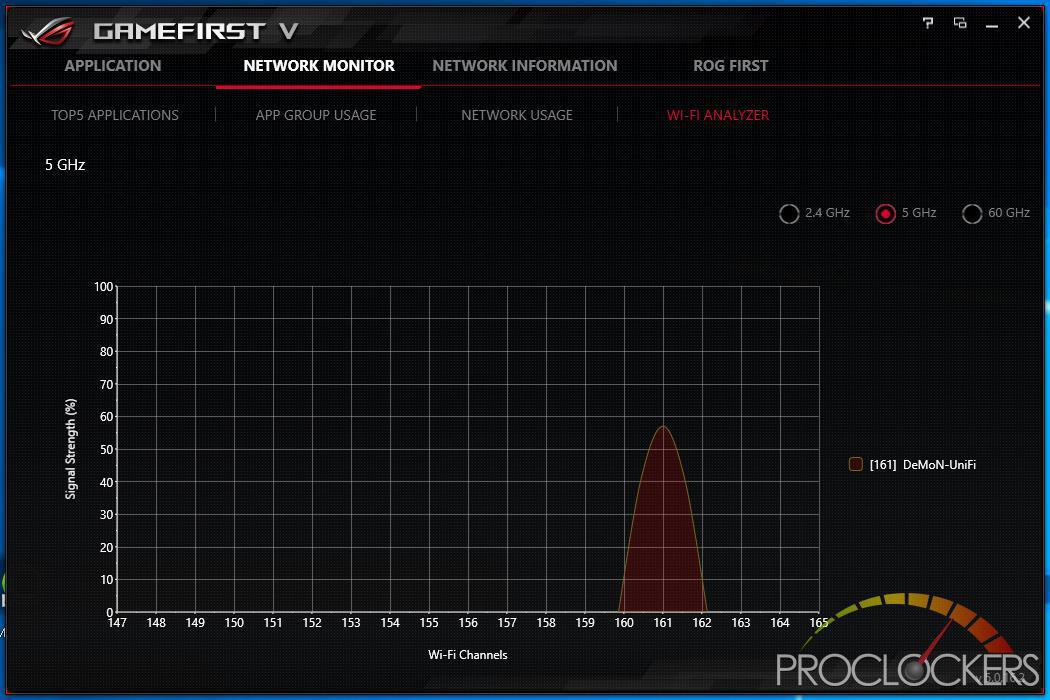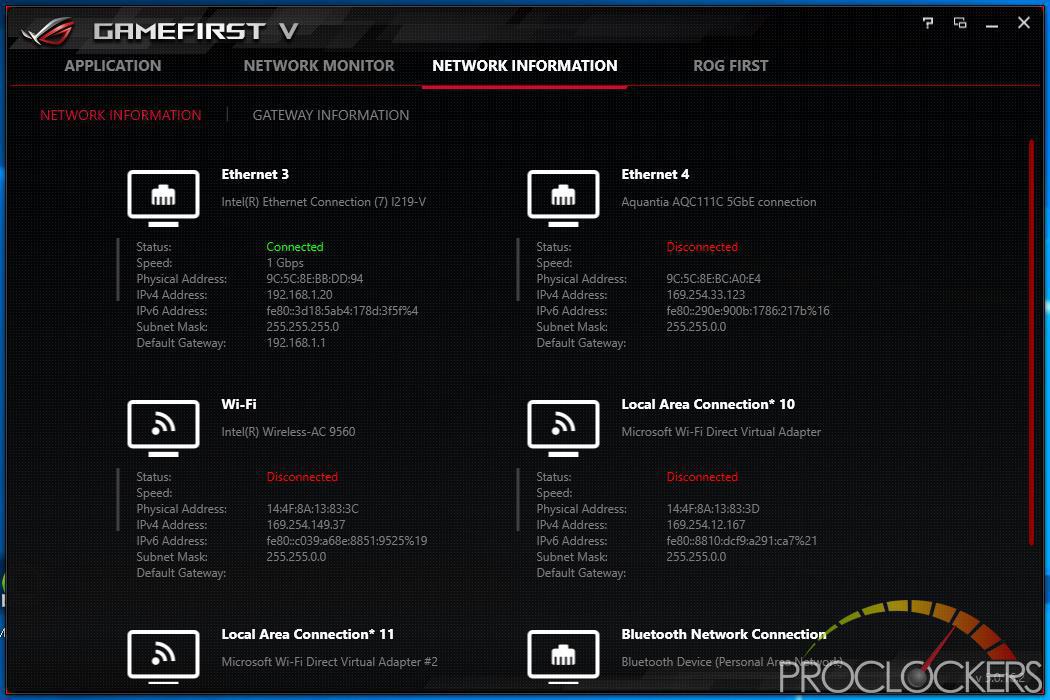 The GameFirst IV Application allows you to Monitor and control all traffic over all three LAN connections, as well as see statistics and vital information. By Default, the application runs in intelligent mode and will prioritize Traffic based on its purpose, but you can switch to Manual mode and take over full control. You can see here while browsing the web and installing games on Steam for benchmarking where most of the bandwidth is being used. You can also see what wireless networks are on each frequency so you can avoid them.
Dual Intelligent Processors 5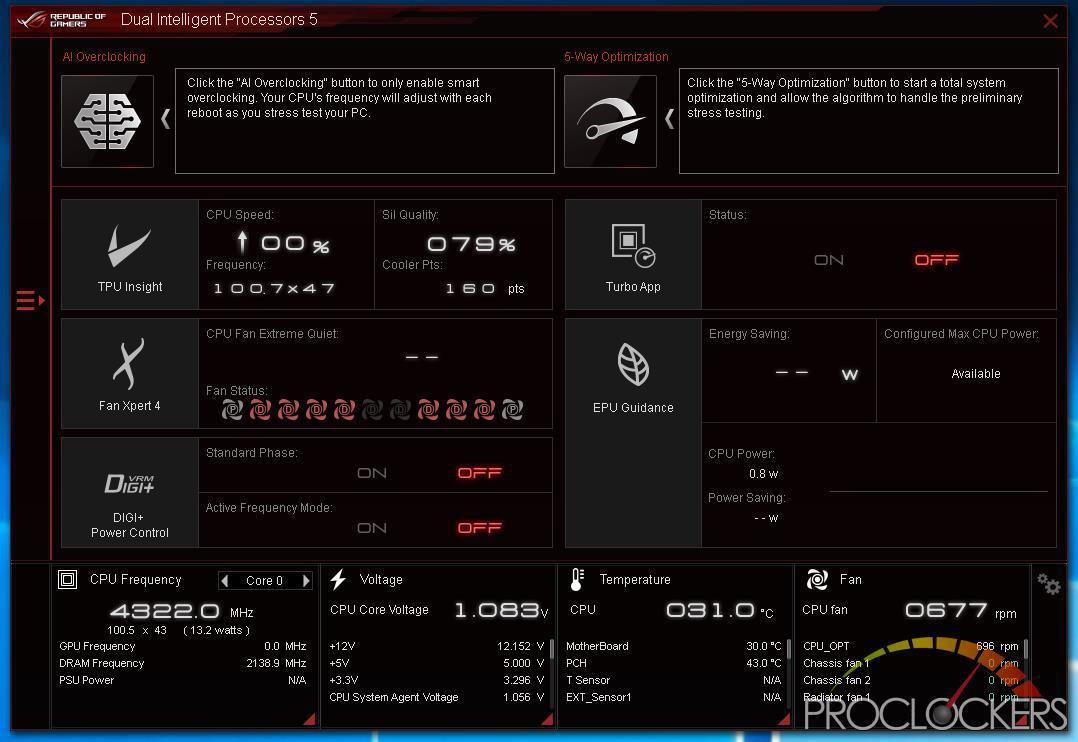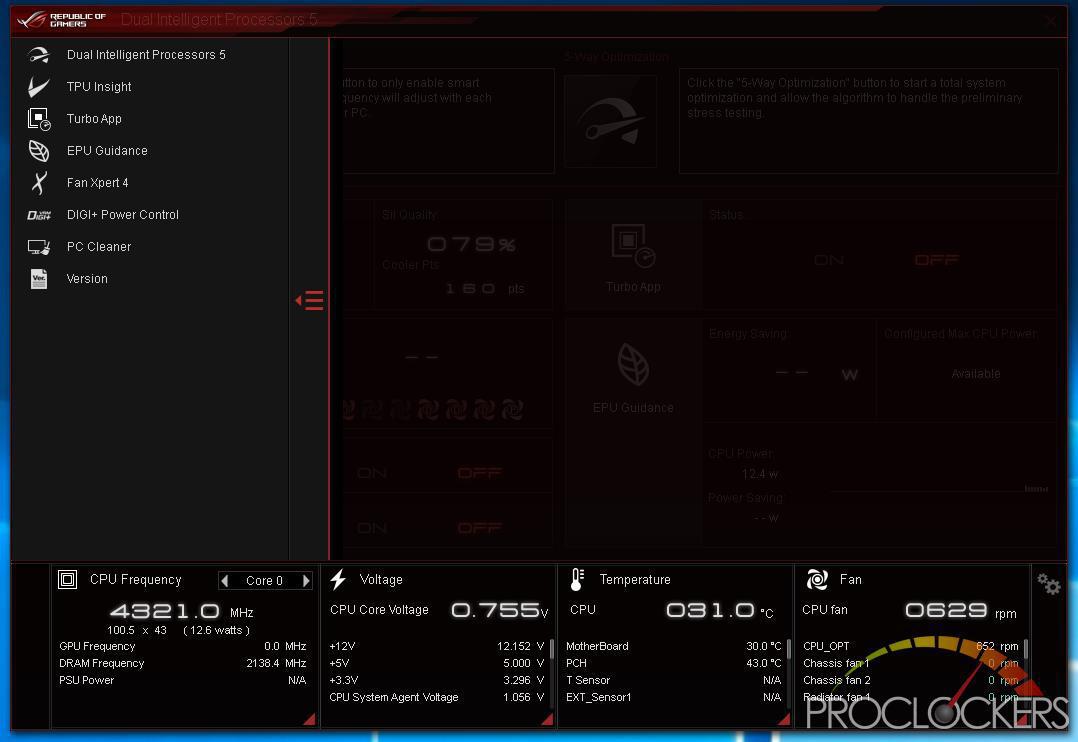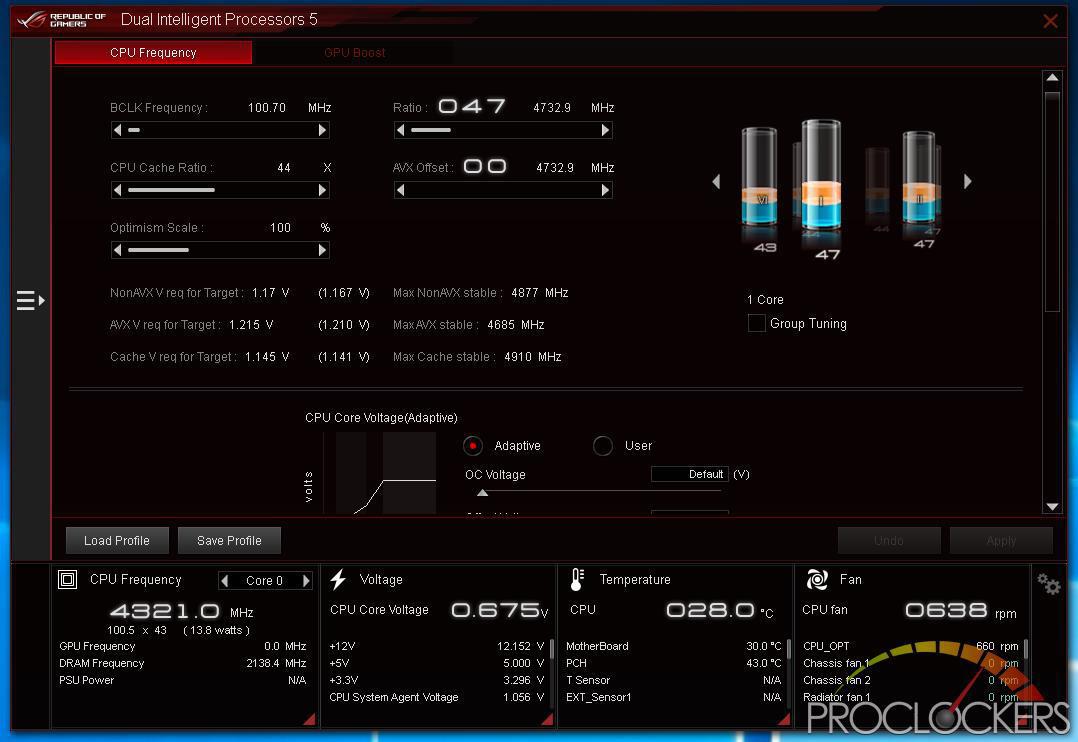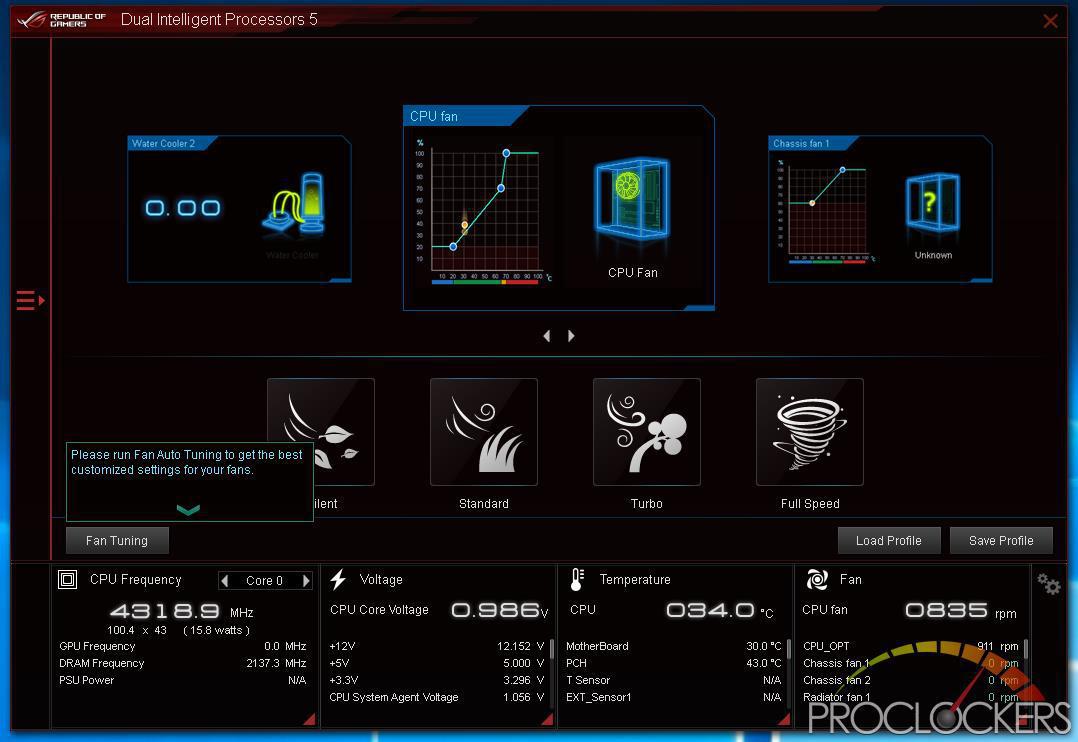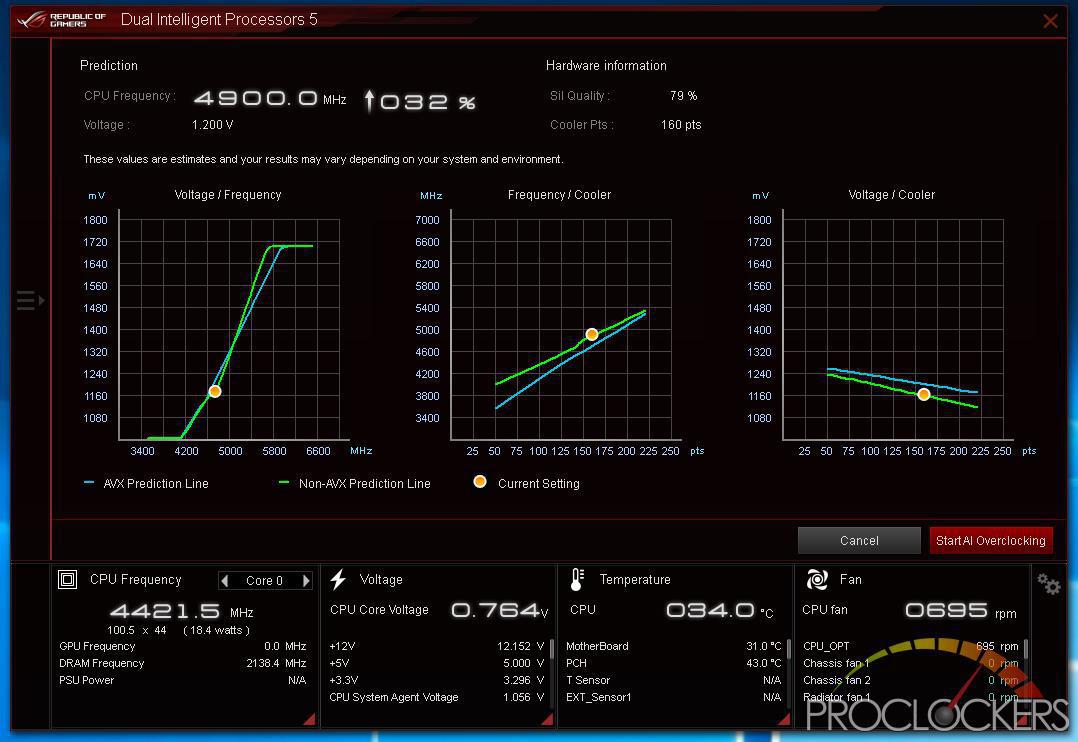 ASUS's Dual Intelligent Processors 5 application is a powerhouse and one you don't want to miss. Anything related to optimizing performance can be found here, from switching profiles to Auto overclocking to manual overclocking and change voltages and fan settings are here. You can even clean out temp and other unneeded files in a few clicks all from one application.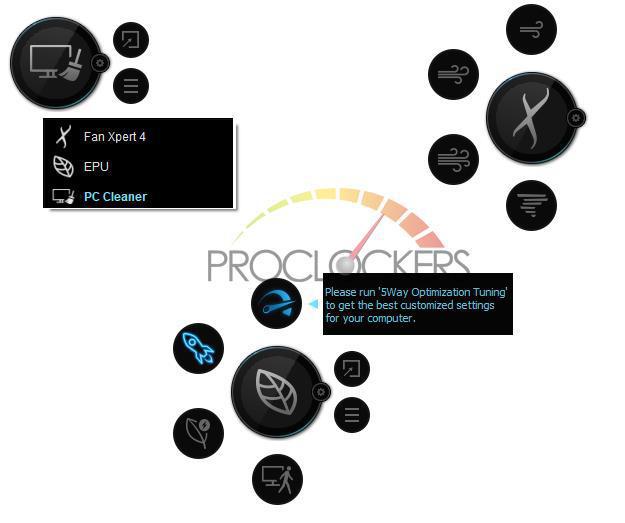 This application also runs similar to a desktop widget, gives you quick access to cooling, performance profiles and PC Cleaner without opening the full application.
Ram Cache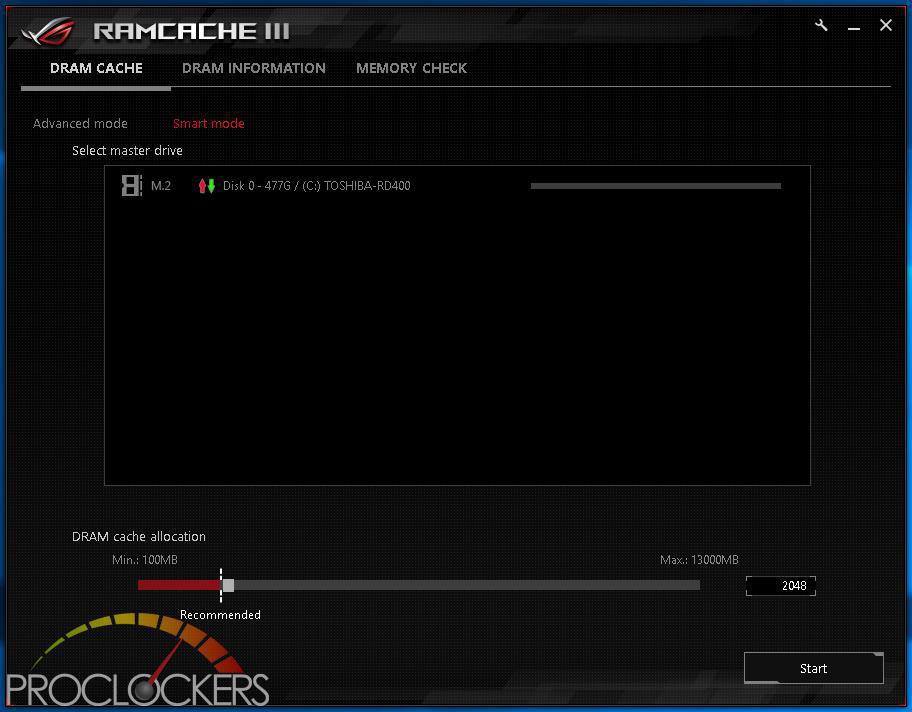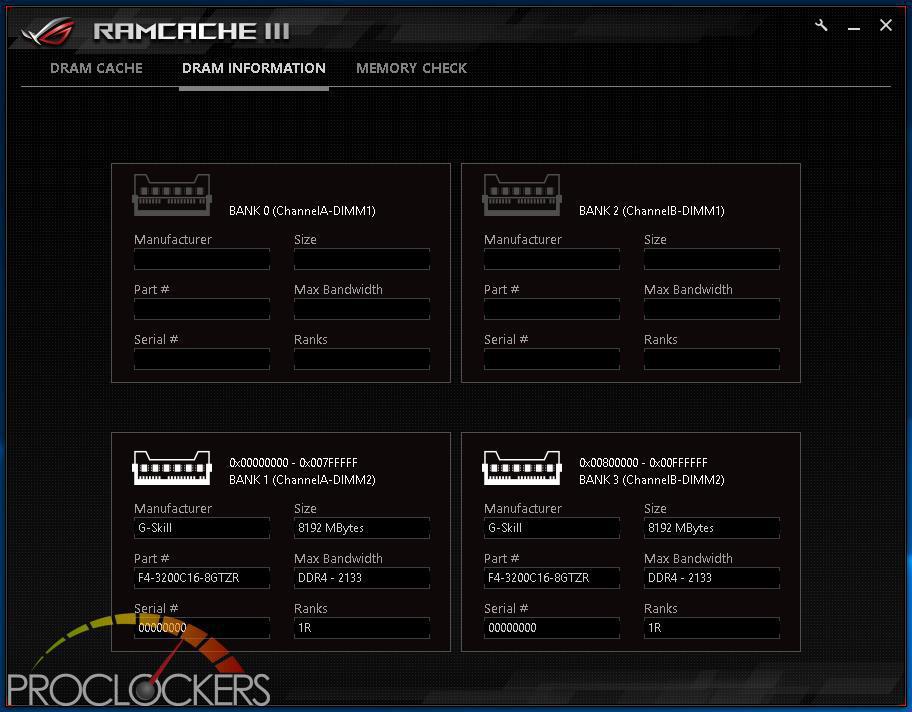 ASUS's RAMCACHE II carves off a user selectable portion of system memory to speed up Disk transfers. Even if you have the fastest NVMe drive out there, using your ram as a cache can speed it up significantly.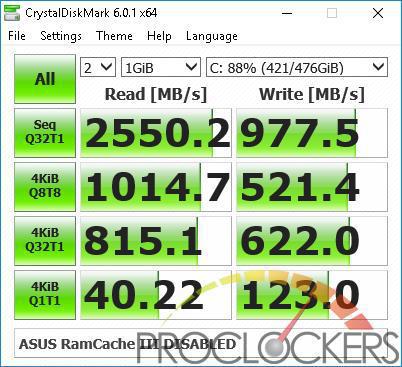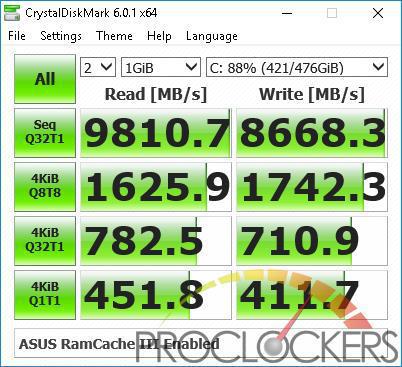 As you can see, it makes a significant difference in speed and performance at the cost of a few gigabytes of otherwise unused ram.
Mem TweakIt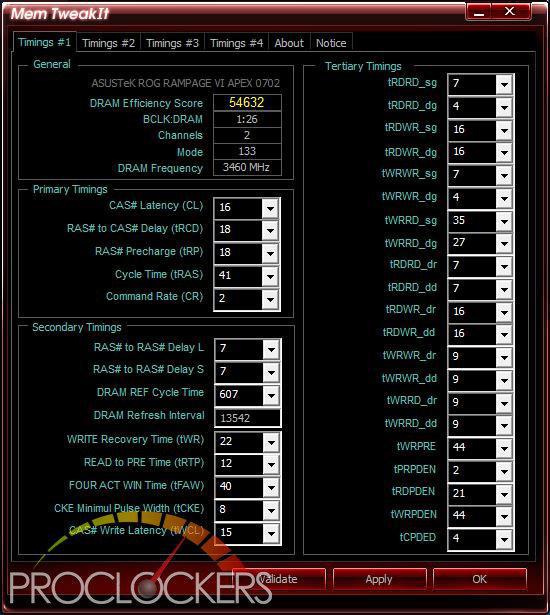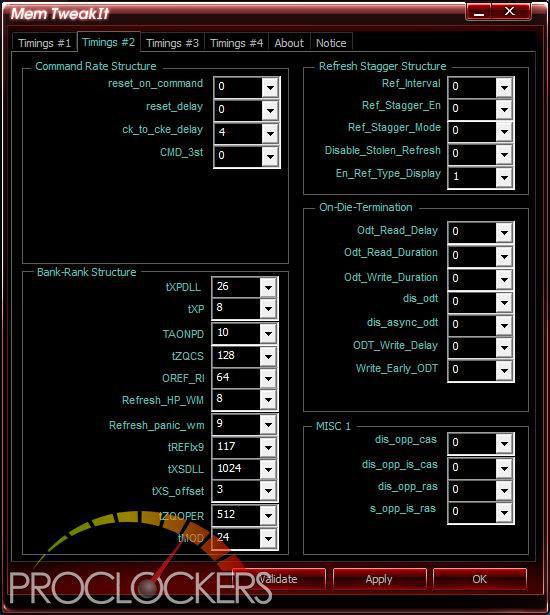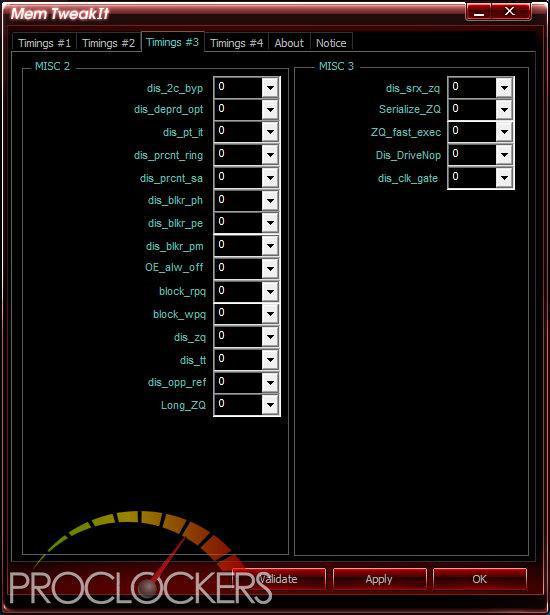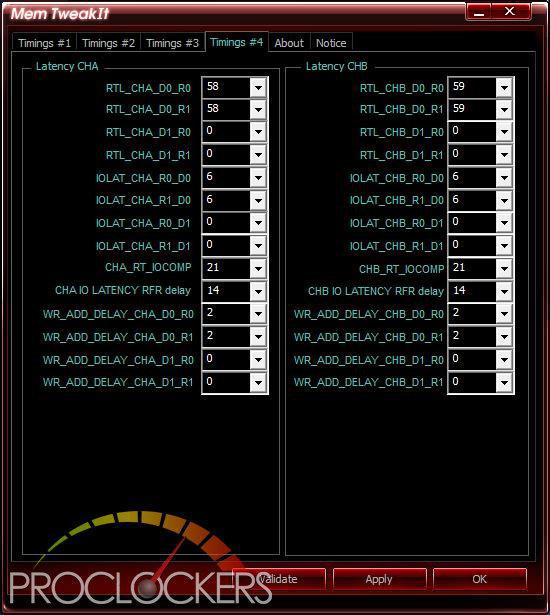 One Thing in the overclocking world that is a pain is overclocking your memory. For the most part, any change requires a reboot to BIOS. With ASUS's MEM TweakIT, that isn't the case. Almost everything can be adjusted live right from your desktop.
Overwolf
Overwolf is a clever, unobtrusive overlay that keeps you in the game and allows you to browse the Web, email, IM, stream or record while you play. The overlay features color-matched ROG skins that show you're part of an elite pack. Grab it now from the Overwolf Appstore!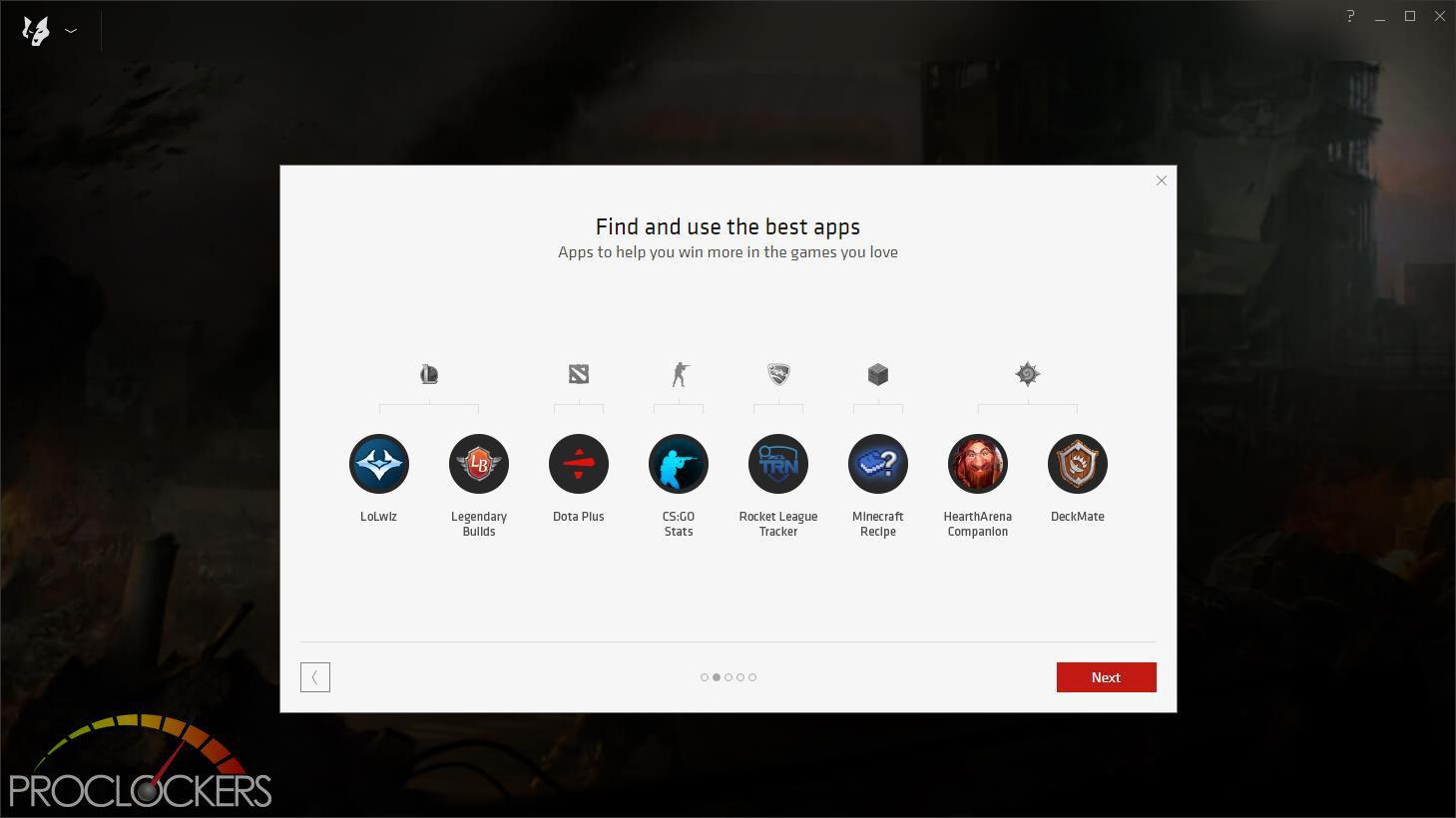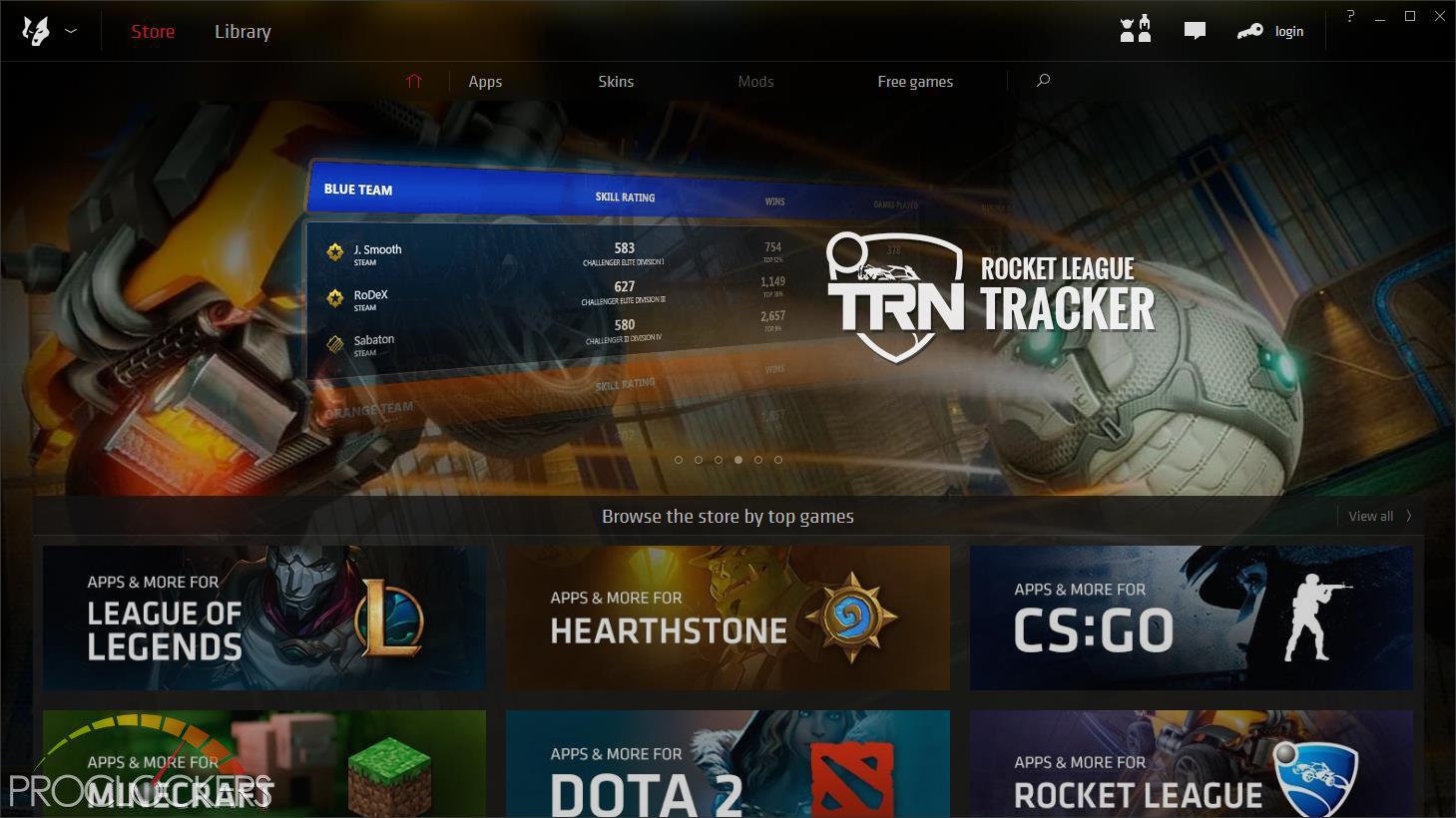 Overwolf provides access to lots of tools for many popular games, as well as some handy utilities for streaming and online play.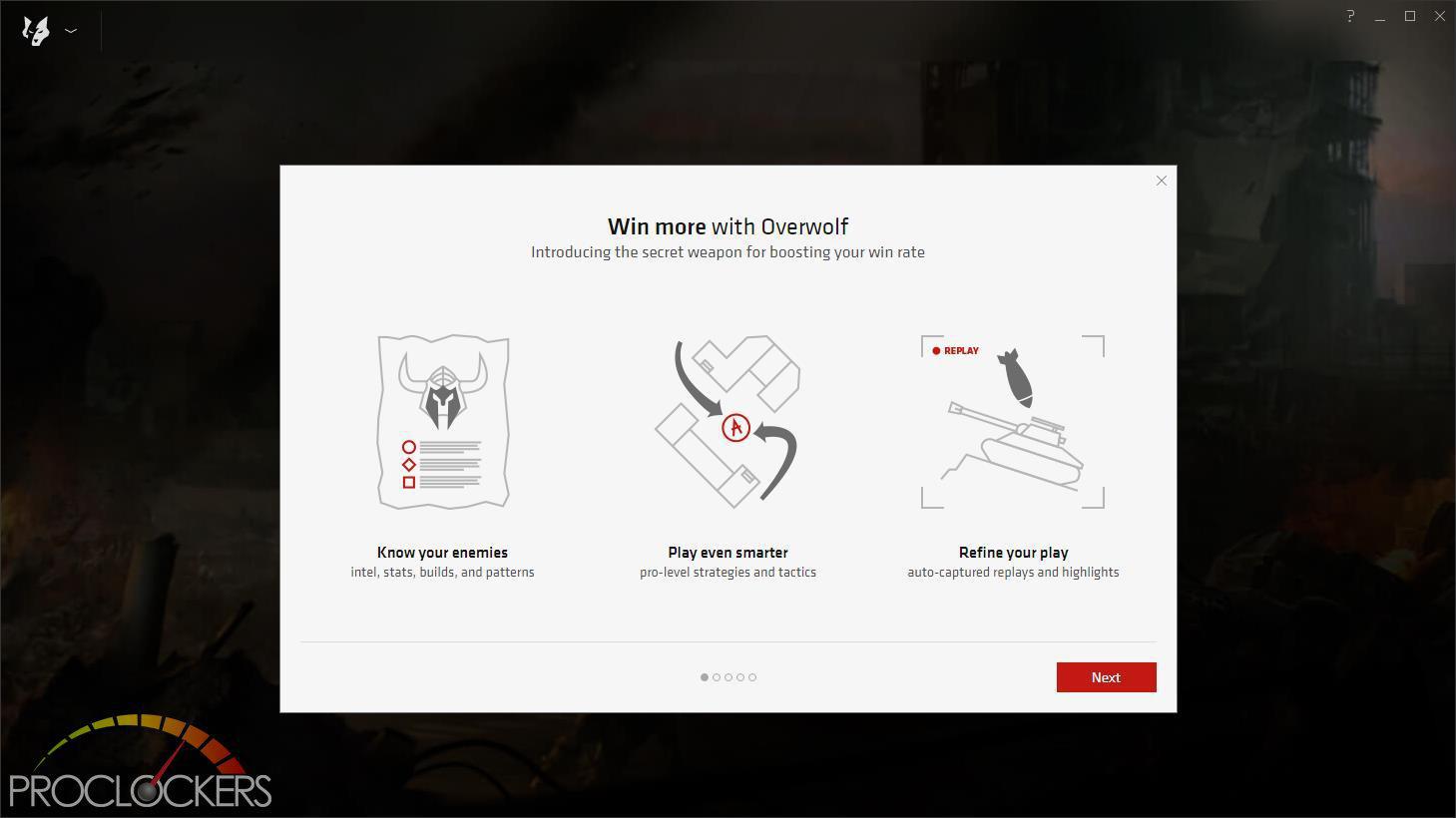 Overwolf also comes with a small desktop widget similar to Dual Intelligent Processors 5.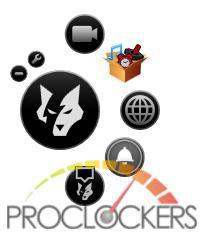 ASUS Live Dash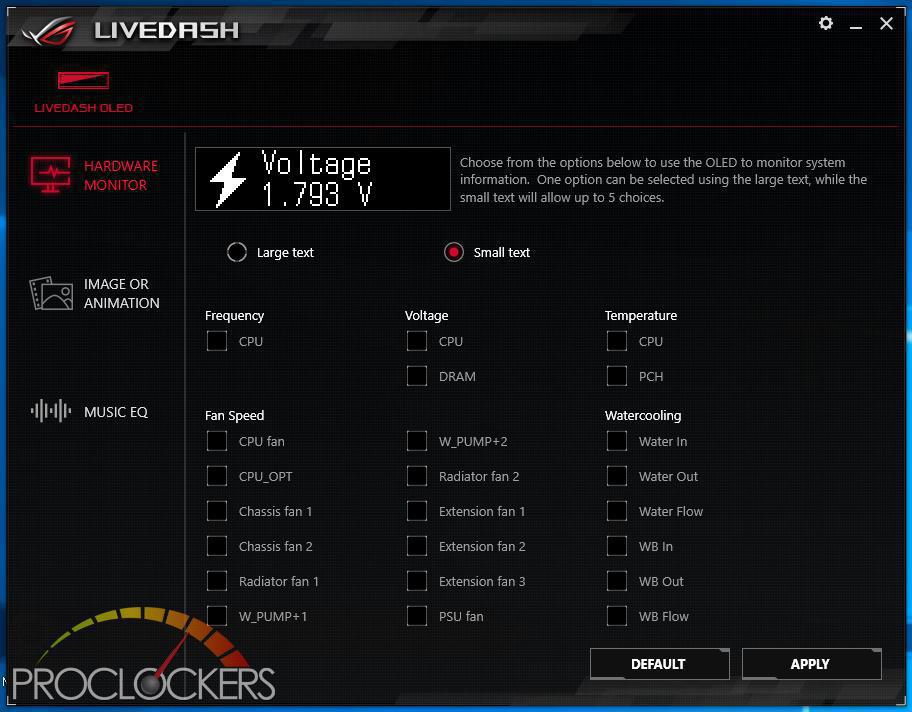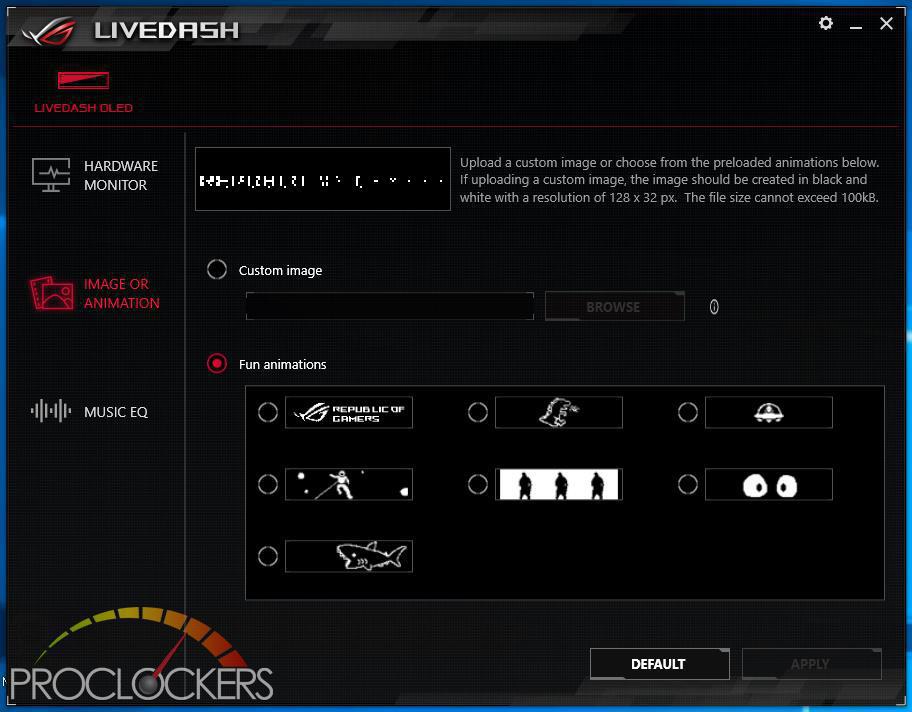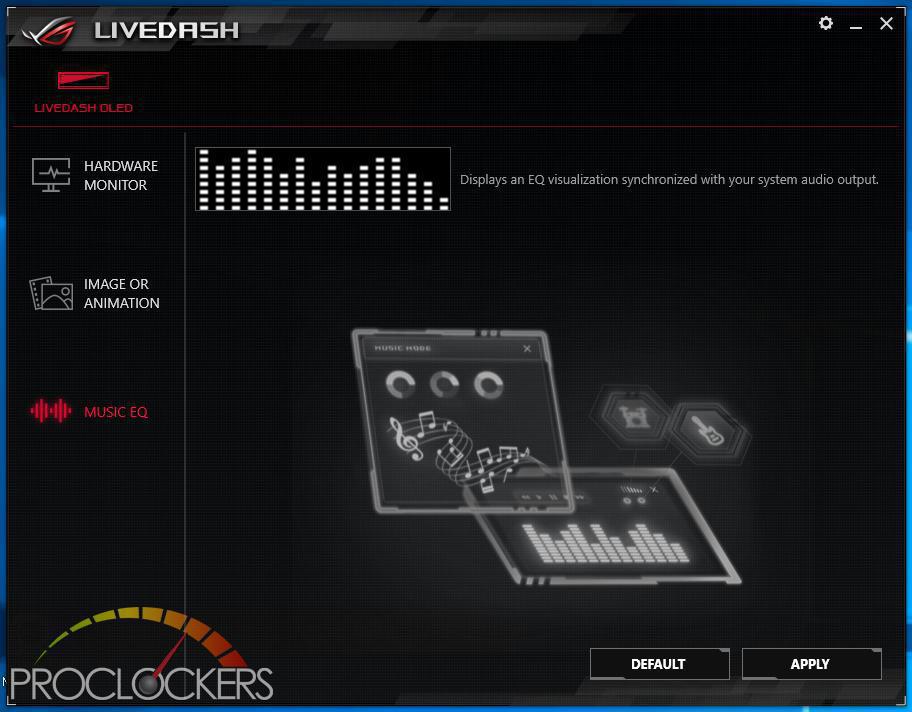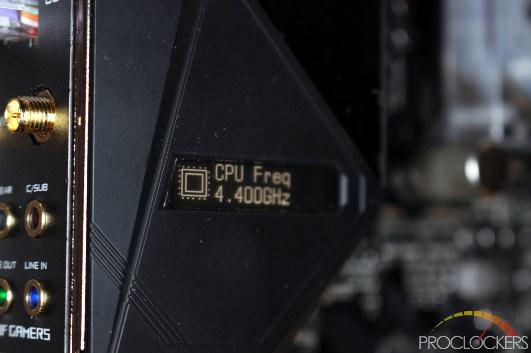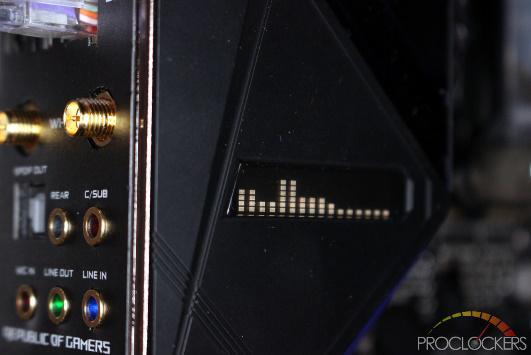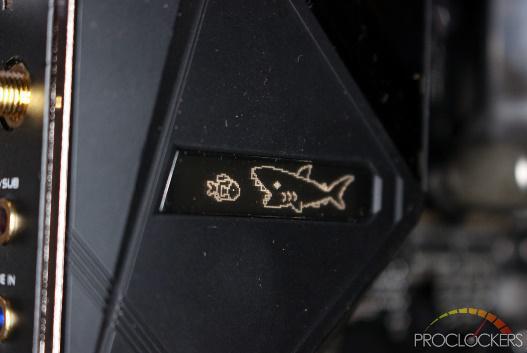 ASUS Live Dash is where you control the small LCD on the rear I/O cover. You can display information, static images and even animated GIF images of your choosing.
Sonic Radar
Sonic Radar is an onscreen overlay that visually represents sound activities according to their positional location. It is designed as a gaming aid for pro/am gamers, those hard of hearing or unable to use in-game audio clearly. It does not interfere with game files, nor does it represent anything more than the game engine produces.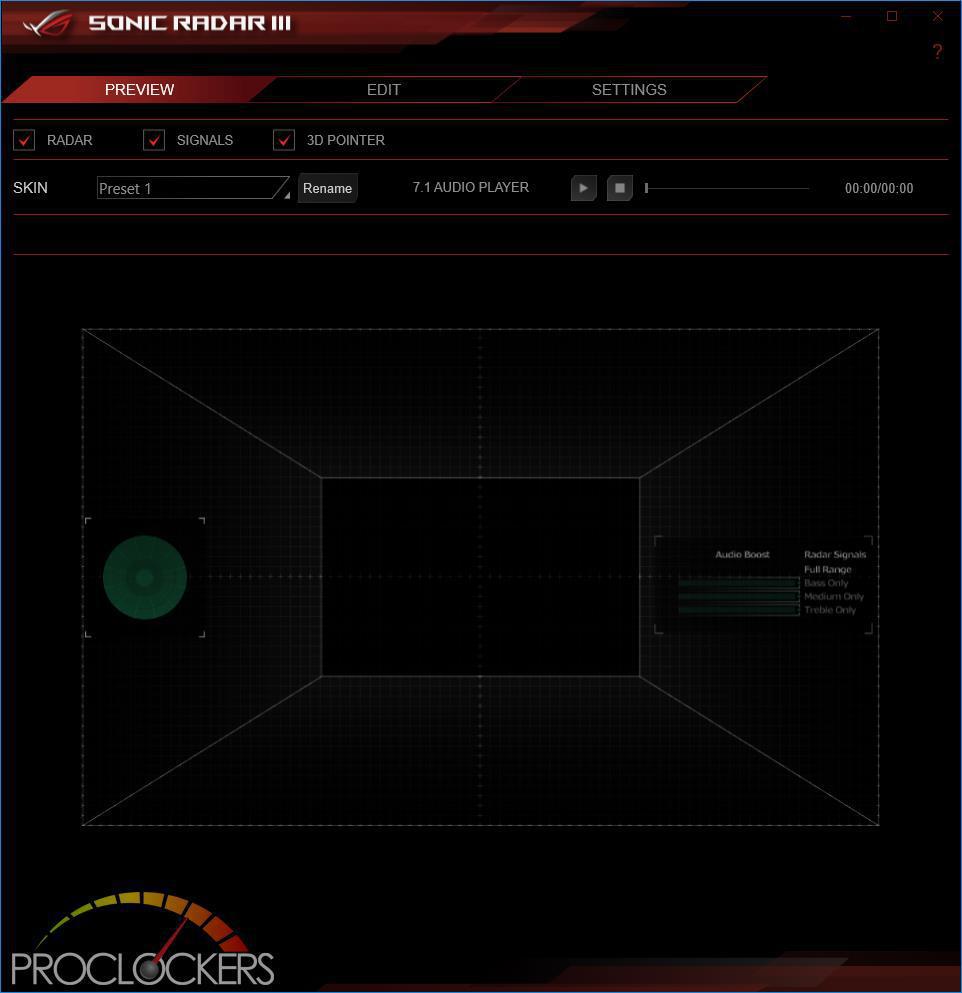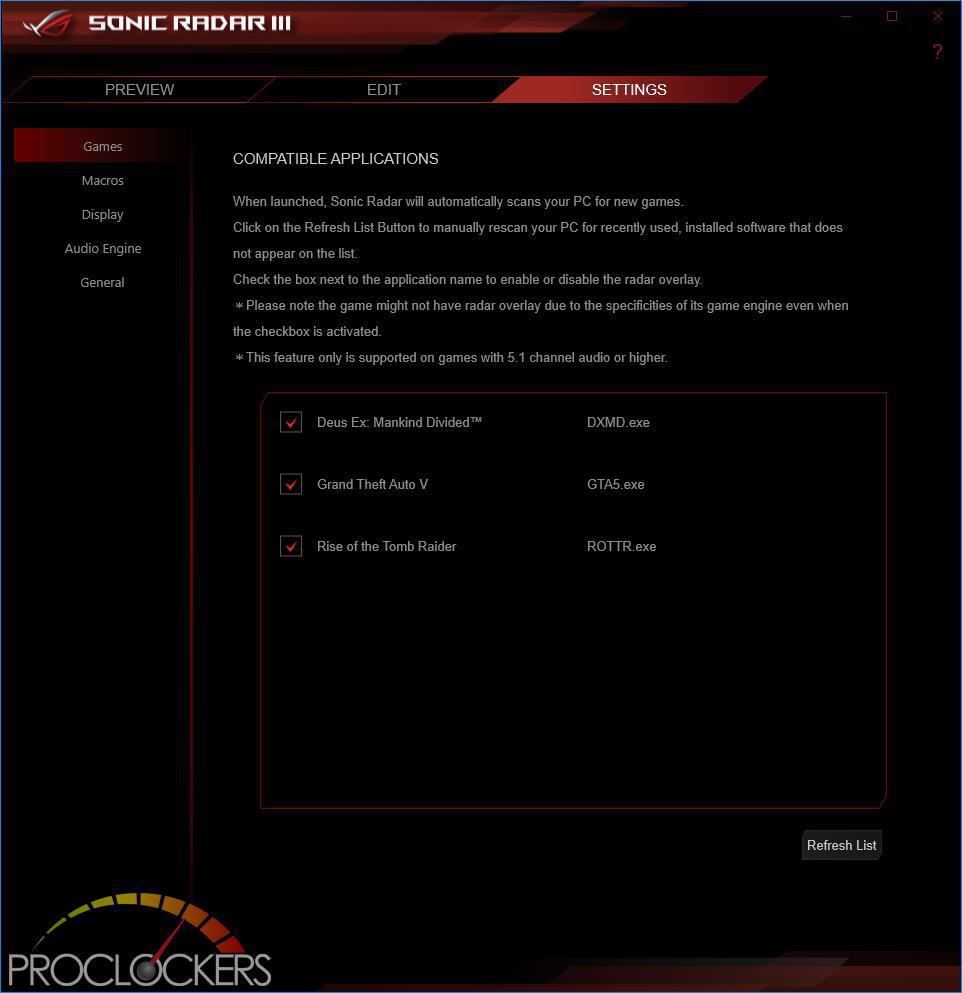 Sonic Studio III
The latest feature in Sonic Studio III is the Ultimate Control Center for dorm room audio. The mapping of different audio streams to different output allows audio to be effectively compartmentalized so that it's easy to share with friends or keep to yourself.