Performance & Testing
General Performance Testing
All performance testing was done with an i9-7900X and RTX 2080 at default clock speed. CPU was left with Speed Step and Turbo Boost enabled. The only setting changed was enabling XMP memory settings in the BIOS. Games were run at a resolution of 1920 x 1080 and higher settings enabled as noted. ASUS's MCE was disabled.
PCMark 10
PCMark 10 is the complete benchmark for the modern office. It is the ideal test for organizations that are evaluating PCs for a workforce with a range of performance needs. The tests in this benchmark cover a wide range of activities from everyday productivity tasks to demanding work with digital media content.
PCMark 10 uses a modular approach to build relevant benchmark tests around common end-user scenarios. A Test Group is a collection of workloads that share a common theme or purpose. There are four test groups in PCMark 10, we use three of them.
Essentials: covers the common, everyday ways that people use a PC. The workloads include Web Browsing, Video Conferencing, and App Start-up time.
Productivity: measures system performance with everyday office applications. This test group includes Spreadsheets and Writing workloads.
Digital Content Creation: This test group's workload reflects the demands of working with digital content and media. The tests include Photo Editing, Video Editing, and Rendering and Visualization.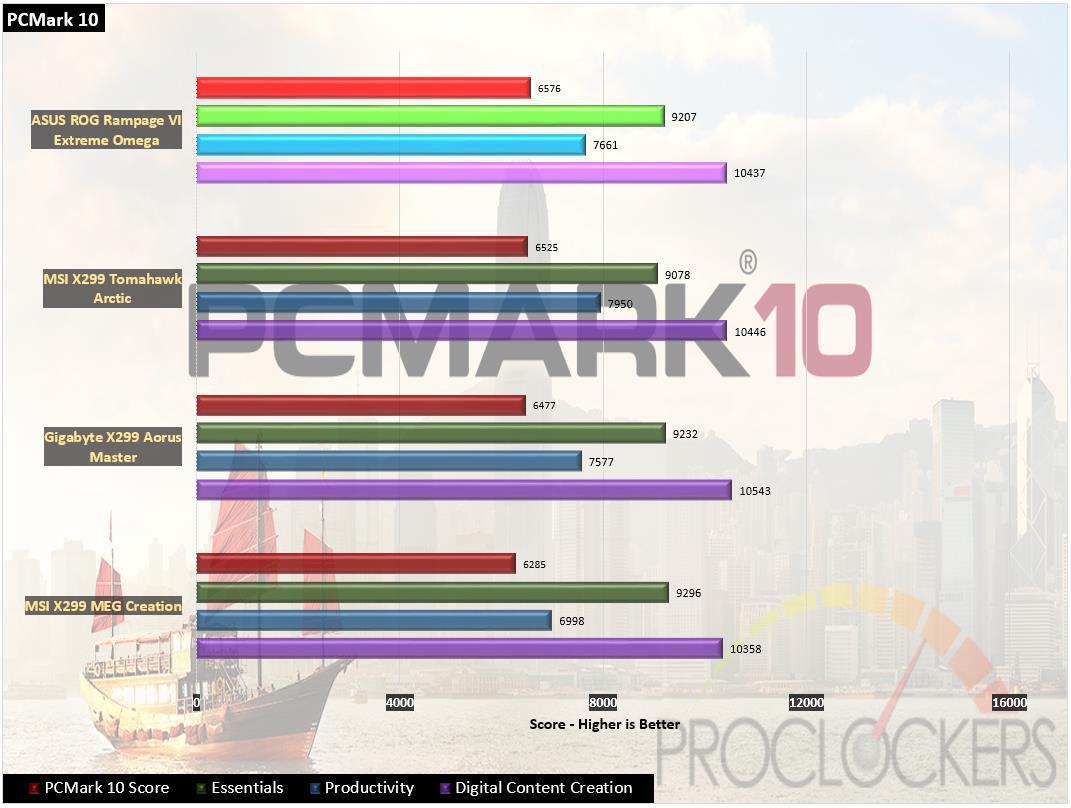 The Rampage VI Extreme Omega comes out of the gate ready to prove a point, scoring exceptionally well in PCMark 10's complete system testing.
WebXPRT 2015
WebXPRT 2013 uses scenarios created to mirror the tasks you do every day to compare the performance of almost any Web-enabled device. It contains four HTML5- and JavaScript-based workloads: Photo Effects, Face Detect, Stocks Dashboard, and Offline Notes.  WebXPRT is run with the latest stable release version of Google Chrome browser, in this case, Version 61.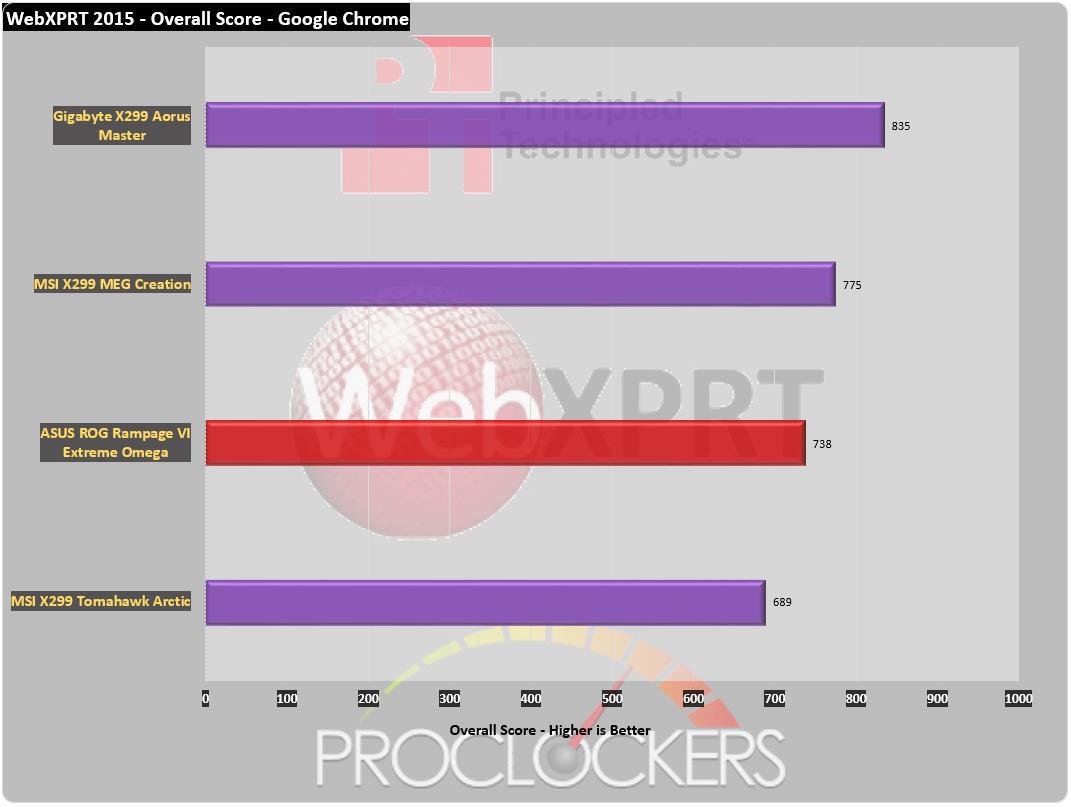 Our browser-based test comes in a little lower but still does well with a score of 738 +/- 15.
PassMark PerformanceTest 9
Fast, easy to use, PC speed testing and benchmarking. PassMark PerformanceTest allows you to objectively benchmark a PC using a variety of different speed tests and compare the results to other computers.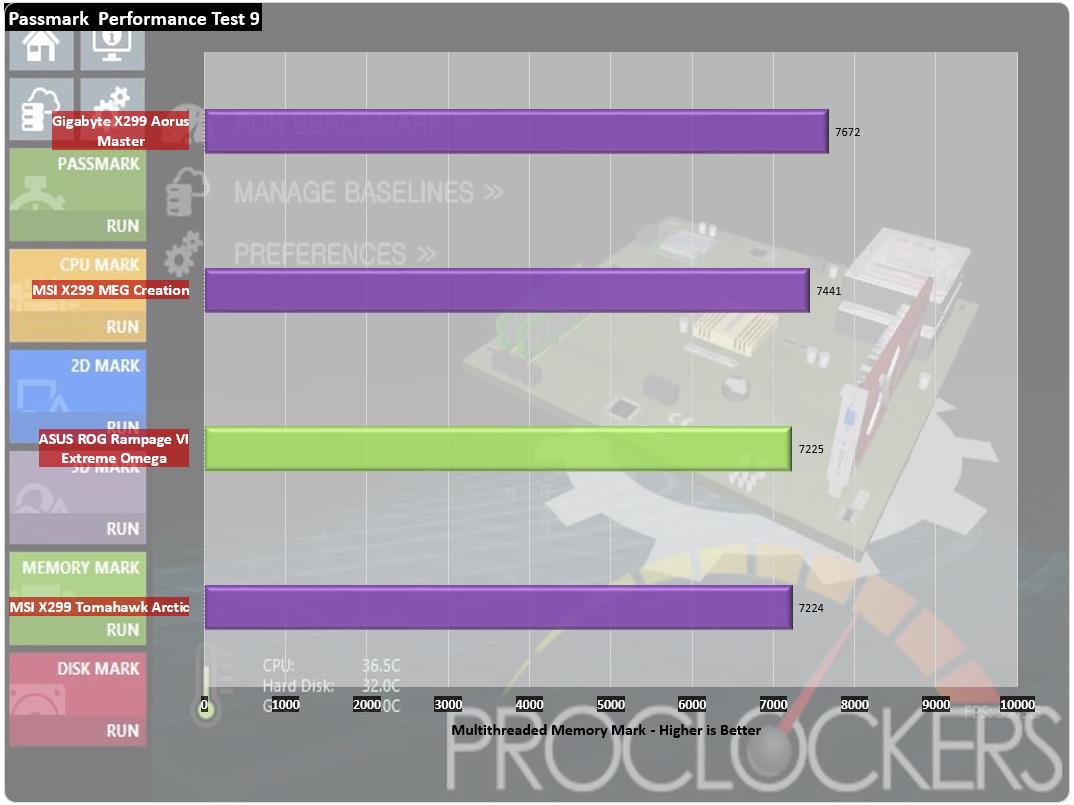 Passmark Performance Test 9 calculates a score of 7225 which puts it in 3rd place overall.
CPU Performance Testing
Super PI Modded 1.5
"In August 1995, the calculation of pi up to 4,294,960,000 decimal digits was succeeded by using a supercomputer at the University of Tokyo. The program was written by D.Takahashi in collaboration with Dr.Y.Kanada at the computer center. This record should be the current world record. (Details are shown in the windows help.) This record-breaking program was ported to personal computer environments such as Windows NT and Windows 95. In order to calculate 33.55 million digits, it takes 3 days with a Pentium 90 MHz, 40 MB main memory and 340 MB available storage."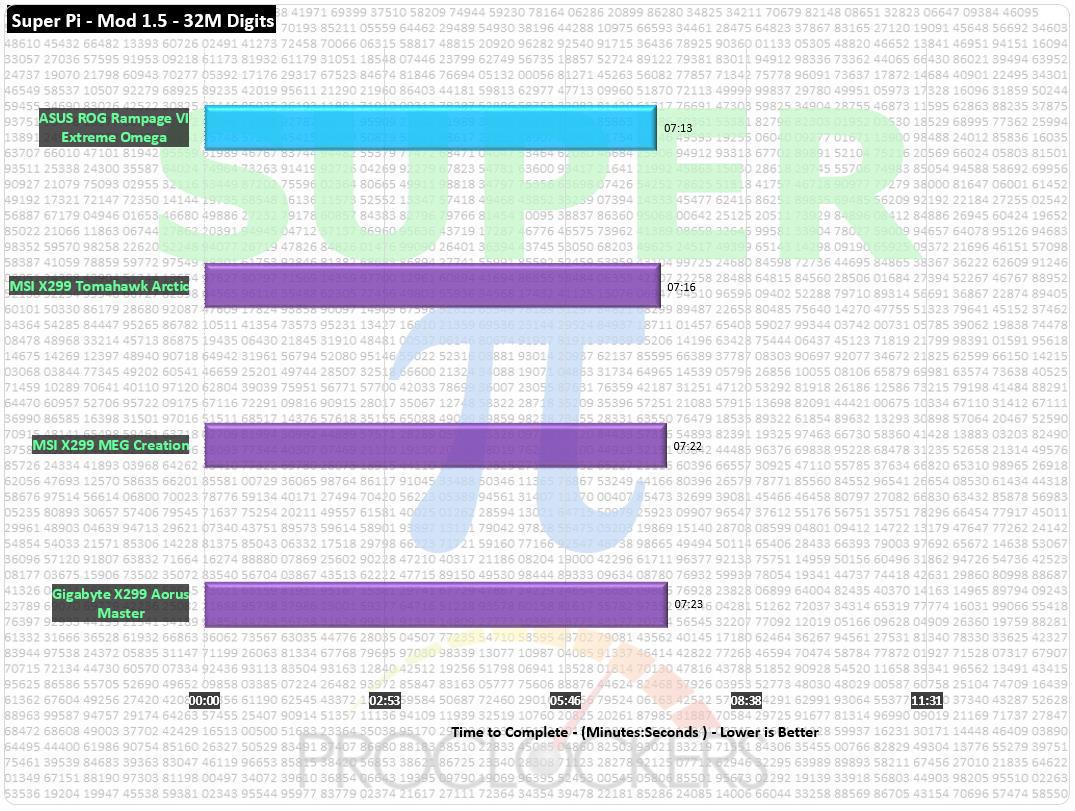 With a single thread in play solving for Pi, the Omega does all 32 million digits in 7 minutes and 13 seconds, quite a bit faster than other similar systems.
CINEBENCH R15
"CINEBENCH is a real-world cross platform test suite that evaluates your computer's performance capabilities. CINEBENCH is based on MAXON's award-winning animation software CINEMA 4D, which is used extensively by studios and production houses worldwide for 3D content creation. MAXON software has been used in blockbuster movies such as Iron Man 3, Oblivion, Life of Pi or Prometheus and much more.
CINEBENCH is the perfect tool to compare CPU and graphics performance across various systems and platforms (Windows and OS X). And best of all: It's completely free."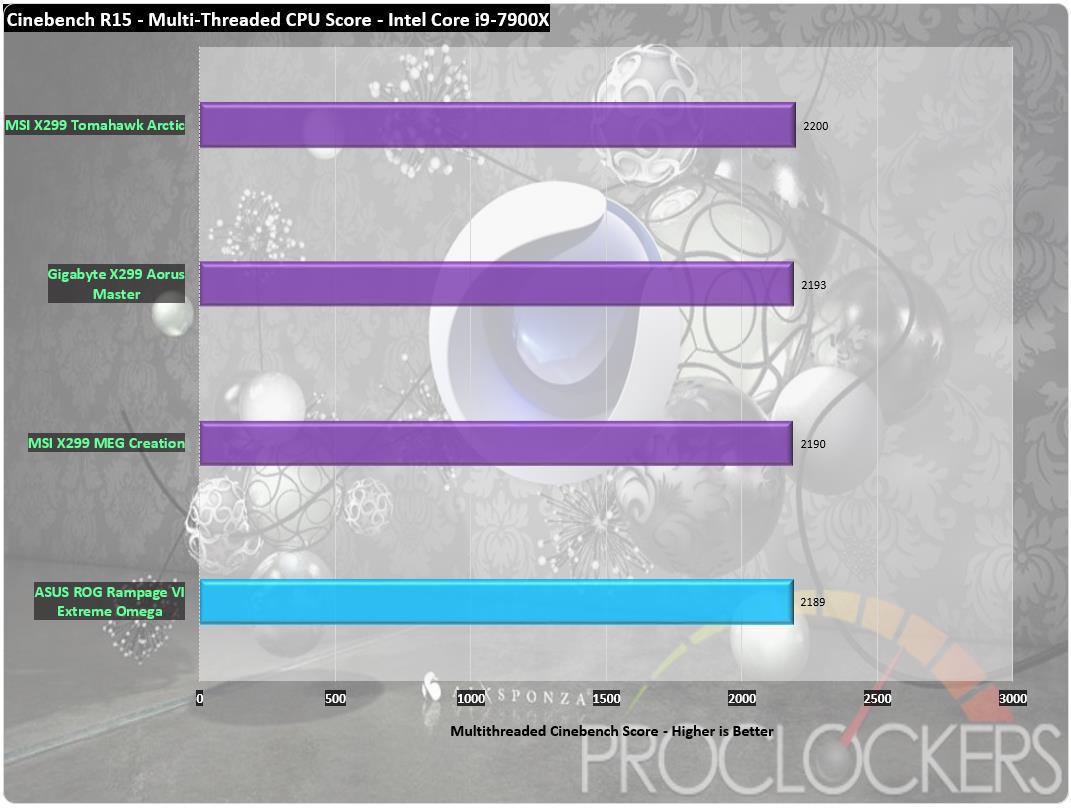 With all cores in play, the Omega scores 2189 points in Cinebench, just 11 points behind the leader.
7-Zip
The benchmark shows a rating of MIPS (million instructions per second). The rating value is calculated from the measured speed, and it is normalized with results of Intel Core 2 CPU with multi-threading option switched off. So if you have modern CPU from Intel or AMD, rating values in single-thread mode must be close to real CPU frequency. There are two tests, compression with LZMA method and decompression with LZMA method. Once the total passes reach 20 or more, the score is taken.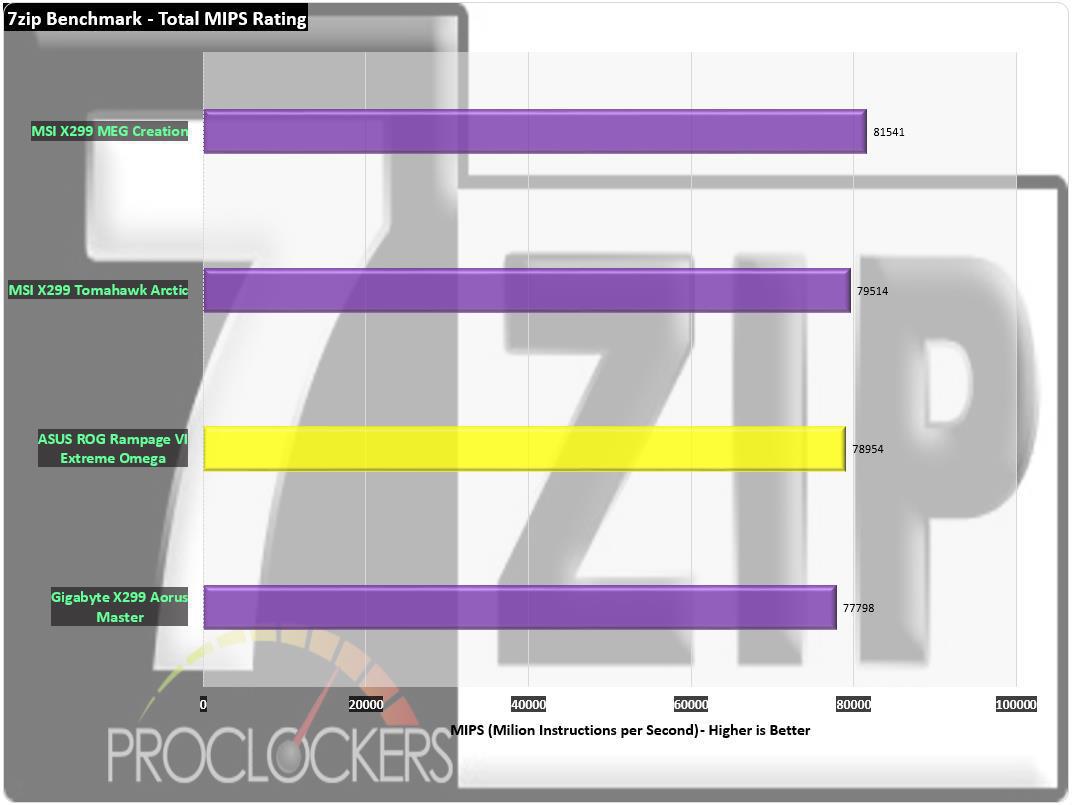 7-Zip performs with an overall average of 78,954 MIPS.
Memory Performance Testing
AIDA64 Engineer Edition
"FinalWire Ltd. today announced the immediate availability of AIDA64 Extreme Edition 1.50 software, a streamlined diagnostic and benchmarking tool for home users; and the immediate availability of AIDA64 Business Edition 1.50 software, an essential network management solution for small and medium scale enterprises. The new AIDA64 update implements AVX-optimized benchmarks for the upcoming Intel Sandy Bridge processors, adds a brand-new video encoding benchmark, and supports the latest AMD and NVIDIA graphics processors."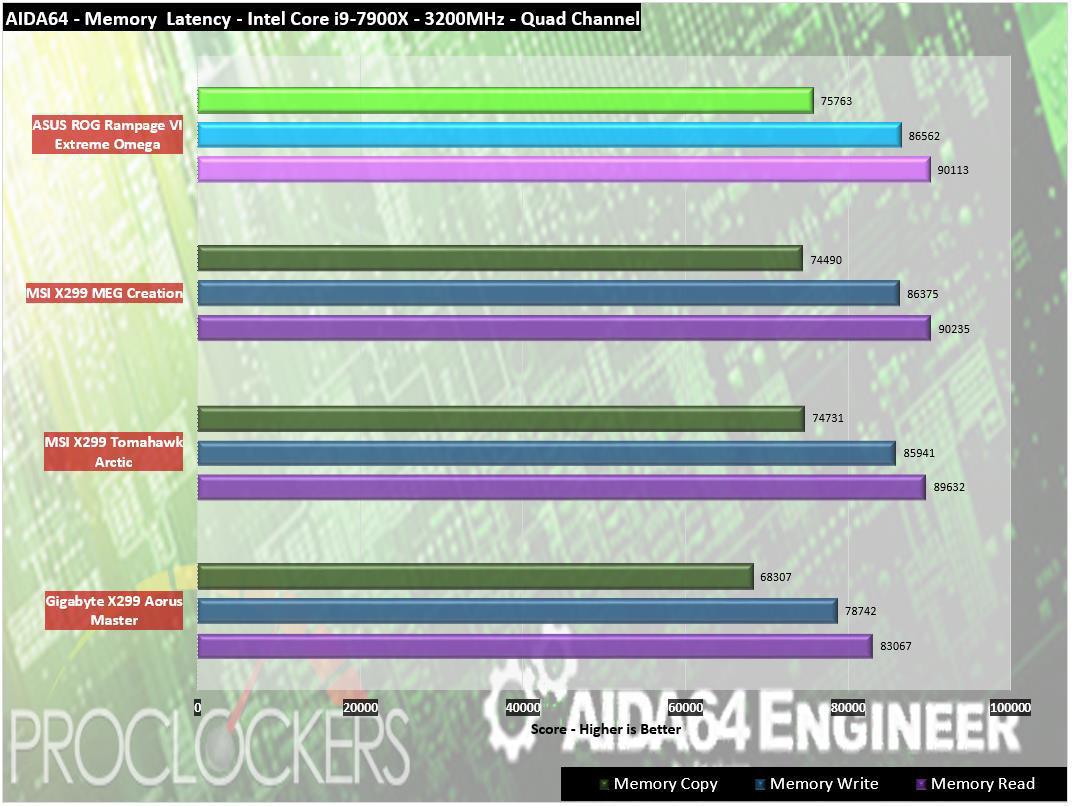 Memory bandwidth comes in at over 90GB reads, 86GB writes and 75GB for copy functions.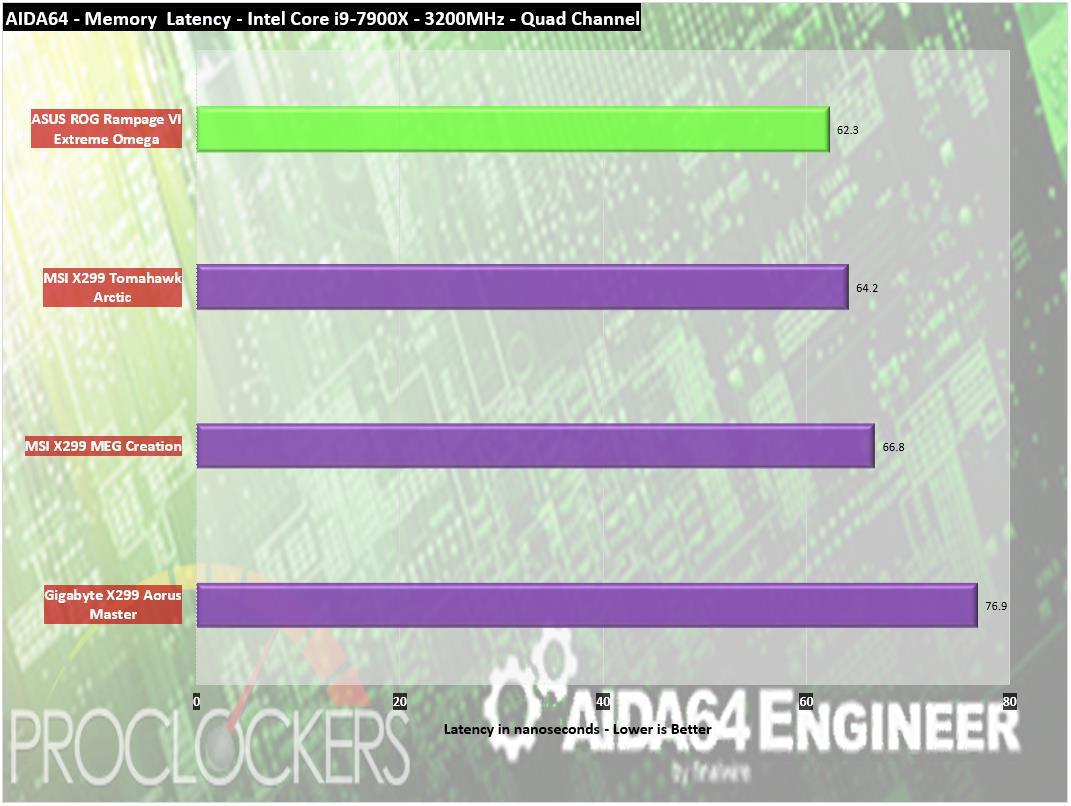 Latency comes in at a class-leading 62.3ns.
Passmark Performance Test – Memory Mark – Threaded
"Fast, easy to use, PC speed testing and benchmarking. PassMark Performance Test ™ allows you to objectively benchmark a PC using a variety of different speed tests and compare the results to other computers."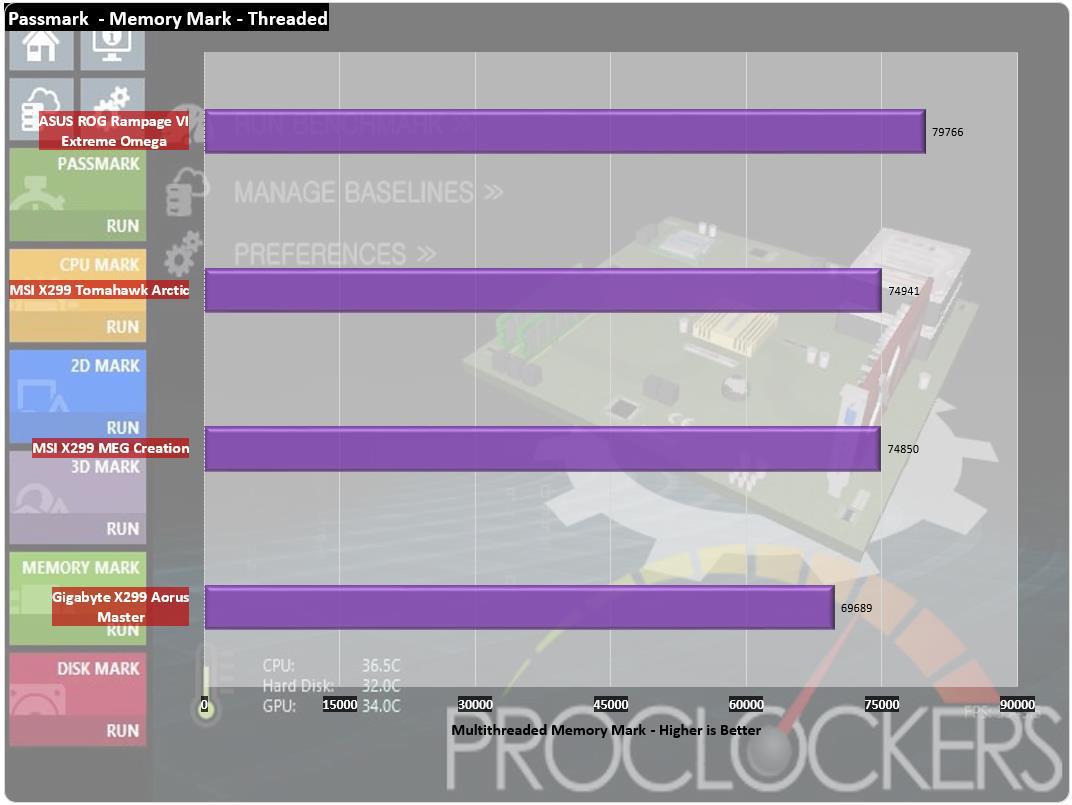 Passmark's Threaded memory mark gives the Omega a score of just under 80k, easily first place between similar systems.
SiSoft Sandra
"SiSoftware Sandra provides a robust package of diagnostic tools for testing your system and teasing out its problems–or potential headaches."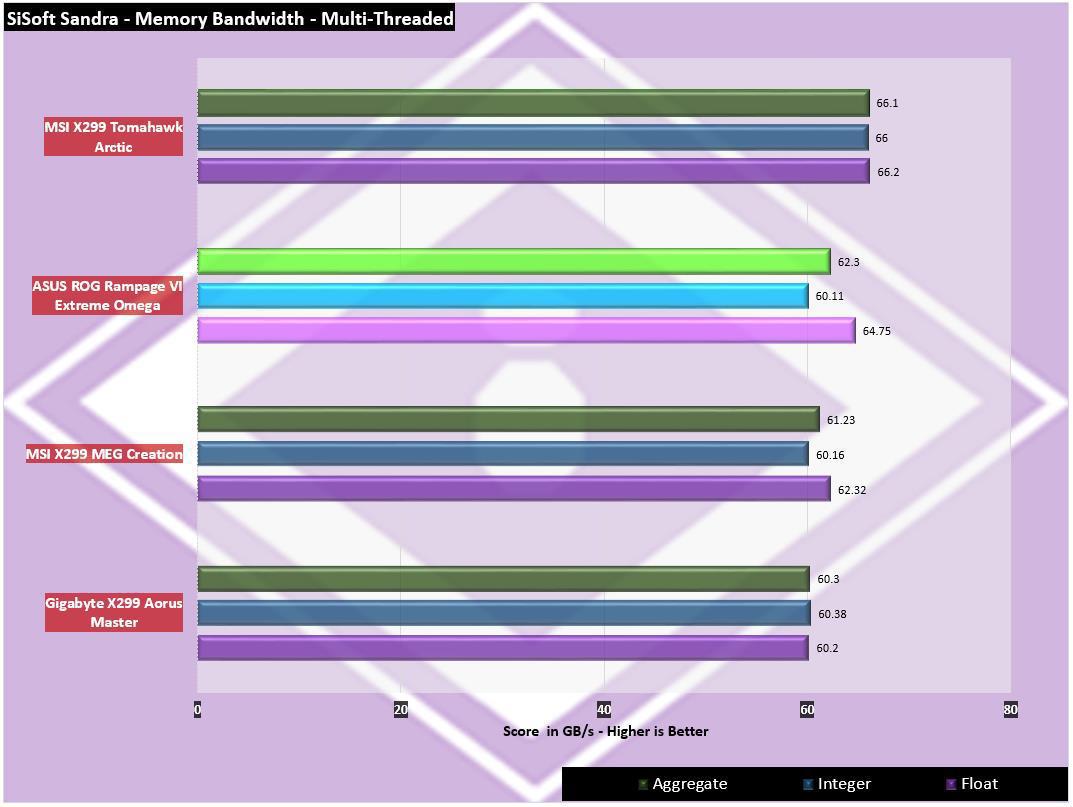 SiSoft comes in at nearly 65GB/s float, over 60GB on Integer and over 62.3GB/s on aggregate.
Storage Testing
ATTO Disk Benchmark
"As the industry's leading provider of high-performance storage & network connectivity products, ATTO has created a widely-accepted Disk Benchmark freeware utility to help measure storage system performance. As one of the top tools utilized in the industry, Disk Benchmark identifies performance in hard drives, solid state drives, RAID arrays as well as connections to storage. Top drive manufacturers, like Hitachi, build and test every drive using the ATTO Disk Benchmark"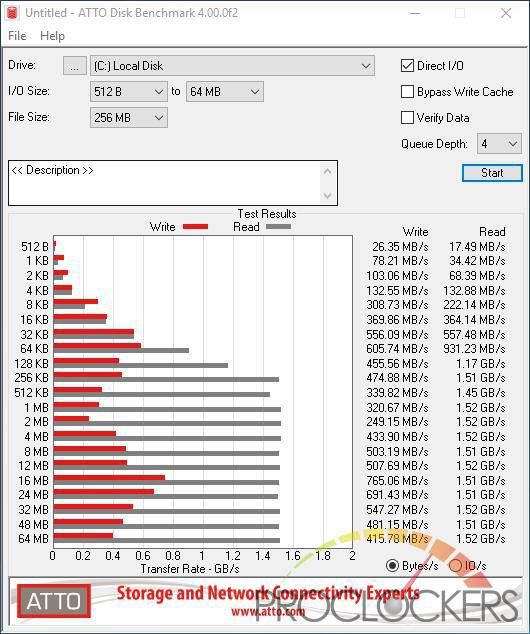 Atto shows our Toshiba RC400 480GB M.2 drive hitting its read speeds easily but writes come in a little slow thanks to a very full drive.
CrystalDiskMark 6.0
"CrystalDiskMark is designed to quickly test the performance of your hard drives. Currently, the program allows measuring sequential and random read/write speeds."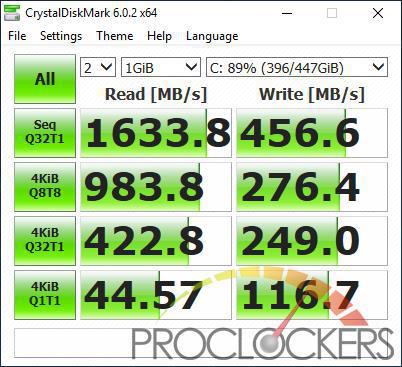 CrystalDiskMark actually comes in a little above rated read speeds, but our full drive is really taking a hit through no fault of ASUS's.
AS SSD
The AS SSD benchmark determines the performance of Solid State Drives (SSD). The tool contains six synthetic and three copy tests.
The synthetic tests determine the sequential and random read and write performance of the SSD. These tests are performed without using the operating system cache. In the sequential test, the program measures how long it takes to read and write a 1 GB file. In the 4K test, read and write performance is determined for randomly selected 4K blocks. The 4K-64 Third test is equivalent to the 4K procedure, except that the read and write operations are distributed to 64 threads. This test should show differences between the IDE operating mode where NCQ is not supported and the AHCI mode for SSDs with Native Command Queuing (NCQ). The additional compression test can measure the performance of the SSD as a function of the compressibility of the data. This is especially important for the controllers that are used to increase the performance and life of the cell compression.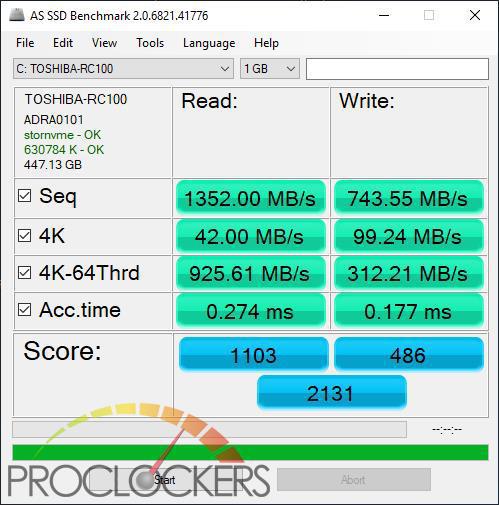 AS SSD gives us a score of 2131, about what we expected.
Game Testing
3DMark – Fire Strike
"Fire Strike is a showcase DirectX 11 benchmark designed for today's high-performance gaming PCs. It is our most ambitious and technical benchmark ever, featuring real-time graphics rendered with detail and complexity far beyond what is found in other benchmarks and games today"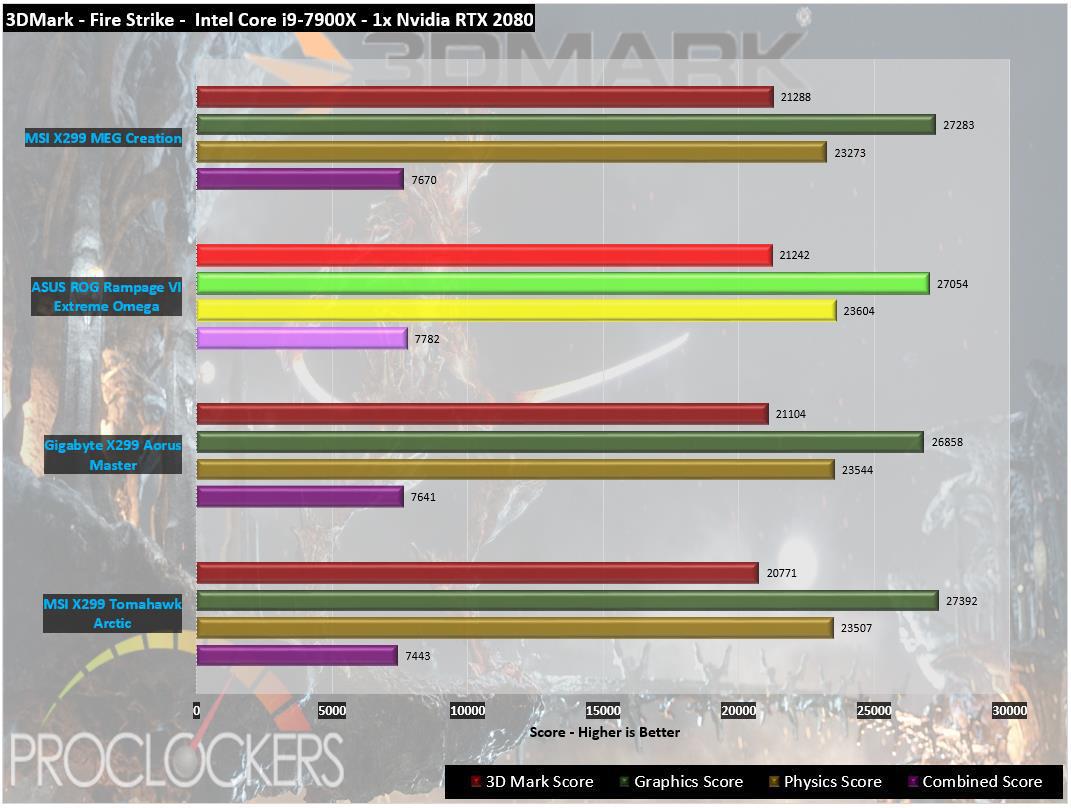 ASUS usually does well in the gaming category with its 'Republic of Gamers' platforms, the Omega is no different and does well in Firestrike.
3DMark – Time Spy
"3Dmark Time Spy is a new DirectX 12 benchmark test for Windows 10 gaming PCs. Time Spay is one of the first DirectX 12 apps to be built "the right way" from the ground up to fully realize the performance gains that the new API offers. With DirectX 12 engine, which supports new API features like asynchronous compute, explicit multi-adapter, and multi-threading, Time Spy is the ideal test for benchmarking the latest graphics cards."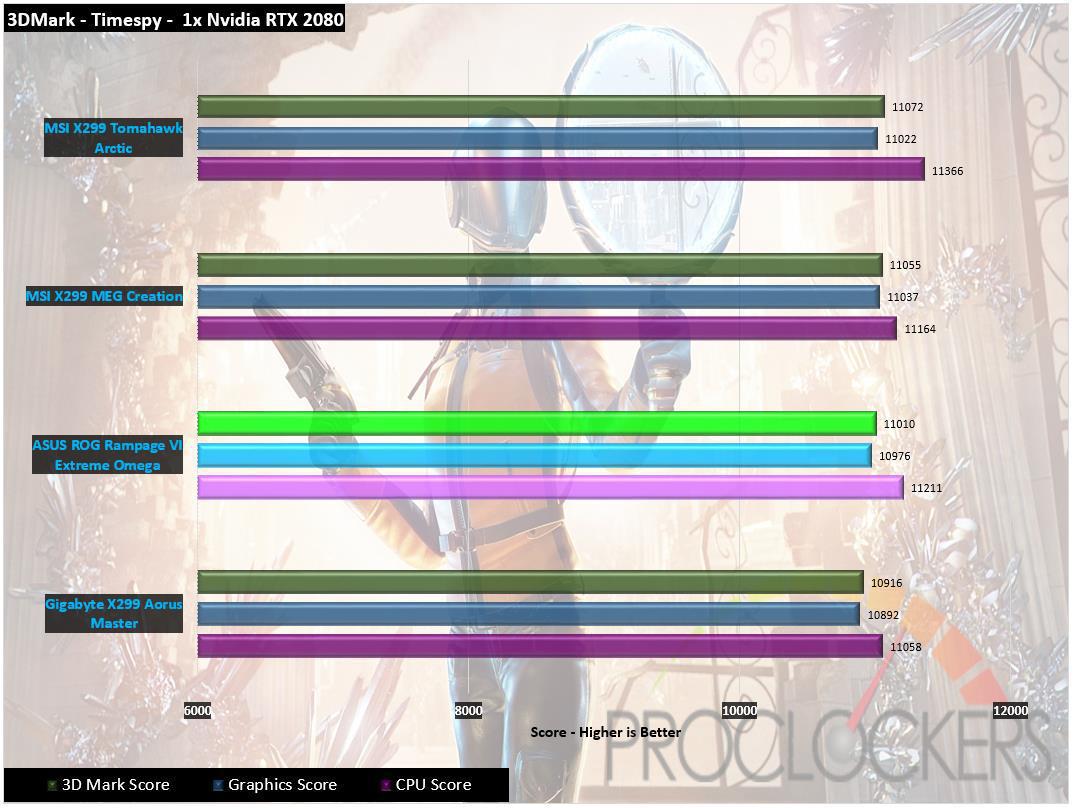 Timespy comes in third, just narrowly missing a 1st place win.
Far Cry 5
Anything can happen. Everything will.
Welcome to Hope County, Montana, land of the free and the brave, but also home to a fanatical doomsday cult—known as The Project at Eden's Gate—that is threatening the community's freedom. Stand up to the cult's leaders, Joseph Seed, and the Heralds, as you spark the fires of resistance that will liberate the besieged community.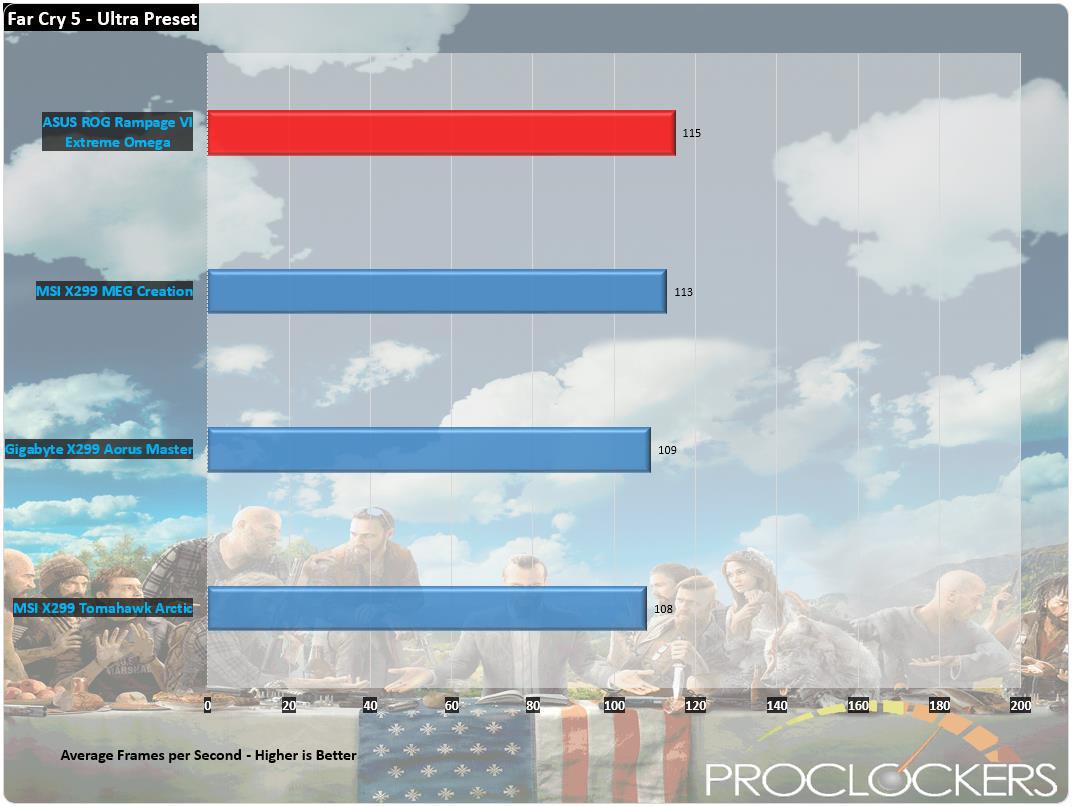 Our first real game test does admirably with Far Cry 5 hitting 115FPS average at 1080P.
Middle-Earth: Shadow of War
In the epic sequel to the award-winning Middle-earth: Shadow of Mordor, go behind enemy lines to forge an army, conquer Fortresses and dominate Mordor from within. Experience how the award-winning Nemesis System creates unique personal stories with every enemy and follower, and confront the full power of the Dark Lord Sauron and his Ringwraiths in this epic new story of Middle-earth.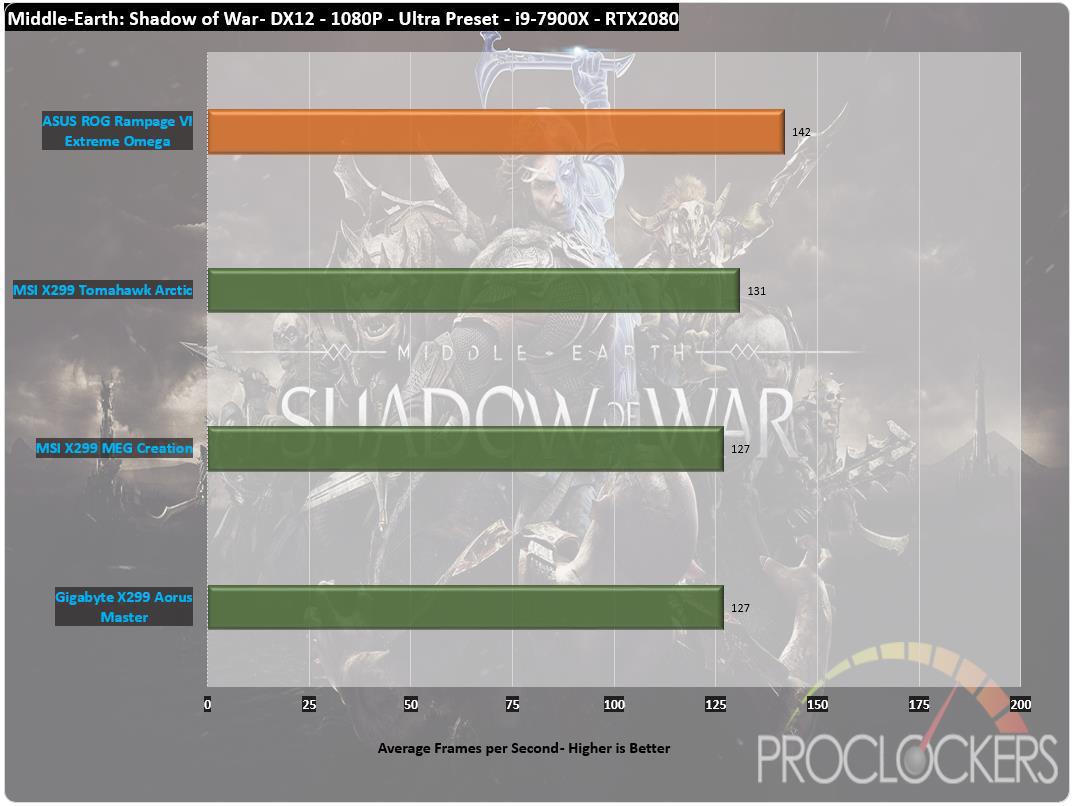 Middle Earth: Shadow of War also does exceptionally well.
Shadow of the Tomb Raider
Experience Lara Croft's defining moment as she becomes the Tomb Raider. In Shadow of the Tomb Raider, Lara must master a deadly jungle, overcome terrifying tombs, and persevere through her darkest hour. As she races to save the world from a Maya apocalypse, Lara will ultimately be forged into the Tomb Raider she is destined to be.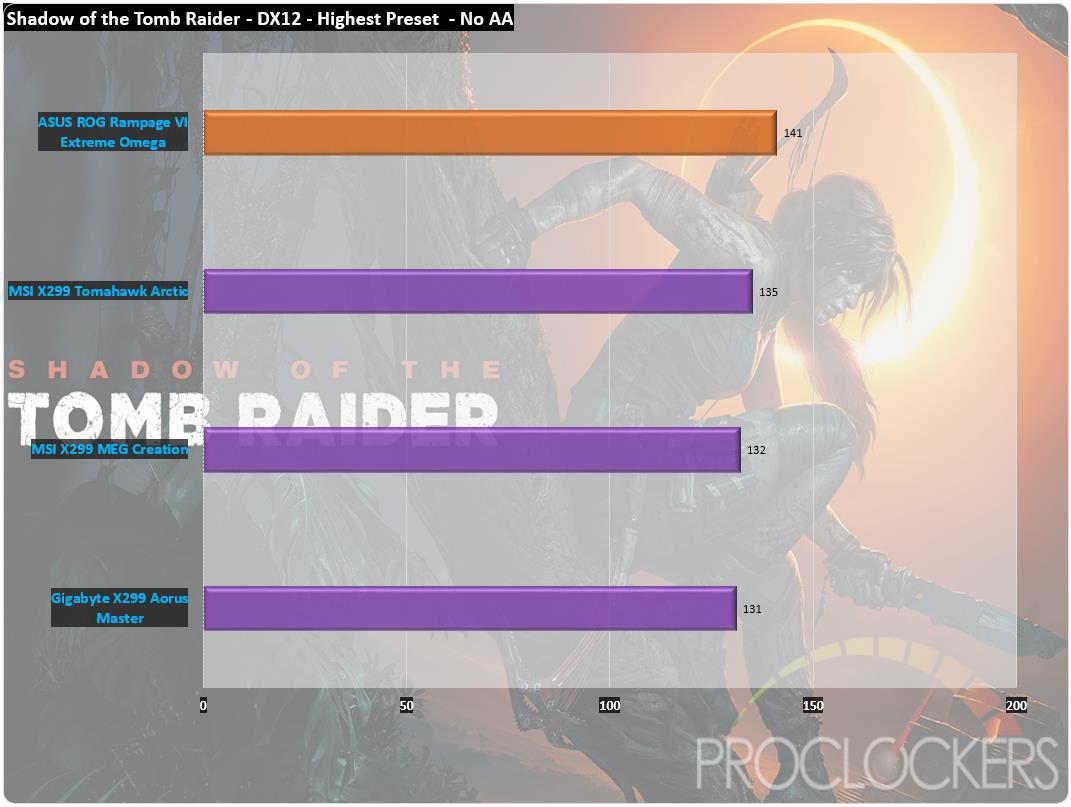 Shadow of the Tomb Raider also comes in 1st place quite easily with an average GPU score of 141 FPS.
Rise of the Tomb Raider
Rise of the Tomb Raider is an action-adventure video game developed by Crystal Dynamics and published by Square Enix. It is the sequel to the 2013 video game Tomb Raider, a reboot of the Tomb Raider franchise. It was released on Xbox One and Xbox 360 in November 2015 and for Microsoft Windows in January 2016. It is set to release for PlayStation 4 in the second half of 2016.
Rise of the Tomb Raider was officially announced in June 2014. The game's storyline follows Lara Croft as she ventures into Siberia in search of the legendary city of Kitezh, whilst battling a paramilitary organization that intends on beating her to the city's promise of immortality. Presented from a third-person perspective, the game primarily focuses on survival and combat, while the player may also explore its landscape and various optional tombs. Camilla Luddington returns to voice and performs her role as Lara.
Upon release, Rise of the Tomb Raider received positive reviews, with critics praising its graphics, gameplay, and characterization. It was the best-selling Xbox One game during Christmas week and had sold over one million copies by the end of 2015. Additional content was also released, including a new story campaign, a new gameplay mode, as well as new outfits and weapons for Lara.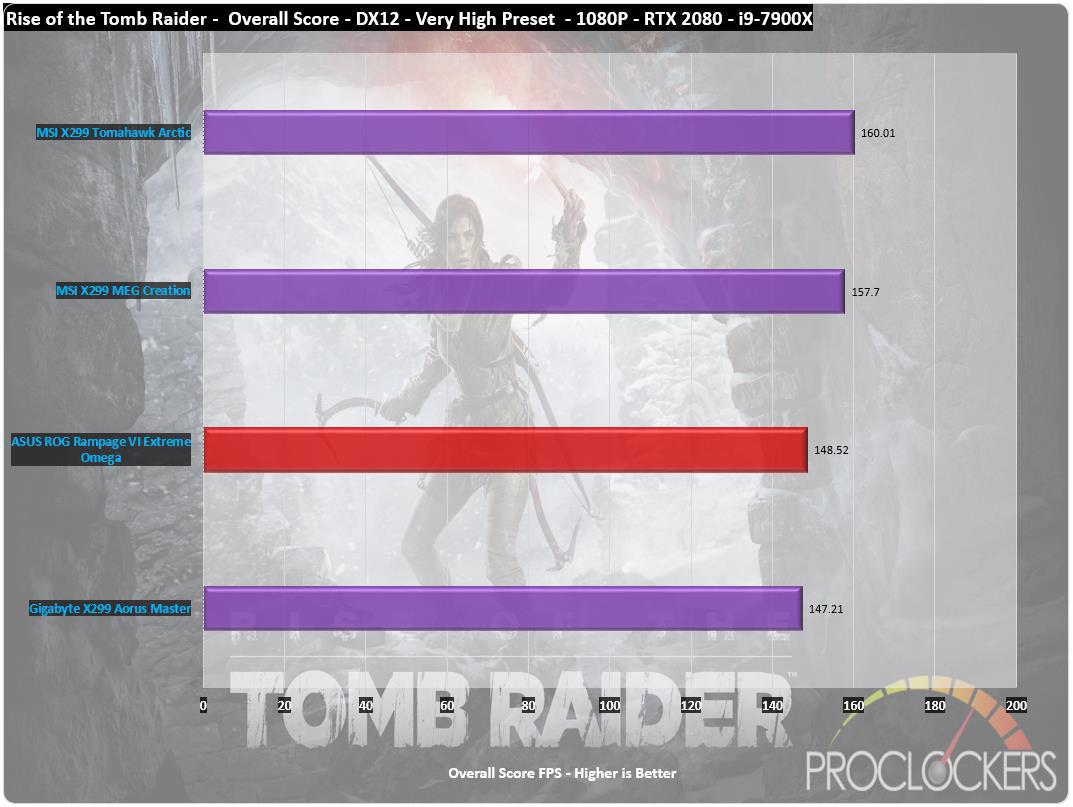 Rise of the Tomb Raider also does well but doesn't quite manage first place. Still exceptional overall.