Overclocking & Temperatures
GPU Tweak II
I used GPU Tweak II to overclock the GPU. In this program, you can choose between 3 modes for your graphics card. OC mode, Gaming mode and Silent mode. The card comes factory set in Gaming mode. If you use another tweaking utility, such as MSI Afterburner, you won't be able to switch modes. I ran all my benchmarks in OC mode. There are also graphs to the left to monitor everything from GPU core clock, voltage memory clock, fan speed and more. The Gaming booster optimizes your system by setting the system for the best visuals, killing the Windows services and processes and even defragging system memory. There is also an advanced mode where you can manually tweak everything on your GPU.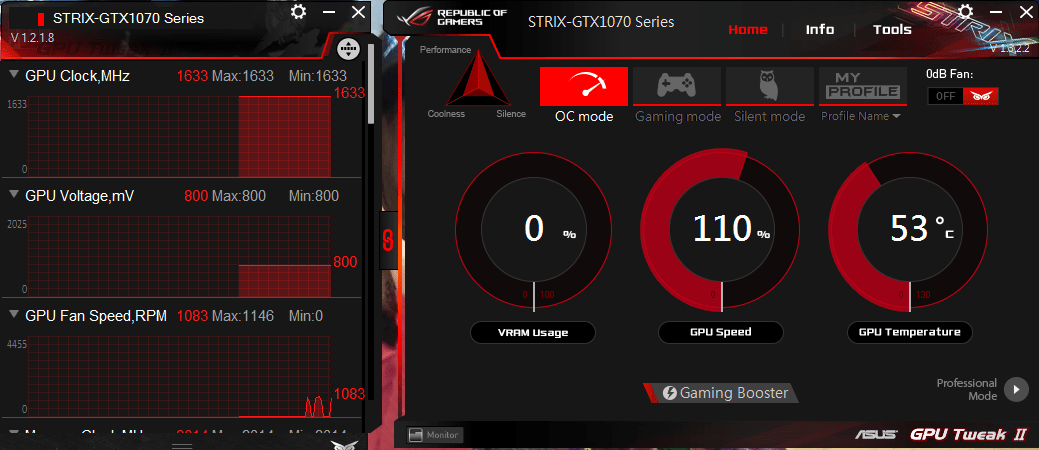 Here is how Basic mode looks with one touch overclocking by switching modes.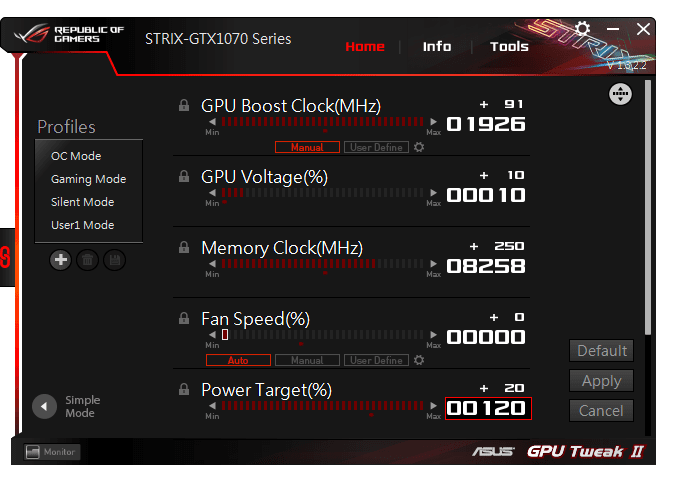 This is how Advanced mode looks. These are also the settings I used while overclocking.
3DMARK

3DMark is a computer benchmarking tool created and developed by Futuremark used to determine the performance of a computer's 3D graphic rendering and CPU workload processing capabilities. It does this through a series of graphics and physics and or CPU tests. I used 3DMarks most popular benchmark, Firestrike as well as their newest DX12 benchmark, Time Spy to test the ROG STRIX 1070. I tested at both stock and overclocked to +91 on the core and +250 on the memory.
I ran both Firestrike and the new DX12 benchmark, Time Spy. The STRIX 1070 was set in OC mode in GPU Tweak II. The base clock was 1657 and the boost clock is set to 1860 MHz in OC mode. That's a decent set up from the 1632 MHz in standard mode. While in OC mode, thanks to GPU Boost 3.0, we hit 2000 MHz on the core, with no overclock. Then I applied the max overclock on the core allowed by GPU Tweak II, a +91 on the core, and I hit 2076 on the core.
As I mentioned earlier, ambient temperature was about 22°c or 72°f in my office at the time of testing. That's a bit warmer then I like to run benchmarks at. The ROG STRIX 1070 never went over 72°c, even under heavy load. While in game, it stayed around 65°c. Another huge plus to the STRIX 1070 was the noise levels. This card is quiet, I mean very quiet. The card, at idle, was running at about 32-34 decibels. Even better, was while gaming, the card stayed right around 40 decibels. Overall, I was happy with these results.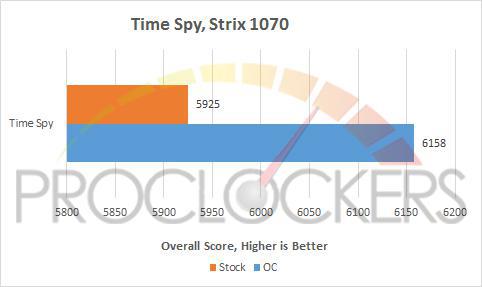 There wasn't much of a difference between the stock and overclocked results in the DX12 Time Spy benchmark.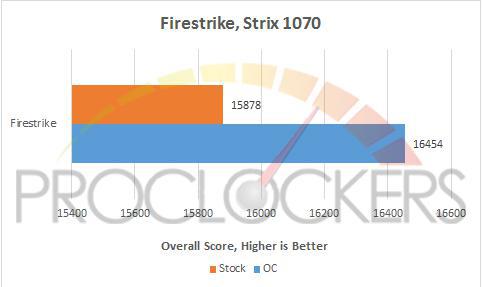 Firestrike showed more of an improvement with the overclock on the GPU.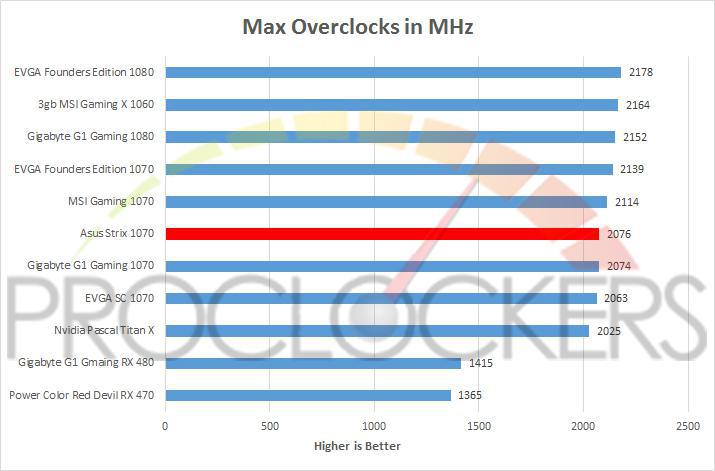 I was hoping for the STRIX 1070 to break 2100 MHz. However, 2076 is still a great overclock.
Temperature wise, the ASUS STRIX 1070 was about average when compared to the current generation cards I've personally tested since Pascal launched.