System Build & Installation
The hardware pieces included in this build are the following:
ASRock Z370 Tachi Motherboard
Intel 8700K Processor
4 x 4GB Team Group T-Force Delta RGB Ram
ASUS ROG Strix RTX 2060 8GB GPU
Cooler Master 212 Hyper Evo Cooler
EVGA 750W P2 PSU
Since I have wanted to do an inverted build for quite some time, I thought this would be the perfect opportunity to accomplish this with the Dark Base Pro 900. I was also inspired by the black/orange color scheme of the case and used my modding skills to create a custom set of black/orange extensions for the build. I found that the cables brought just a little extra pop that matched the case perfectly.
Moving on to the build itself, working in the Dark Base Pro 900 was a lot of fun but it did require a lot of time and planning. Because the case is so customizable, you first must plan out what configuration you would like to go with before even installing any components. If you don't do this, you would find yourself installing/uninstalling your components as you readjust the case. Aside from taking longer than expected to complete, the only issue I ran into during the build was working with cables at the top of the motherboard. Since the motherboard is closer to the PSU shroud when inverted, it was a little bit of work trying to plug in some things like the EPS and CPU cooler fan cables.
Once the build was complete, I really loved how clean it looked thanks to rubber grommets and cutouts around the motherboard tray. The included RGB LED bars (which I installed on the left side and top of the case) do an excellent job of illuminating my components and overall, I really love how unique the build looks with its inverted configuration. One thing to note is that even though the finish of the Dark Base Pro looks beautiful, it is a fingerprint magnet. It's not a huge issue but you just have to make sure you have a microfiber cloth on standby so you can have your build look its best.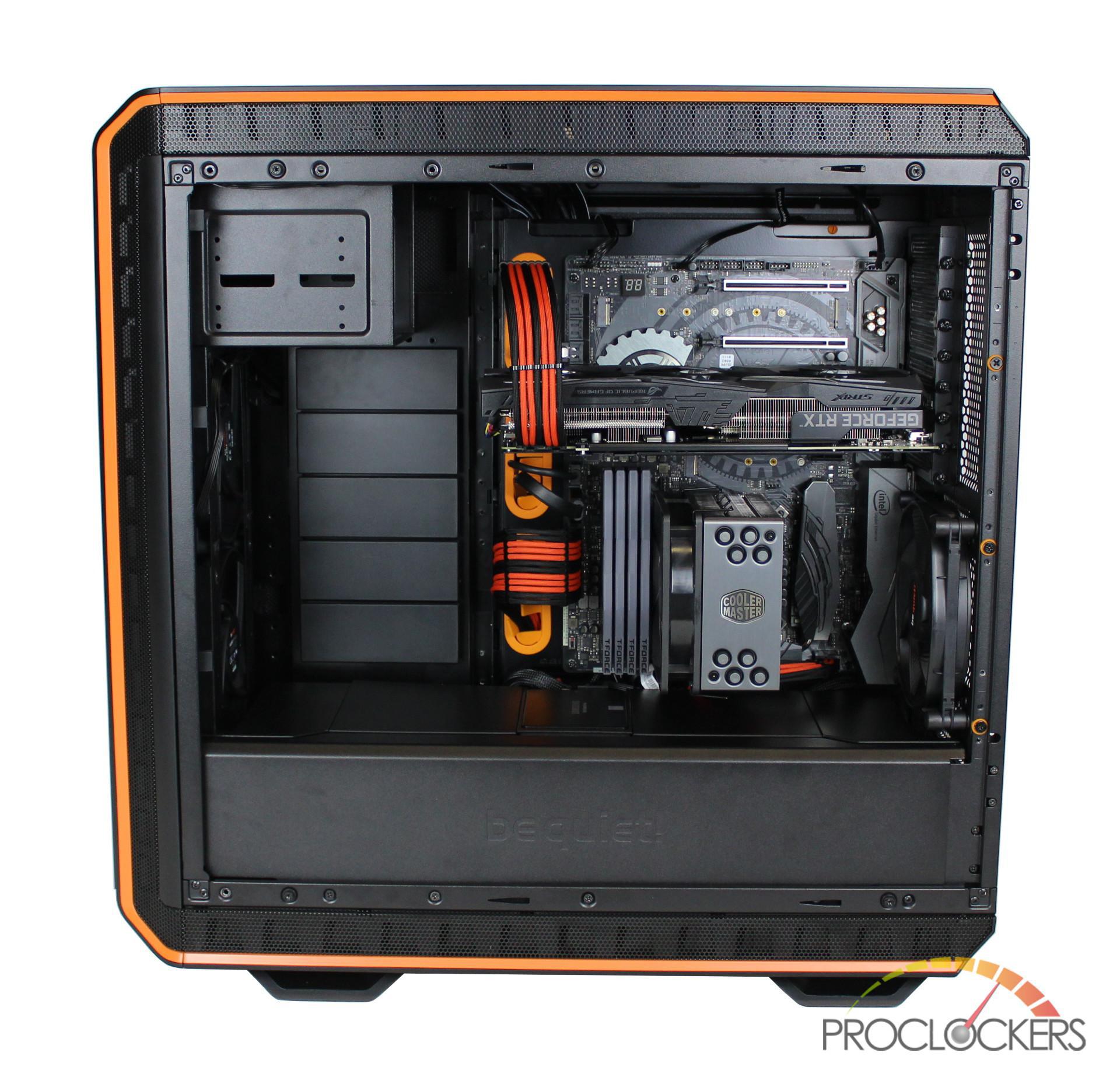 Going to the back of the case, I kept things tidy using the various tiedown points in the center of the case and secured the cables using the included Velcro strips. I really like when case manufacturers provide Velcro strips over zip ties as during many of my builds, I find myself constantly adding/removing wires which you can't do with zip ties. In addition to the ample tiedown points in the Dark Base Pro, you also have plenty of space in the bottom of the case to hide your cables. Even though the Dark Base Pro is a rather large case, I still found I had plenty of slack in my PSU cables, which I was able to tuck away neatly under the PSU shroud.