Closer look
The Cogage is a 825 grams monster that is meant to be mounted on any of the current CPU sockets including Intel 775, 1156 and 1366. AMD sockets are not forgotten either as compatibility are the AM2 and AM3 via an optical mounting plate. We state that we look at this cooler as two times that of the Spirit but to better give you a picture of this cooler it resemble that of the IFX-14 which was another top cooler from Thermalright.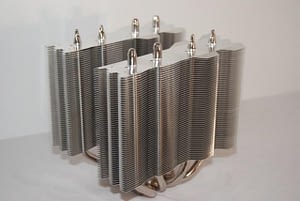 The cooler is comprised of dual towers made of aluminum fins. The surface area of the fins is less compared to some coolers on the market. But the bend at the end of the fin allows better circulation of air. The center gap that is made of all the fins combined eliminate the hub of the fan from being a culprit in cooling. The tiny holes that you see in the top fin there are some on the bottom fins as well are for the wire clips that secures the fans to the cooler. The area between the two tower is wide enough to house a 120/140 x 38mm cooling fan.
The heat-pipes are nickel plated over copper for the best heat drawing combination. The pipes measures 8mm in diameter compared to the 6mm we see in many of coolers. I would think Cogage was looking to give the Arrows of the best advantages with this cooler.
The base of the Arrow is convex which is a trait of all of Thermalright current coolers. This is a good thing or bad depending on who you talk to. According to Hank of Thermalright, the convex base is a perfect fit for the IHS of Intel latest processors. Evidently they have a point as their coolers have reigned supreme for some time. The base has a nice smooth surface and not to blemished by machining.
The cooler comes with everything you need to most Intel based motherboards. This includes mounting plates for socket 775, 1156 and 1366 motherboards, cooler brackets, wire clips, base plate, mounting screws and lastly a 120x25mm cooling fan.