Introduction
Cooler Master MasterWatt 750 Watt Semi-Fanless 80 PLUS Bronze PSU Review
Cooler Master is well known for their affordable high-quality products and when others seek to maximize profit Cooler Master steadfastly maintains high-quality affordable products for the everyday person. In this case, they sent us the Cooler Master MasterWatt 750 Watt Semi-Fanless 80 PLUS Bronze PSU to review and we've seen it peek its head out at $79.99 which is a tough price point to fight for with many selections at 750W and in that same price point bracket. Often non-nerds overlook the need for a high-quality dependable PSU and end up with something on sale to save a few bucks but power supplies are probably the last place you should worry about scrimping on money. It is essential that the heart of your machine (the PSU) is high quality, dependable and sufficient size. Pick too small a PSU or the on sale $19 off brand low-quality PSU and you stand the chance of frying all that expensive hardware for the lack of a few bucks on a well chosen PSU.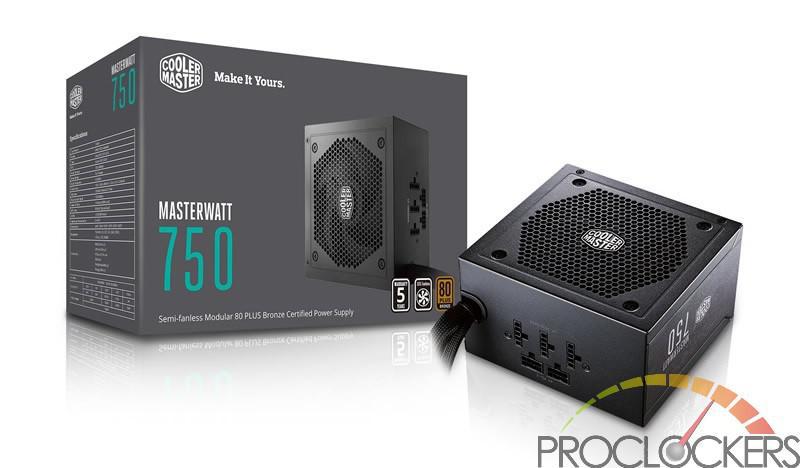 The CM (CM – Cooler Master) Master Watt Semi-fanless Modular 80 Plus Bronze power supply is named semi-fanless because at 15% load the fan remains off and ramps up as the power consumed increases. CM chose to call it Modular and indeed some of the wires are modular but it has a 20+4 pin motherboard and an 8-pin and 4-pin CPU power connectors that are hard wired so semi-modular would be more appropriate. The PSU industry seems to have settled on Modular which has the 20+4 and the CPU power connectors hardwired and totally modular (which we prefer) where all the wires are removable.
We perused the specifications on the MasterWatt 750 Watt Semi-Fanless 80 PLUS Bronze and we have to say that Cooler Master is pushing it as an everyman's PSU that doesn't need the highest efficiency. Here's the thing about higher efficiency PSU, as the efficiency increases so does the cost of higher efficiency components and manufacturing costs. So take a 1500W Gold PSU and typically they can run in the $400 range pushing 87 to 90% efficiency but at a greatly increased cost. Take our MasterWatt 750 Watt Semi-Fanless 80 PLUS Bronze and we run 82 – 85% but at $79.99 it's just 5% less efficient hence the every mans everyday PSU.