Introduction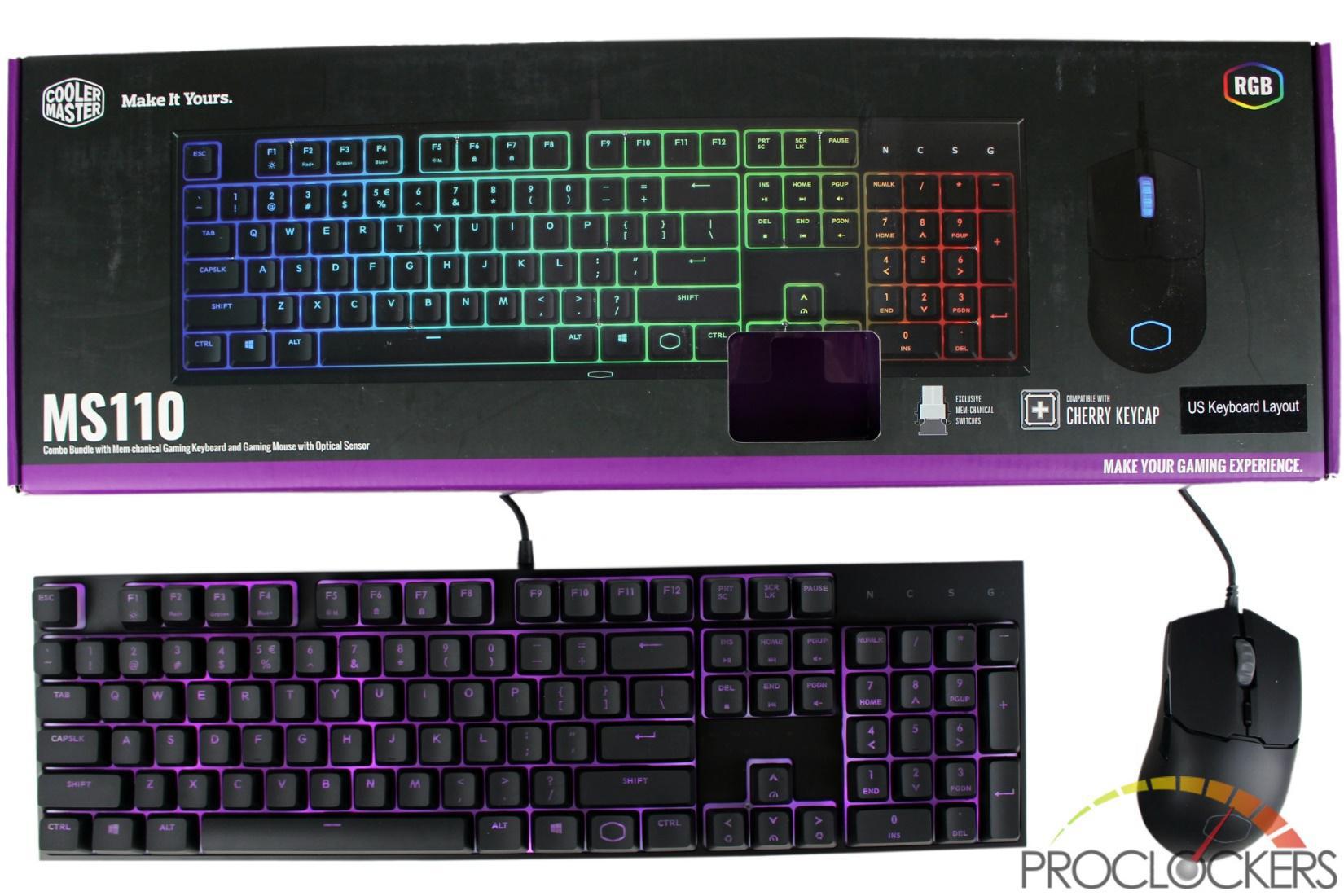 Peripherals are easily one of the most subjective subjects in the PC world. Everyone has their own preferences, and they usually stick to them pretty closely. What isn't contested however is the need for quality and reliability, as well as cost so you can spend your hard-earned cash on the latest Internals. For this reason, the Keyboard uses Cooler Masters 'mem-chanical' switches which provide many of the benefits like a 50M+ stroke lifetime with the cost-effectiveness of a conventional membrane keyboard. Throw in a matching mouse with a Pixart 5050 sensor and a snappy 1000Hz polling and you have everything you need at a cost anyone can handle. Let's see how it does!
Pro Clockers would like to thank Cooler Master for sending the MS110 combo over for us to test out!
Cooler Master's take on the MS110 gaming combo:
THE MINIMALISTIC DUO
The MS110 is a fully-featured combo set engineered for gaming success. The keyboard has the signature Cooler Master features, with exclusive linear Mem-chanical switches for greater responsiveness than normal membrane keys. The gaming mouse is a beast in the lanes or battle royale map, with an ambidextrous shape optimized for right-handers, gaming-grade optical sensor, adjustable DPI up to 3200, and new innovative coating for more durability. The MS110 is pure function and finesse that's there for you when you need it the most.
Clean, Floating Key Design – Sleek stylings for classic good looks and convenient maintenance
Mem-chanical Switches – Exclusive linear switches that provide more responsiveness than membrane switches
On-board Control – RGB lighting, windows lock and multimedia controls via function key makes customization simple without the need for bloated software
Gaming Grade Optical Sensor – Adjust your DPI on-the-fly with five programmed levels (400, 800, 1600, 3200)
Ergonomic Shape – Right-handed optimization with new coating for increased comfort and durability
RGB Lighting – 6-zone RGB illumination on the keyboard with 3-zone RGB on the mouse to illuminate your victories