Introduction and Initial Thoughts on Corsair's Dark Core RGB Pro Wireless Gaming Mouse
The Dark Core RGB Pro is part of Corsair's line of ergonomic gaming mice and is an update to the previously released Dark Core RGB. This updated model retains the shape and size of the original but features an all-new 18,000DPI PixArt PAW3392 sensor, three connectivity modes, and a polling rate of 2,000Hz. Corsair has also opted to only feature eight buttons on the Dark Core RGB Pro instead of the nine found on the previous model.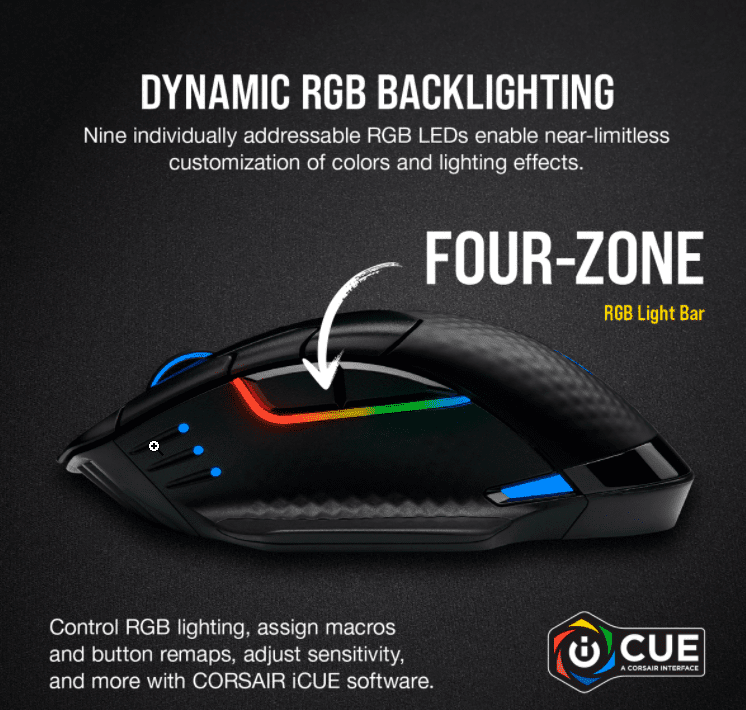 Additionally, the mouse has been given a complete RGB lighting makeover, and now features a total of nine RGB zones, all of which are controllable from Corsair's ICU software. Fans of the Dark Core RGB will be happy to know that this new Pro model also retains the interchangeable thumb rest/wing, as well as the built-in pinky-finger rest/wing.
My initial impression was that the mouse felt great in my hand right out of the box, but it felt even better when I installed the larger thumb rest. The over-molded silicone grip pad across the palm area provided ample grip thanks to a raised diamond pattern that is carried over to the wings on the side of the mouse as well. The scroll-wheel features this same pattern and grip material as well as a very noticeable, and firm detent when rolled lightly. When depressed the scroll wheel has a very tactile click, and when pushed to the right, another very tactile click is felt. Likewise, all of the regular buttons feature a very tactile click when depressed.
The factory DPI settings felt pretty standard and definitely needed adjustment, but they were not terrible. The mouse was about two-thirds charged right out of the box, and effortlessly paired with my laptops Bluetooth. Likewise, the mouse connected to the Slipstream Wireless dongle as soon as I plugged it in and flipped the switch to Slipstream Wireless mode. I took a few minutes to "drive" the mouse around in both wireless modes and it honestly felt like any other wireless mouse I might use with my laptop. That was expected, and I knew the true test come later that evening.