Final Thoughts on Corsair's Dark Core RGB Pro Gaming Mouse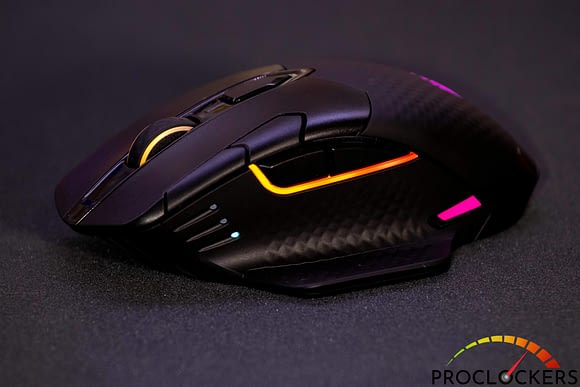 As I mentioned at the beginning of this review, I have always been a proponent of wired gaming mice. Call it PTSD from my first wireless mouse being a Microsoft Ergonomic Wireless Mouse circa 2003, or for the half-dozen or so wireless Logitech mice that I have owned that had horrible latency. But the simple fact is that I have never put much faith in wireless mice when it comes to gaming. The Corsair Dark Core RGB Pro has changed my mind. Throughout my usage, I only briefly experienced any connectivity issues whatsoever when using Slipstream Wireless, and as I mentioned a few paragraphs ago, those issues were my fault. The Bluetooth connectivity was a bit dodgy when it came to games that demanded super-low latency from its input devices. This issue completely went away when using Slipstream.
My previous every-day mouse used hematite sliders on its undercarriage to provide a nearly effortless gliding experience across the mouse mat's surface, and I was a bit worried that going back to PTFE might be an issue. Still, honestly, I cannot tell the difference between how the two slide. So, if there is a difference, it is too subtle for me to notice. The mouse's lift-off height is also quite exceptional, with the mouse losing motion input when lifted just a couple millimeters from the surface.
Finally, while some of the designs out there take their interpretations of RGB accents too far, Corsair has hit the proverbial nail on the head with the Dark Core RGB Pro. The RGB accents are clean, crisps, and not overly gaudy, with the largest accent being the Corsair logo, which is covered by your palm when in use anyway. The thin lines and dots are all placed perfectly to accent the mouse's curves and aid the user in various metrics such as battery life, connectivity, current profile, and current DPI setting.
So, where do I stand on the Corsair Dark Core RGB Pro? It's actually quite well thought out and features some seriously high-end components. I typically keep a mouse for about 4-5 years if they can last that long, and I have no doubt in my mind that this mouse will still be on my desk, seeing daily use 5 years from now. For that reason, I am proud to give the Corsair Dark Core RGB Pro my seal of approval. I would recommend it to anyone looking for a new wireless mouse that not only excels at productivity but is ideal for serious gaming as well.