Features & Specifications

READY FOR MODERN STANDBY
Modern Standby is an upcoming feature for Windows 10 that vastly improves your PC's sleep and wake functionality. The technology allows your system to wake from sleep more than twice as fast, as well as maintain a network connection during sleep to continue downloading updates and receive emails and notifications – just like your phone. Best of all, it does this with less overall power consumption. To make use of Modern Standby, a compatible motherboard and CPU are also required.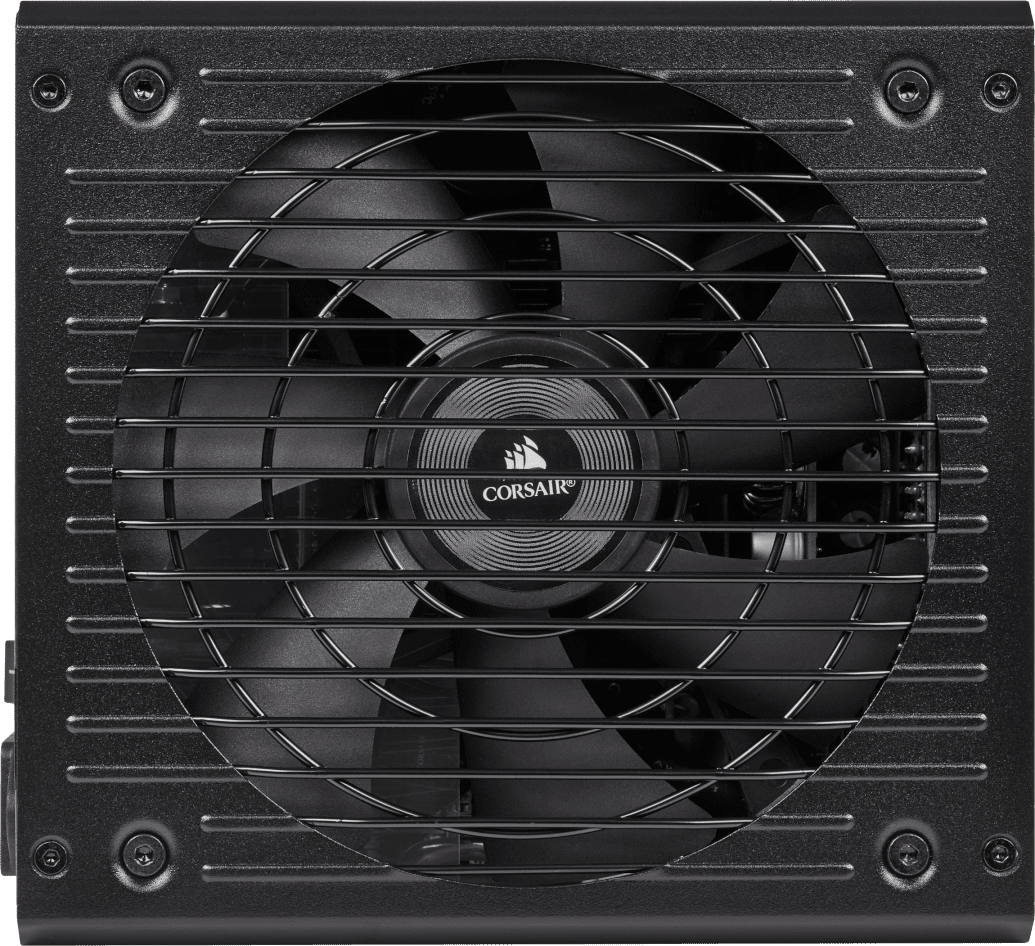 TUNED FOR LOW NOISE OPERATION
A 135mm rifle bearing fan with a specially calculated fan curve ensures that fan noise is kept to a minimum, even at full load. When at low and medium loads, the fan stops spinning entirely until it's needed, resulting in virtually silent operation.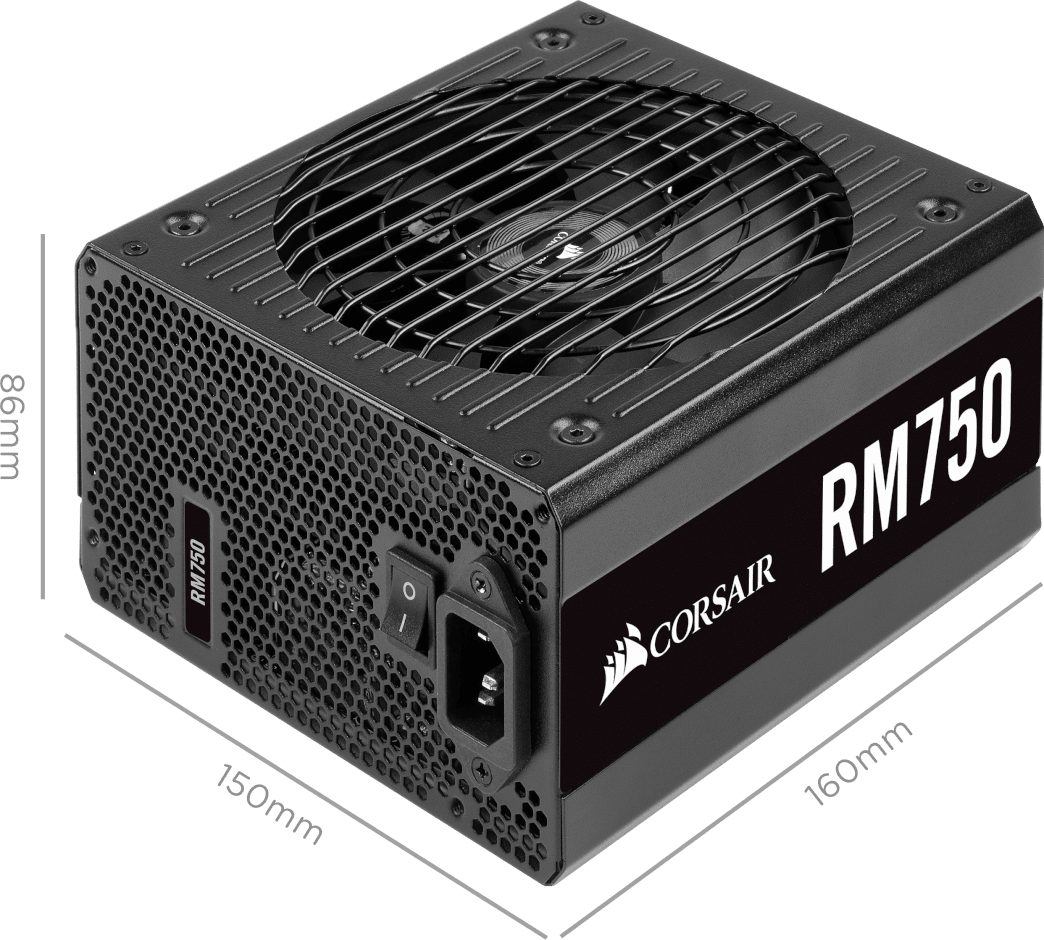 COMPACT SIZE
A 160mm-long casing ensures an easy fit in almost all modern enthusiast PC cases, providing more space for cable management and airflow in your chassis.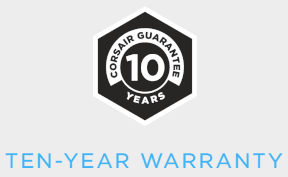 CORSAIR provides a ten-year warranty on all RM Series power supplies; your guarantee of reliable operation that will last across several system builds. If you need help, CORSAIR customer service and tech support are always on hand.

MULTIPLE-GPU READY
PCI-E connectors to power dual or triple (RM850 only) GPUs for your most ambitious PC gaming builds.
FULLY MODULAR CABLES
Use only the cables you need for quick and easy installation, simplifying routing and cable management. Store your unused cables in the included cable bag.

ADD THE FINISHING TOUCH
Complement your system's look with CORSAIR Premium Individually Sleeved Type 4 Gen 4 PSU Cables (sold separately), available in seven different colors and patterns. These durable and flexible cables come in triple-layer mesh paracord sleeving with included interlocking cable combs for an easy-to-install, professional looking build.
RM Series specifications
Today's high-performance CPUs and graphics cards all require power to be supplied over the +12V rail, which means that any PSU worth considering needs to be able to deliver most of its power on the +12V rail. The RM Series PSUs can deliver all its available power via its huge single +12V rail, which makes them ideal for high-end gaming PCs with single and multiple GPUs.

RM Series Safety Protections
The CORSAIR RM Series have the necessary protection functions to ensure trouble-free operation, even in extreme conditions. Below is a list of the included protections:
OCP: Over Current Protection. This function will latch the power supply off if any given rail is overloaded beyond a safe level.
OVP: Over Voltage Protection. This function will latch the power supply off if voltages exceed specification.
UVP: Under Voltage Protection. This function will latch the power supply off if voltages drop below specification.
SCP: Short Circuit Protection. This function will latch the power supply off in the event of a short.
OTP: Over Temperature Protection. If temperatures exceed a specified value, the power supply will latch off.
OPP: Over Power Protection. If the total output power of the power supply exceeds a safe level, the power supply will latch off.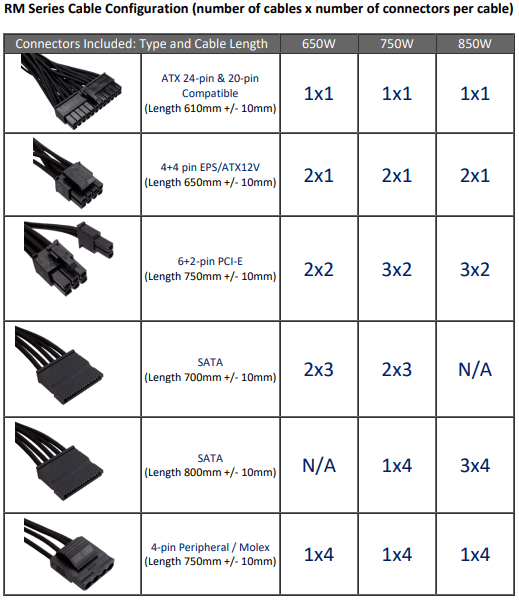 Sound Profiles
Tests performed at an ISO 7779:2010 lab, at 1m, 25°C room temperature.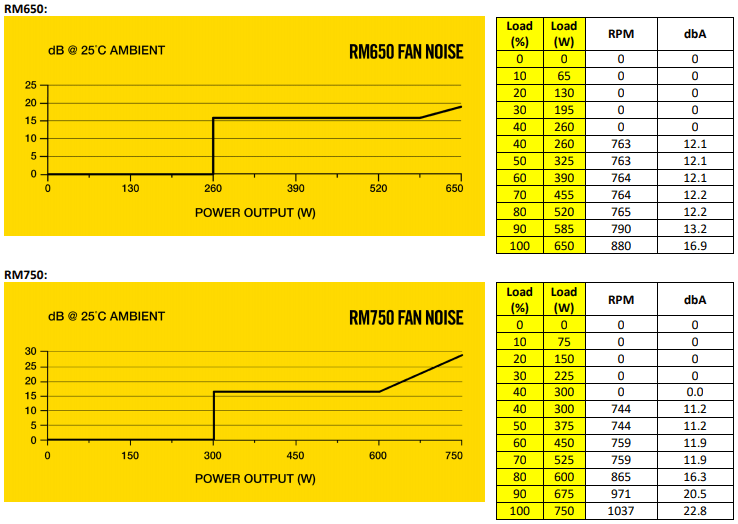 Efficiency Profile
Efficiency measured at CORSAIR's labs and may not reflect 80 Plus results due to variances in each unit.