Introduction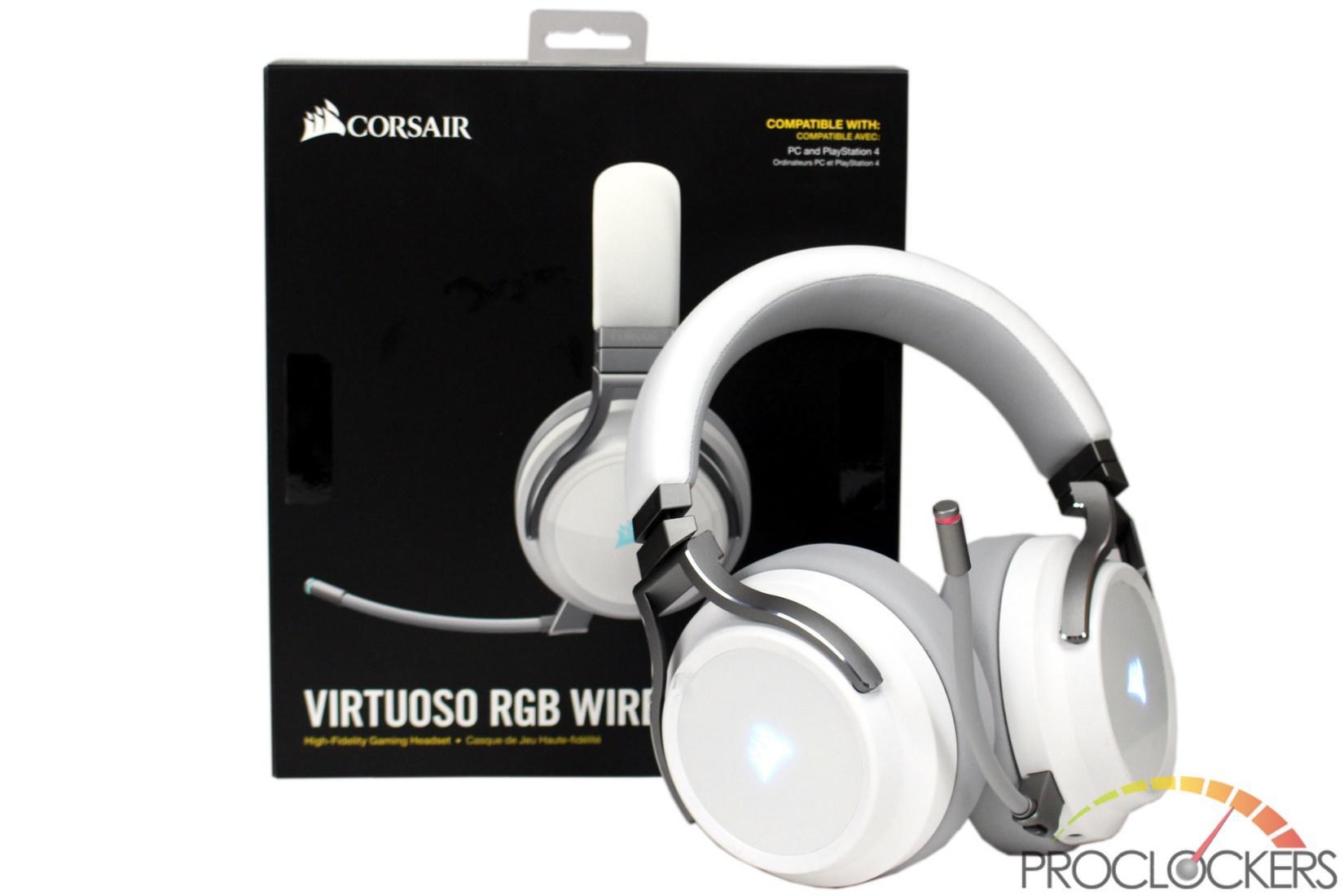 There is no shortage of wireless headsets on the market and even Corsair has several models available. What there is, is a shortage of wireless bandwidth to provide the bandwidth (read: quality) that wired headsets enjoy. While several wireless models can also work wired as well, they don't ramp up the quality to match the wired bandwidth. The next caveat is that if you generally don't have the bandwidth for quality audio, there is little sense in putting quality audio components in the headset. Corsair's Virtuoso Wireless headset has some secrets under the hood. While in wireless mode, you get a respectable 16bit/48kHz and up to 20 hours of freedom from cords over Corsair's Hyper-fast Slipstream Wireless. If you aren't planning on running around the house, you can connect the included USB cable and unlock the real enthusiast-grade magic inside. With the increased bandwidth that USB provides, the Virtuoso will ramp up to near to true enthusiast-grade 24bit/96kHz audio. Throw in a removable broadcast-grade omnidirectional microphone and you have the makings of the best wireless gaming headset on the market. Let's see how it does!
ProClockers would like to thank Corsair for sending over the Virtuoso Gaming Headset for us to check out!
Corsair's take on the Virtuoso RGB Wireless Gaming Headset:
HIGH-FIDELITY AUDIO, ALL-DAY COMFORT
The VIRTUOSO RGB Wireless headset offers high-fidelity audio, all-day comfort, and hyper-fast connectivity with SLIPSTREAM WIRELESS technology. Don't settle for anything less.
Durable
Premium Lightweight Construction: Built with machined aluminum, ensuring both maximum comfort and long-term durability.
Comfort
Premium Memory Foam Earpads and Lightweight Headband: Conforming to the shape of your head, the VIRTUOSO RGB Wireless' pillow-soft earpads and headband deliver long-lasting comfort, enabling you to play for hours on end.
Sound
Uncompromising Sound Quality: A matched pair of precisely tuned 50mm high-density neodymium speaker drivers deliver immersive 7.1 surround sound.
Customize
Precise Control: Finely tune all of your headset's settings, from the audio equalizer and sidetone control to dynamic RGB lighting on each ear cup.
Microphone
Broadcast-Grade Detachable Microphone: An omnidirectional, high-bandwidth microphone provides exceptional dynamic range and vocal clarity.
SMART SLEEP AND WAKE
An internal accelerometer automatically shuts your headset off when you put it down and powers back up when you put it back on.
7.1 SURROUND SOUND
Enable immersive 7.1 surround sound to put you right in the middle of the action.
RGB LIGHTING
The dynamic RGB lighting on each ear cup allows for virtually unlimited color options and customization to match any style.
BATTERY
Game in wireless mode for up to 20 hours at a time thanks to a custom, high-capacity lithium-ion battery, and keep listening while charging in USB mode.