DUALBLADER GAMING MOUSE
"FULLY CUSTOMIZABLE GAMING MOUSE WITH AMBIDEXTROUS ERGONOMICS"
Staying true to its tagline and concept: Dualblader is a fully customizable gaming mouse with almost every option you can imagine to suit a gamer's needs. It seems like a dream come true–from swappable buttons, adjustable grips to its trademark ambidextrous ergonomic design. Lol, that's too cheesy!
When I got this beast, the first thing I did was experiment and swap buttons here and there like a child building a lego structure. After two weeks of testing, swapping buttons, and playing with its UIX system, I found it a delight to use. 
Here's all you need to know to decide if it's the right one for you:
BEAUTY AND THE BEAST COMBINED
Dualblader is one of the most exciting gaming mice I've ever seen. Yes, it highly resembles Cougar's Evo Gaming Mouse's look, especially its aluminum core structure, and is indeed a nice update from the latter build. But its fully customizable feature is undoubtedly unique and hard to find from other mice.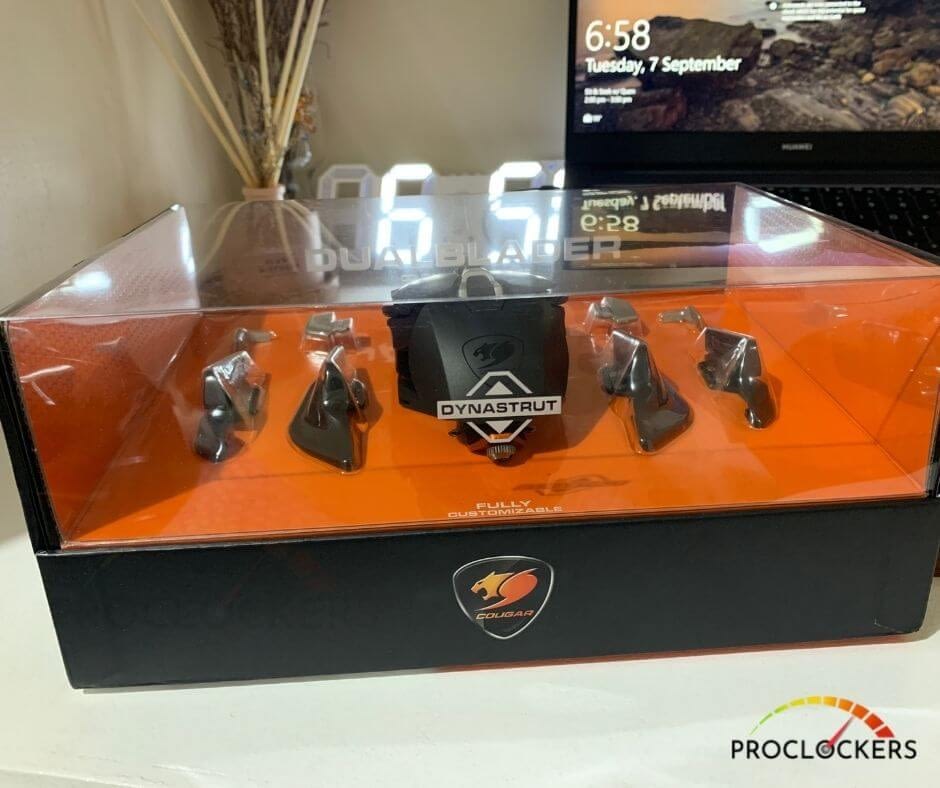 UNBOXING EXPERIENCE
First, let's talk about the packaging.
DUALBLADER is encased in a  collector's clear glass box, showcasing the mouse's customizable buttons and parts. It feels like a premium collector's car model, making you want to display it rather than wear it with use. The packaging is really well thought-out, which made it fun to unbox and look at.
BEAUTY IN DESIGN
The beauty in its design and structure is how customizable each part is, unlike your traditional gaming mouse. Using this will give you many design options to match your needs based on your game, strategy, and comfort preferences.
It has 8 main buttons and 4 optional buttons that you may swiftly attach magnetically if needed, making it quick and easy to swap between different set-ups. 
LEFTIES ARE NOT LEFT ANYMORE
Another great thing about Dualblader is that even left-handed gamers can use it because of its customizable and mirrored design. Whether you're right-handed or lefty, you'll never feel awkward holding this gaming mouse. There's also a pair of side grips and side rests for each side (left/right) that could be interchanged based on your liking. 
It's truly impressive how easily the buttons can be switched, and even the side grips and side rests are customizable. To prove it, I had my lefty sister use it for a week, and she's still happily using it as of this writing.
GAMING MOUSE + EVERYTHING ERGONOMICS
Like the AIRBLADER, DUALBLADER also has ULTRAflex cables that reduce drag and interference for better control
In addition to that, this gaming mouse features a customizable DYNASTRUT design. I have smaller hands and grip, so most gaming mice are too big for my hand and palm, making it straining to use them for a longer time. Dynastrut allows you to easily adjust the height and angle of the palm rest on the mouse's backside. Because of this, the gaming mouse can cater to both palm and claw grip gamers without the need for swapping parts. 
Also, you can adjust the palm rest position by just pulling up a release switch, and you can customize it more through a bottom screw for fine-tuning. I thought that would be all there is to it, then realized that they also added a smaller palm rest in the package that can be interchanged with the bigger one to fit your grip better.
I really love how the Dynastrut feature is designed. It doesn't need complicated instructions or whatsoever for a tech newbie like me to understand. What's more impressive is that all of this can be done without needing any particular tool.
Moreover, I was surprised to know that COUGAR supports the open-source 3D files of the DUALBLADER's side grips and buttons. So DIY-enthusiasts like me could download these files from their website and redesign them to make unique forms and colors on their own. 
TESTING THE BEAST
Dualblader's concept is a dream come true. It has exceptional customization for all gamers and is built with high consideration for comfortability. 
But it's not just about customization and looks. Like the AIRBLADER, it's equipped with PMW3380 16,000 DPI optical sensor that focuses on precision tracking and accuracy. I tried it in PUBG and L4D, and I must say with its DPI, it surely has done its job.
There are 12 programmable buttons in total. Each is configurable only through the COUGAR UIX system. This allows gamers to set a maximum of three profiles for macros and shortcuts as well as secondary functions for the game of their choice. With these many buttons, I'm sure every gamer will enjoy keymapping to their heart's extent.
All buttons aside from the primary ones have to be mapped in the UIX software before you can use them. 
Of course, although there are 12 buttons, not all are functional all the time. Some buttons can be hard to use regularly, like the 2 side buttons (depending on which hand you're using). This means that no matter which way you hold this gaming mouse, you'll never really fully use all the buttons it offers. It could be a disappointment for some gamers, but given all the features, it's something I could let pass.
SPECIFICATIONS
Product Name: COUGAR AIRBLADER gaming mouse
Price: $ 89.99
Sensor: PMW3389 optical gaming sensor
Resolution: 16,000 DPI
Game Type: FPS / MMORPG / MOBA / RTS
Polling Rate: 2000Hz
Software: COUGAR UIX™ System
Programmable Buttons: 12
Switching: 60M gaming switches ( Left / Right-click )
Maximum Tracking Speed: 400IPS
Maximum Acceleration: 50G
Interface: Detachable USB plug
Cable Length: 1.8m
Dimension: 
Min : 120 x 71 x 39 (mm) / 4.72 x 2.8 x 1.53 (in)
Max : 120 x 88 x 45 (mm) / 4.72 x 3.5 x 1.8 (in)
Weight: 99-107g ( without cable )
SOFTWARE
Both the AIRBLADER and DUALBLADER come with Cougar's UIX system. This software is designed to control every aspect of the gaming mouse. Everything from button mapping to the fun RGB color selection can be customized here. The UIX for each gaming mouse model can be downloaded from Cougar's website. 
It's straightforward to use and manage but installing it is another story. 
For the AIRBLADER, I had to try installing it several times before it worked. It just keeps failing for some reason, but it worked after my 6th or 7th try.
For the DUALBLADER, it didn't work when I first plugged the USB cable into my laptop, so I tried to use my tracking pad first and download its UIX system. I had to plug and unplug the gaming mouse several times before the software detected it. That's the extent of my issues with it, and I've had a smooth experience ever since.
TAKEAWAYS!
When looking for the best gaming mouse for your particular needs, it's important to factor in the specific activities you'll use it for, whether for pure gaming, photo editing, general productivity, or a mix of uses. 
Both AIRBLADER and DUALBLADER have their own advantages when it comes to features and comfort for your hand.
As mentioned above, I have smaller hands, so I actually enjoyed using AIRBLADER for a long period of time without fatigue in my hands and arms. With its size (4.6 x 1.5 inches), I would recommend it for those with small to medium-size hands and if you're looking for a lightweight and straightforward gaming mouse, AIRBLADER is undoubtedly a great catch at $39.99. Compared to other lightweight gaming mice, that's around 66 to 77 grams with 20,000 DPI. The AIRBLADER hits the sweet spot at 62g with 16,000 DPI. One thing that I may want to add to this mouse is a hyper-scroll wheel, but that would be another issue because it could affect its weight. Also, it's not a big deal when the primary purpose for its use is gaming. 
"FULLY CUSTOMIZABLE ERGONOMIC GAMING MOUSE"
On the other hand, DUALBLADER has a very interesting concept and feature set. It offers tons of customization and comfort for every gamer. Also, I seldom see a mirrored designed mouse to accommodate left-handed gamers, which I think is quite thoughtful of them (Kudos, Cougar!). It's undoubtedly a beauty and a beast at the same time because of its powerful and precise sensor paired with a fully customizable and ergonomic design. Though I had minor hiccups in installing the system, DUALBLADER is still an amazing deal for gamers and DIYers alike. It's a fully customized experience competitively priced at $89.99.
If there's something that I would wish for in the next models of DUALBLADER, I'd hope it has the following features:
An option for hyper-scroll wheel

Optional additional weights

A compact kit where you could store all its accessories and extra buttons for when you're travelling. 
So, that's it! I hope you had fun with this in-depth gaming mouse review and that it helped you figure out the best gaming mouse for your needs. See you on our next one! Ciao!
AIRBLADER: 9/10 paws
DUALBLADER : 8.5/10 paws
I would like to thank Cougar Gaming for sending us these beasts for review.
*All of our reviews are not paid, and we just keep the review samples sent to us.