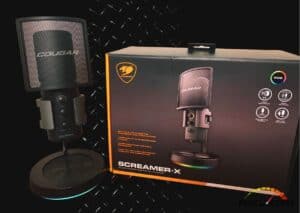 Today we're diving into Cougar Screamer X all-purpose RGB studio microphone. I'll be trying this beauty in different uses, modes, and environments to get down to its strengths and weaknesses. Lastly, I'll try my best to keep this simple and to-the-point, for our readers who are not so tech-savvy.

Last Updated: November 2021

With tons of options for gaming headsets nowadays, it's tempting to take an all-in-one approach. A good one may have all you need to communicate during games or have occasional calls without worrying about sound feedback from your pc or laptop. But if you want to level up your game, or maybe just share your golden voice with the world (ahem), let's admit–, those tiny boom mics won't sound as good as a dedicated desktop mic.

With this, Cougar's Screamer X prides itself on its comprehensive capabilities for either solo use or with a group.

So to test this beast, I casually used it for 3 weeks for gaming comms, solo/ group calls, and recording.

Let's cut down the chase and see what's inside the box.
MY FAVOURITE PART: UNBOXING!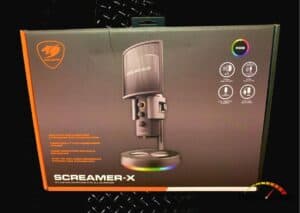 Upon receiving the Screamer X, my first words were, "Wow, it's big." Yes, it comes in a bulky box with the following items:
Screamer-X Microphone

RGB Stand with USB Hub and Cougar's Logo

Detachable Pop-filter with Cougar's Logo

3/8″ To 5/8″ Threaded Screw Adapter

3 M L-shape Type-C to USB-A Cable for Microphone

1.2 M Type-C to USB-A Cable for RGB Stand

2 Velcro cable ties

User Manual
Before opening it, I shook the box to check if there were some loose items inside, and there were none. Everything inside is neatly and tightly secured with customized foam that holds the mic and RGB stand in their respective places, while all the smaller items are tucked underneath.
Upon seeing the Screamer X in the box, I must admit that I spent some time appreciating its aesthetics in matte black. It's undoubtedly IG-worthy! 
Now that we're done with the unboxing, let's go straight to checking the items that build Screamer X and its features.
See the next page for more photos, sound recordings and a complete review of Screamer X.