When you start building your own computer, be it entry-level or enthusiast level, you need a screwdriver. While your average screwdriver can do the job, there is something special about this one that makes it a must have for any system builder. One of the problems you sometimes encounter while working inside of a computer case can be the ability to see what you are working on. There have been times where I have had to hold a screwdriver in the one hand, and a flashlight in the other. That poses a risk of damaging parts of your computer. With the Craftsman LED Lighted Ratcheting Screwdriver
, you can avoid just that!
Worried about screws falling off the screwdriver and inside of the computer or poking the wrong parts, this tool will really come in handy.
The other very nice feature is the multi-option ratcheting action of this very well made screwdriver. It is sturdily made out of heavy duty aluminum and has a very nice fit and finish. It also feels comfortable in your hand, even after using it for an extended period of time. Some of the items included with the Lighted Ratcheting Screwdriver are 4 different sized Phillips head bits, 3 normal screw bits of different widths, then you get 3 standard sized Allen head bits and then you also have 3 Torx bits. Giving you a variety of different uses for this magnificent tool, since all screwdriver bits are standardized you can easily pick up a bit set at the local hardware store; and with the craftsman lighted ratcheting screwdriver you will be ready to tackle any project.
This picture is a good example of how dark the inside of a case can be. From the construction of the case, to your own body blocking out the light as you are standing over the system. But with the flashlight built into this amazing screwdriver it brings additional needed light to the task at hand.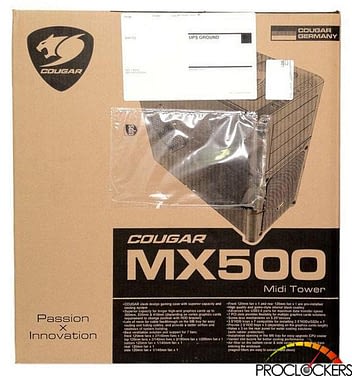 During the extensive time I have been testing this tool, and having to rebuild the same system several times due to DOA parts. Overall I would say that having this screwdriver has made building and swapping out parts easier and faster, since visibility is no longer a concern or issue. I can honestly say that this Craftsman Lighted Screwdriver has by far exceeded my expectations, and feels just like new after several weeks of abuse. Better yet, the led's part of the screwdriver has not had any issues, no flickering or fading and still going strong on the original batteries. I have even used it as a flashlight when power went out for a few hours. The actual body of the screwdriver also still feels perfect and there is no excess play in the ratcheting/light mechanism. Overall the build quality is amazing and to be able to construct this very solid but still lightweight Screwdriver and be able to incorporate all the features that have been included and have it function so well is astonishing.
The Craftsman LED Lighted Ratcheting Screwdriver
can be found in Amazon for $39.99 and the tool has a lifetime warranty. So you do not ever have to worry about the light dying or the item breaking, because it will be covered. I would personally highly recommend this screwdriver to anyone for who is building a computer, working on computers, or anything else that requires the use of a sturdy, reliable screwdriver with the added functionality of having a light built into it.