Inoduction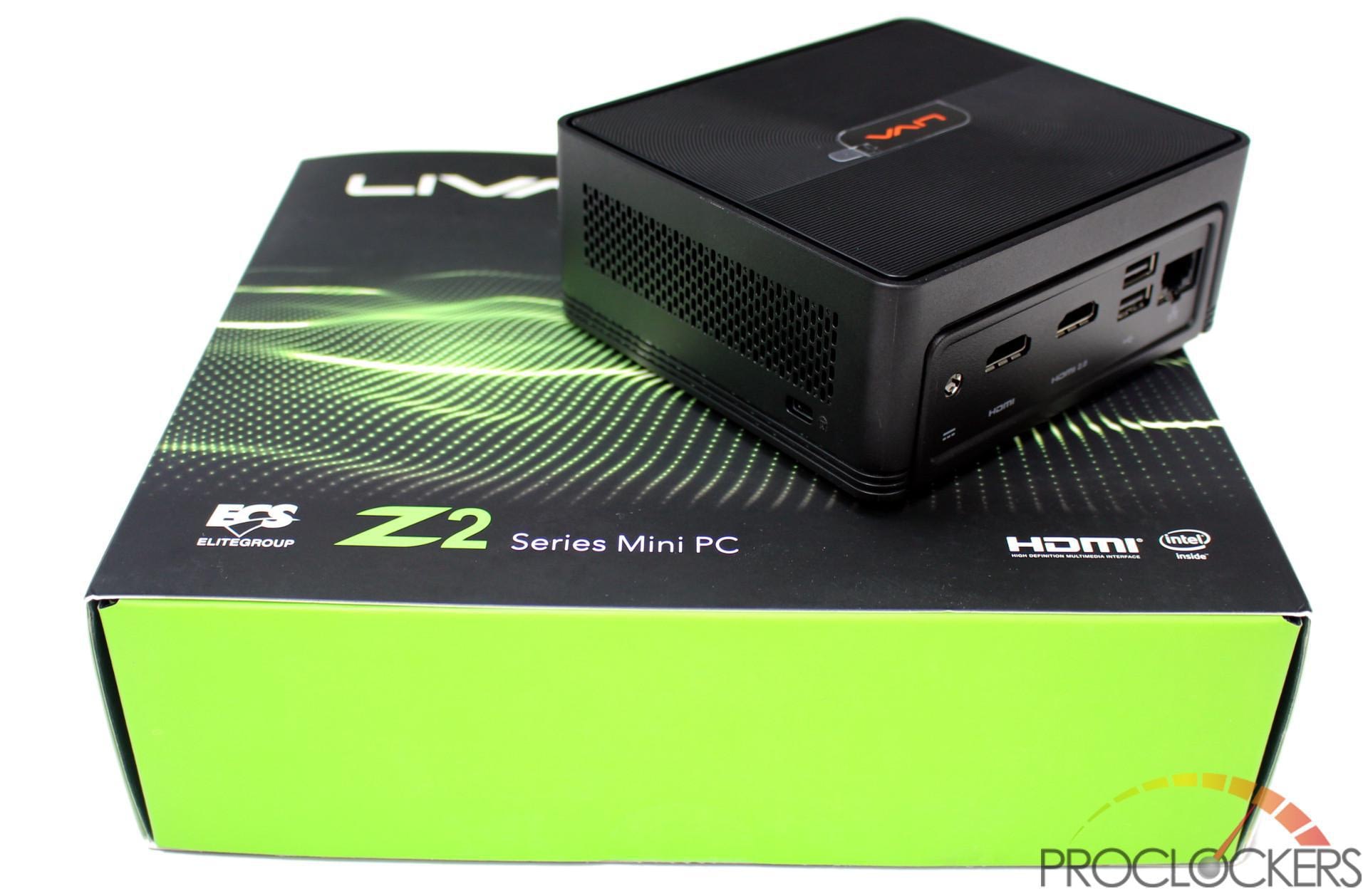 ECS is no stranger to the mini-PC world and the LIVA family spans the entire range from pocket-sized highly integrated systems like the LIVA Q through the cost-effective X series and the Energy Efficient Z series up to the sill tiny but full-featured desktops in the LIVA One family. Today we'll be taking a look at the new LIVA Z2. The LIVA Z2 is an easily upgradeable fanless PC that sips a dainty 6 Watts of power but can power through all of your media needs at up to 4K 60Hz. Featuring up to 64Gb on onboard eMMC memory, support for a 2.5" drive, user replaceable dual-channel ddr4 SO-DIMM memory and an M.2 Wi-Fi module, the LIVA Z2 can grow with your needs.
Pro Clockers would like to thank ECS for sending the LIVA Z2 mini PC over to check out!
ECS's take on the LIVA Z2:
Fits in the Palm of Your Hand
The LIVA Z2 fits a lot of tech into its small size. The case is only 0.87 liters yet provides a multitude of connectors including one reversible USB type C, two HDMI, 802.11ac Wi-Fi, Bluetooth 4.1 and a Kensington lock. For the maker and professional developers, the LIVA Z2 includes a GPIO, an uncommitted digital signal pin whose behavior is controllable by the user at runtime. The LIVA Z2/Z2V is easier to upgrade than many mini PC despite its small size. Simply remove four screws and the user can access the M.2 Wi-Fi, memory modules and 2.5" HDD storage slots.
Ideal Digital Signage Solution
Supporting smooth 4k playback and HEVC 10-bit decryption ability from the latest Intel HD 600 series integrated graphics, LIVA Z2/Z2V is widely used to support digital storefront, the point of sale terminal, or menu board in retail sectors. The fanless design makes the media player invaluable in dust sensitive roles or places that require the least noise possible, such as hospitals, banks, and government offices. Additionally, its compact size (132 mm x 118 mm x 56.4 mm), VISA mount, and power usage characteristics make it an excellent option for use as a thin client for remote and cloud-based operation, workstation, or mini-server system.
Energy Efficient for Power Savings
The LIVA Z2/Z2V is an environmental win. Low carbon footprint, long life, energy efficiency, and low power draw make for incredible energy efficiency and cost saving. When used as a home entertainment center or media library, the LIVA Z2/Z2V uses less power than a lightbulb, about 6W. Its silence and no moving parts mean the only thing heard is everything except the PC. This tiny yet powerful PC has the ability of a much larger system without the noise, cost, or hassle inherent in bigger units.
Smaller than a lunchbox and less volume than a large soda can, LIVA Z2 Mini PC is the smallest mini PC in its kind. With a 0.8-liter case that still provides all the elements of a desktop-worthy PC.
Quiet, energy-efficient, multi-functional
Palm-size PC
Quiet Operation with Fanless Design
Energy Efficient for power saving
For All Your Devices with Type-C Connect
Easily connect to a wide variety of devices
GPIO: For Maker, For you
One size fits all
Easy to upgrade your RAM and Hard Drive
Support HDMI 2.0 [email protected] with higher quality video playback