Introduction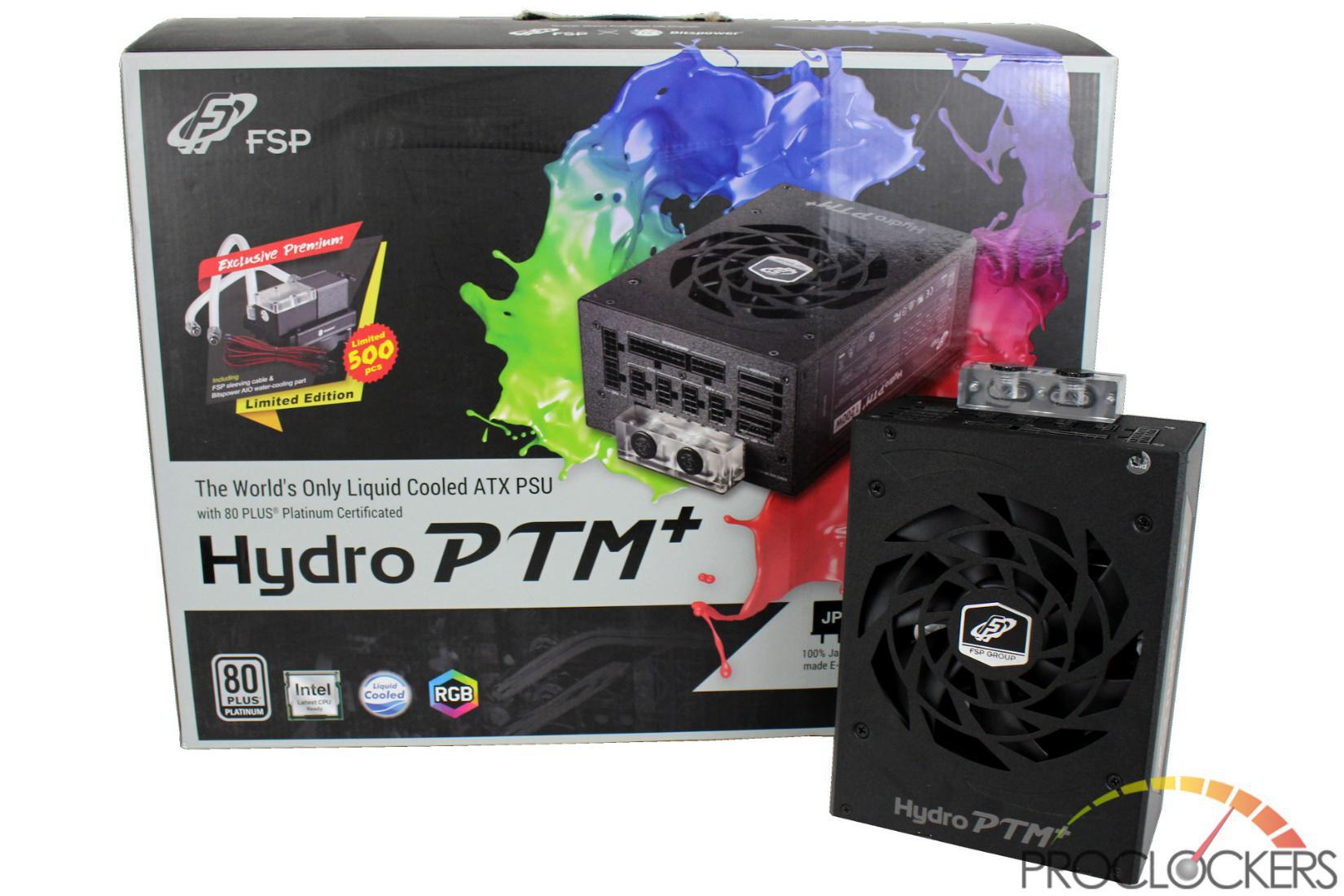 Quick, what's your first thought when you hear "liquid-cooled Power Supply"? We won't fault you if your first thought is something along the lines of this being a terrifying way to earn a Darwin award, but we can assure you this is perfectly safe, and approved by about every safety agency that matters. If you are of the type that is instantly intrigued by the thought of one more heat producing device integrated into your loop, keep reading. What if I told you this power supply can be overclocked? Okay, maybe not in the traditional sense measured in hertz, but you can get a couple hundred more watts out of it if it's being liquid cooled. FSP even includes everything needed for a loop in this kit to get you up and going in case you aren't already running a custom loop. Did we mention 80+ Platinum efficiency, a full set of single sleeved and fully modular cables and Aura sync compatible RGB lighting? Let's go check it out!
ProClockers would like to thank FSP for loaning us the HYDRO PTM+ 1200W Liquid Cooled power supply to check out!
FSP's take on the HYDRO PTM+ 1200W Liquid Cooled Power:
FSP's latest PSU – Hydro PTM+ is a unique, patented liquid-cooled PSU developed to meet the industry's highest safety standards. Created exclusively in collaboration with Bitspower, a renowned maker of liquid cooling solutions for PC. This is the world's first mass-produced liquid-cooled PSU with 80 PLUS® Platinum certification and stunning LED lights to ensure that your system will always stand out. With the liquid cooling feature enabled, the 1200W model is able to increase its power rating from 1200W to 1400W, while the 850W is able to increase its power rating from 850W to 1000W. It delivers extra power without the need of the PSU fan for cooling, while still remaining efficient (below 50%) when running in silent mode.
Complies with ATX12V v2.4 & EPS12V v2.92
High Efficiency ≥ 92%
Active PFC ≥ 0.9
Complies with 80PLUS® Platinum Certification
Hybrid Cooling System with 135mm Silent Fan & liquid cooling
+12V Single-Rail Design
Full Modular with Ribbon Cables
Full Japanese Capacitors
World's First Platinum Liquid Cooled PSU
Built-in RGB Lighting & Controller
Unique Product ID with changeable Side Stickers for DIY Enthusiasts and Gamers
Complete Protections: OCP, OVP, SCP, OPP, OTP
Global Safety Approved