System Configuration & Testing
Testing Hardware 1:
ASUS ROG Maximus XI Extreme
Intel Core i9-9900K
Samsung 960 Pro 2TB
G.Skill TridentZ Neo 3600MHz 16GB
Testing Hardware 2:
ASUS ROG Crosshair VIII Hero
AMD Ryzen 9 3900X
Corsair MP600 2TB
G.Skill TridentZ Neo 3600MHz 16GB
Testing Software:
Microsoft Windows 10 Professional
CPU-Z
AIDA64 Extreme Edition
Passmark Performance Test
SiSoft Sandra
AIDA64 Engineer Edition
"AIDA64 Engineer has a hardware detection engine unrivaled in its class. It provides detailed information about installed software and offers diagnostic functions and support for overclocking. As it is monitoring sensors in real-time, it can gather accurate voltage, temperature and fan speed readings, while its diagnostic functions help detect and prevent hardware issues. It also offers a couple of benchmarks for measuring the performance of individual hardware components or the whole system. It is compatible with all 32-bit and 64-bit Windows editions, including Windows 10 and Windows Server 2016."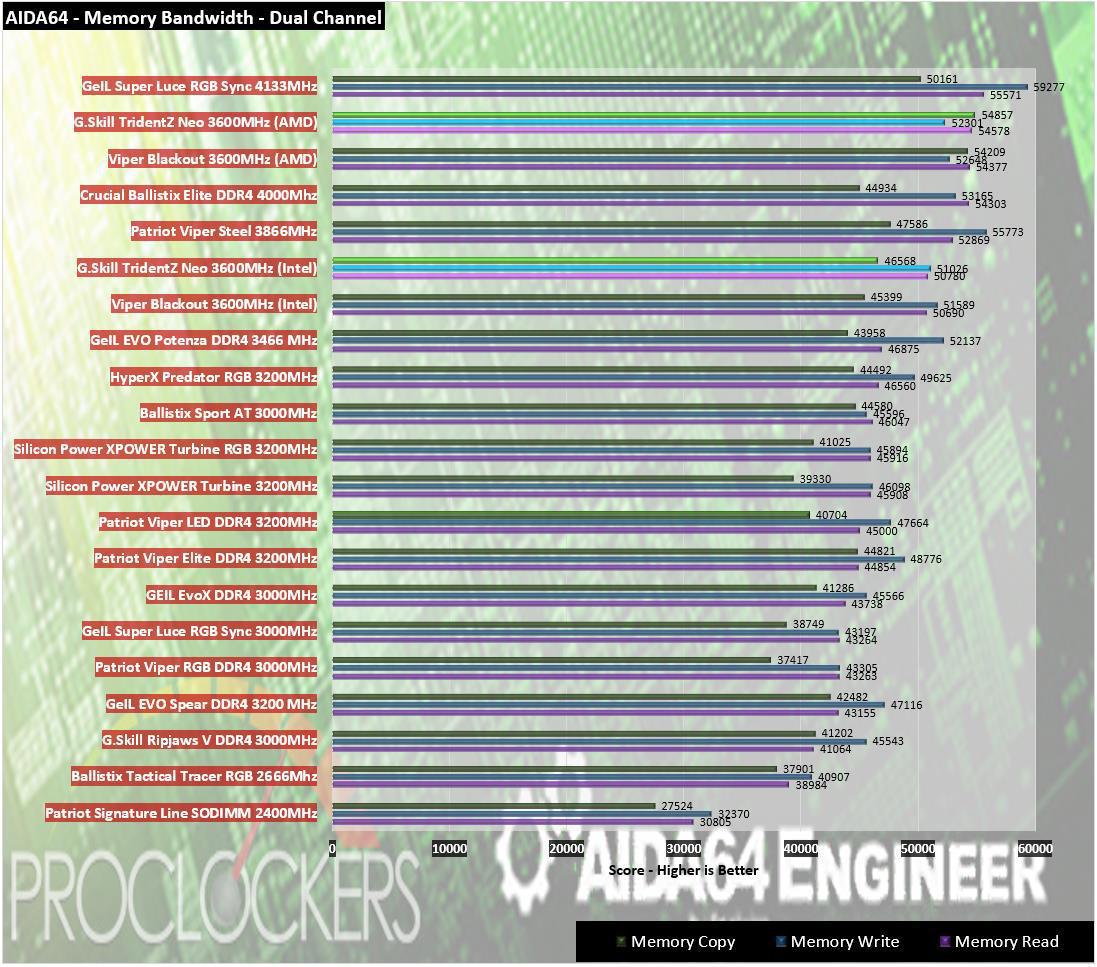 Since bandwidth is mostly a function of raw speed, the 3600MHz Viper Blackout Edition does quite well here and places about exactly where we expect it to for Intel, but on Ryzen platforms, it lands well above the 50GB/s mark.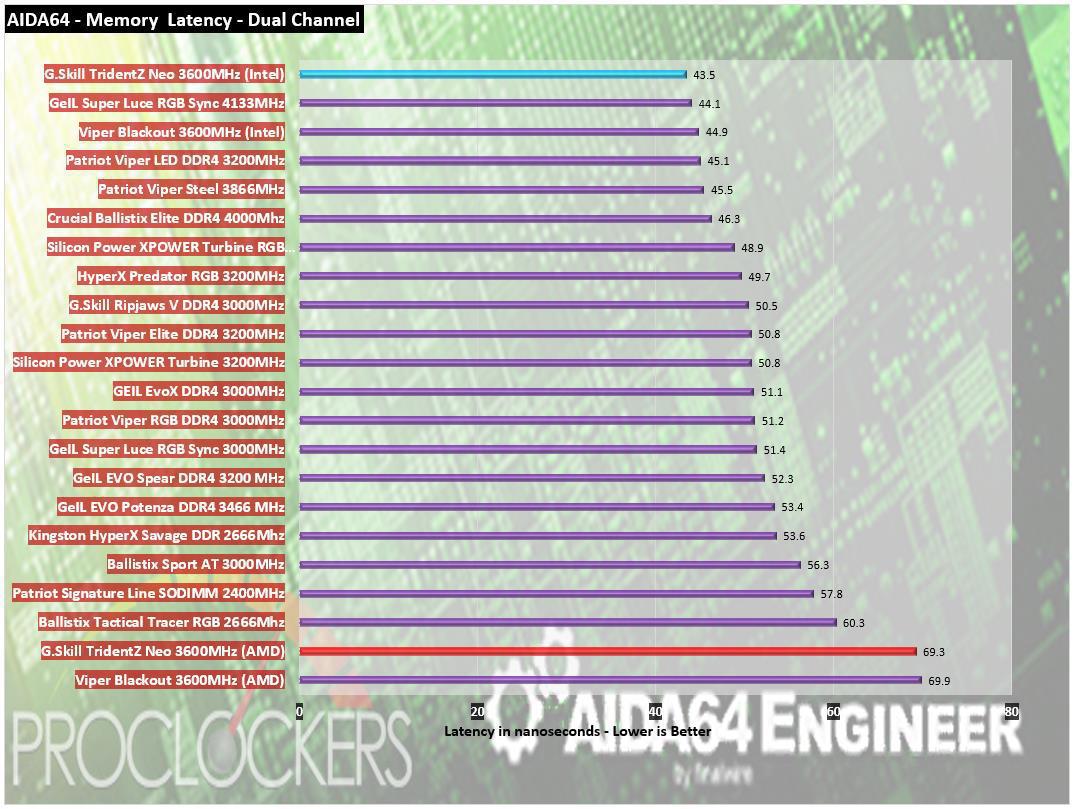 Latency comes in a bit faster than we expected at 44.9ns for Intel and pretty snappy for AMD's Ryzen platform at 69.9ns.
Passmark Performance Test – Memory Mark – Threaded
"Fast, easy to use, PC speed testing and benchmarking. PassMark PerformanceTest ™ allows you to objectively benchmark a PC using a variety of different speed tests and compare the results to other computers."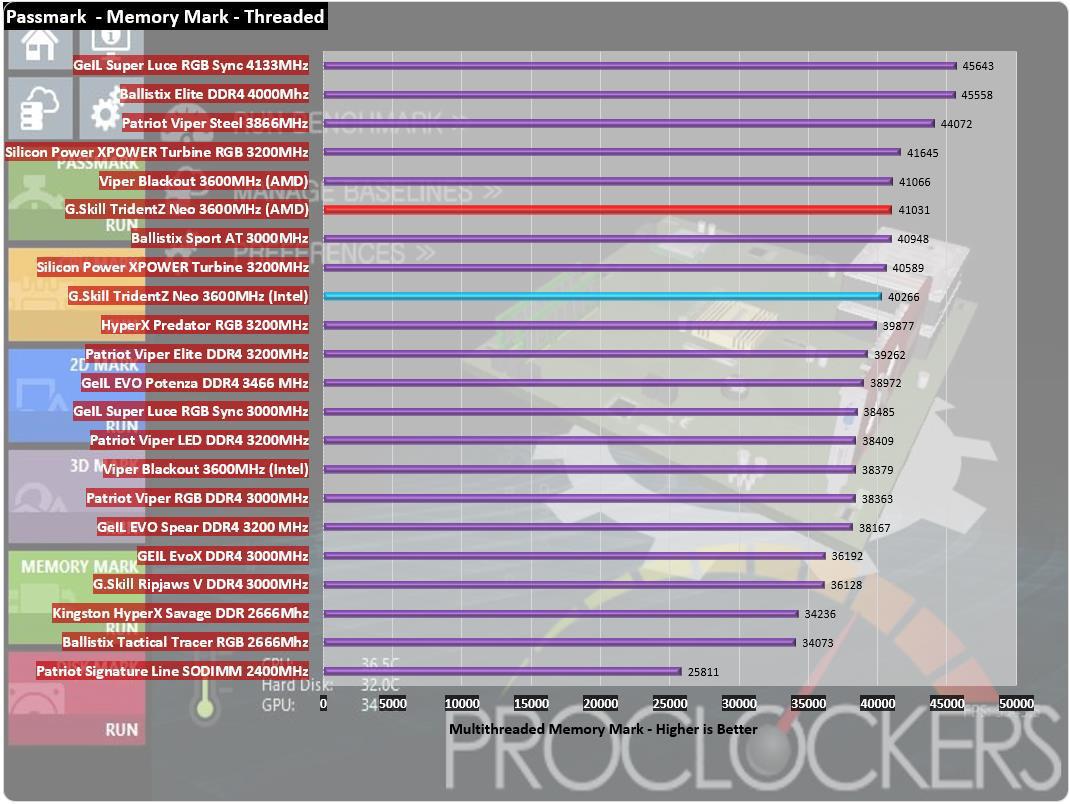 Passmark reacts quite well to the very fast XMP speed and gives us a great score of just over 44k, second only to the 4133MHz kit above it.
SiSoft Sandra
"SiSoftware Sandra provides a robust package of diagnostic tools for testing your system and teasing out its problems–or potential headaches."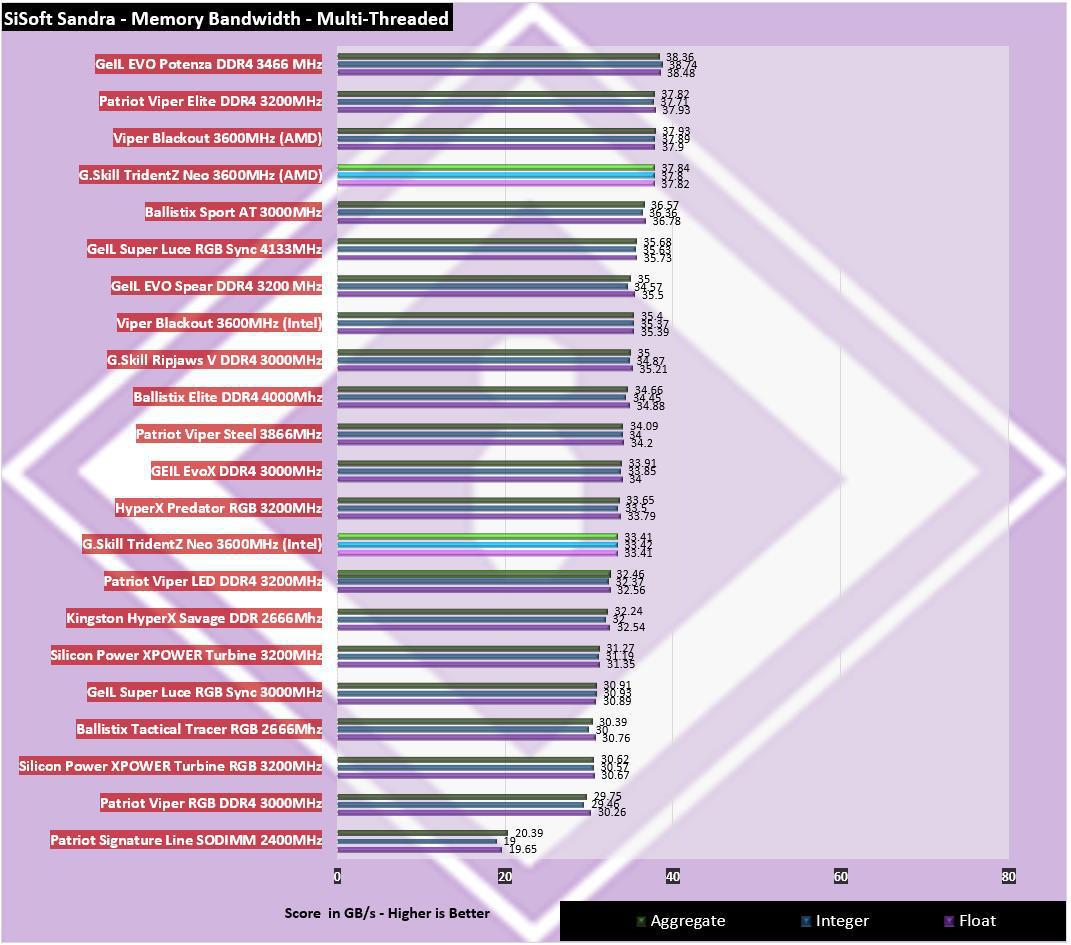 SiSoft is another test that AMD excels in here with scores of almost 38GB/s while intel does an otherwise great job of around 35½GB/s