Testing & Performance
CPU-Z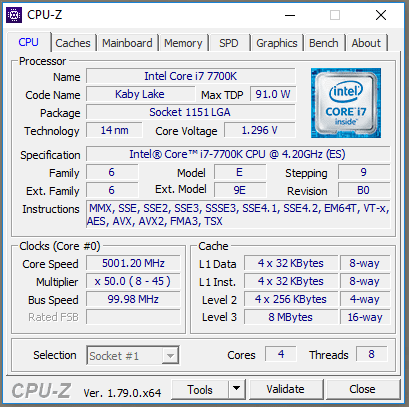 CPU-Z is used to validate CPU clock speeds. The 7700k that was used in testing was running at 5.0 GHz.
GPU-Z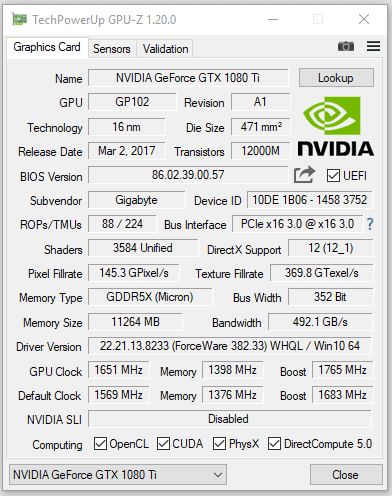 GPU-Z is used to validate GPU clock speeds and voltage.
As in all benchmarks, I do my absolute best to keep all testing fair and as equal as possible. The ambient temperature was a mild 22°C, or 72°F. The i7 7700k was run at 5.0 GHz @ 1.296 volts. The AORUS XTREME Edition 1080 Ti was kept at its stock speed in OC mode, at 1746 MHz for all benchmarks. The only exception being 3DMark Time Spy and Fire Strike. These benchmarks were both run at stock speeds and overclocked to as far as the XTREME Gaming Engine would allow it to go. With +79 on the core clock, +5 on the voltage, +150 on the memory, I set the temperature limit to 88°C and the power draw as high as it was allowed. In this case, +150, or 150% on the power draw. For the synthetic benchmarks, I tested OpenGL and DirectX 11. DX12 still hasn't been widely adopted enough for there to be enough games to test with it. For the Gaming benchmarks, the games were run in 1920 x 1080p, 2560 x 1440p, and 3840 x 2160p. We also tested on a 3440 x 1440p ultra-wide. We use only full release drivers and software, meaning no beta drivers were used as they are usually not 100% stable. I used Windows 10 Professional due to it being the most recent operating system, as well as having DX12 support. All games were run on the highest possible settings, with no MSAA or AA of any kind in the 4k results. The GPU was set to its stock clock speeds. For GTA V, I've included a screen capture of the Advanced Graphics settings.
Cinebench
Cinebench is a synthetic benchmark that evaluates your computer's performance capabilities. It's based on MAXON's animation software, Cinema 4D, which is used by studios and production houses worldwide for 3D content creation. I ran all aspects of Cinebench. First was their OpenGL GPU test in which the AORUS XTREME Edition 1080 Ti scored 151.84 fps. Second was the CPU test. This test maxes the CPU to 100% and tests its rendering capability. My i7 7700k scored an impressive 1057 CB on this run, with a single core performance of 214 cb. This is one of the better overall and single thread score I've ever achieved with a quad core with hyperthreading.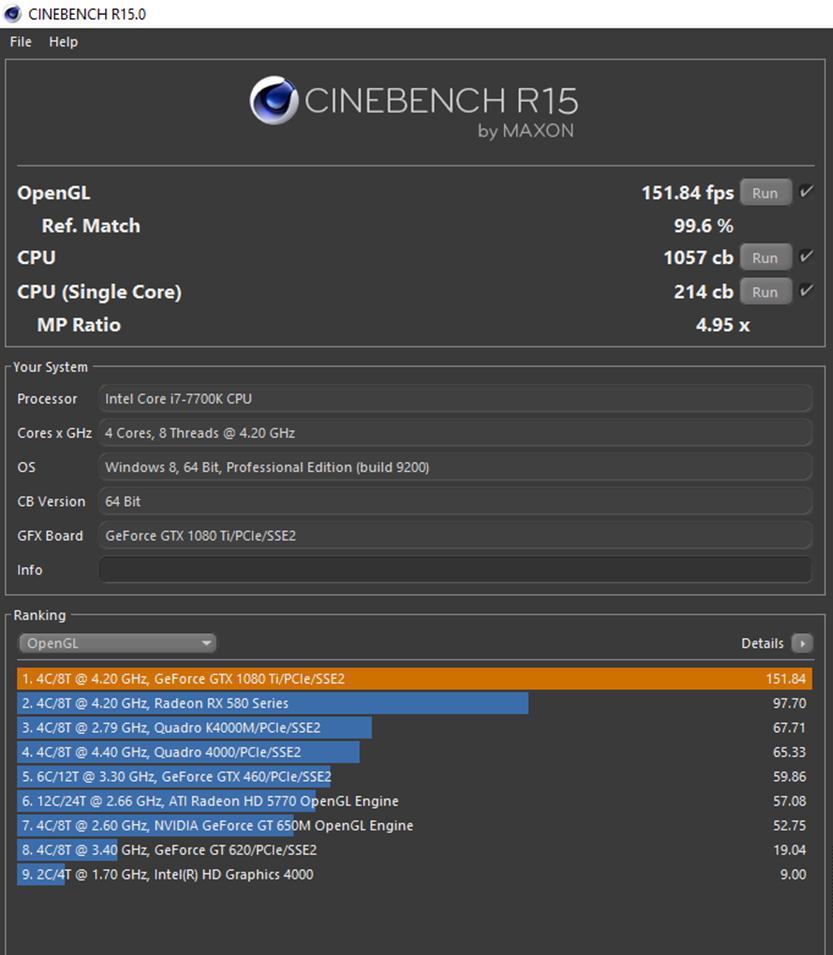 Unigine Heaven
The Heaven Benchmark is a DirectX 11 benchmark designed to stress your GPU under heavy loads. The Heaven Benchmark can be used to determine the stability of a GPU under extremely stressful conditions. I ran the Heaven Benchmark with the AORUS XTRME Edition 1080 Ti on a custom Preset, Ultra Quality, Extreme Tessellation, AA X8, in 1080p using the DX11 API. With these settings, the AORUS XTREME Edition 1080 Ti received an overall score of 3797 with an average FPS of 150.7, a minimum of 44.2 FPS, and a maximum of 322.8 FPS. Since I had 2 AORUS GTX 1080 Ti's, I also ran SLI benchmarks. With 2 cards running, the AORUS XTREME Edition 1080 Ti received an overall score of 5546 with an average FPS of 220.2, a minimum or 40.7 FPS, and a maximum of 409.9 FPS.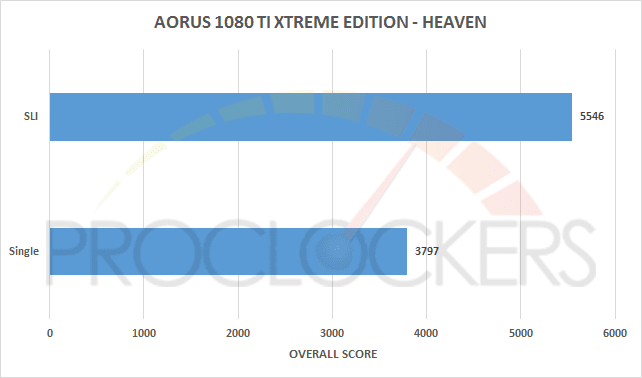 SINGLE CARD SCORE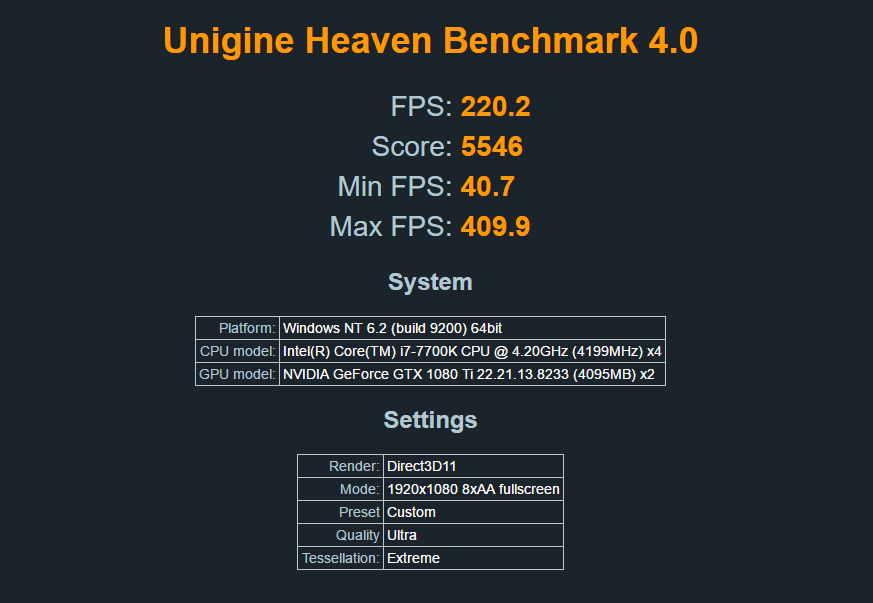 SLI SCORE
3DMARK
3DMark is a computer benchmarking tool created and developed by Futuremark used to determine the performance of a computer's 3D graphic rendering and CPU workload processing capabilities. It does this through a series of graphics, physics, and/or CPU tests. I used 3DMark's most popular benchmark, Fire Strike as well as their newest DX12 benchmark, Time Spy to test the AORUS XTREME Edition 1080 Ti. The card was tested at both stock and overclocked to +134 on the core and +180 on the memory. Using the XTREME Graphics Engine from GIGABYTE, I ran both Fire Strike and the new DX12 benchmark, Time Spy. Here are the results.