System Configuration & BIOS
Upon booting into the BIOS, we are greeted with a similar black/orange UI interface as the Z390 AORUS Pro we previously reviewed. It starts you in "Easy Mode", which at a glance gives you information about your PC such as your motherboard, BIOS version, CPU, RAM, SATA/PCIe/M.2 devices, boot sequence, and system fans. Looking to the bottom right, there are some buttons that perform actions or bring you to other sections of the BIOS which can also be used via the denoted function key. These actions/sections include:
Help (F1)
Advanced Mode (F2)
Smart Fan (F6)
Load Optimized Defaults (F7)
Q-Flash (F8)
Save & Exit (F10)
Favorites (F11)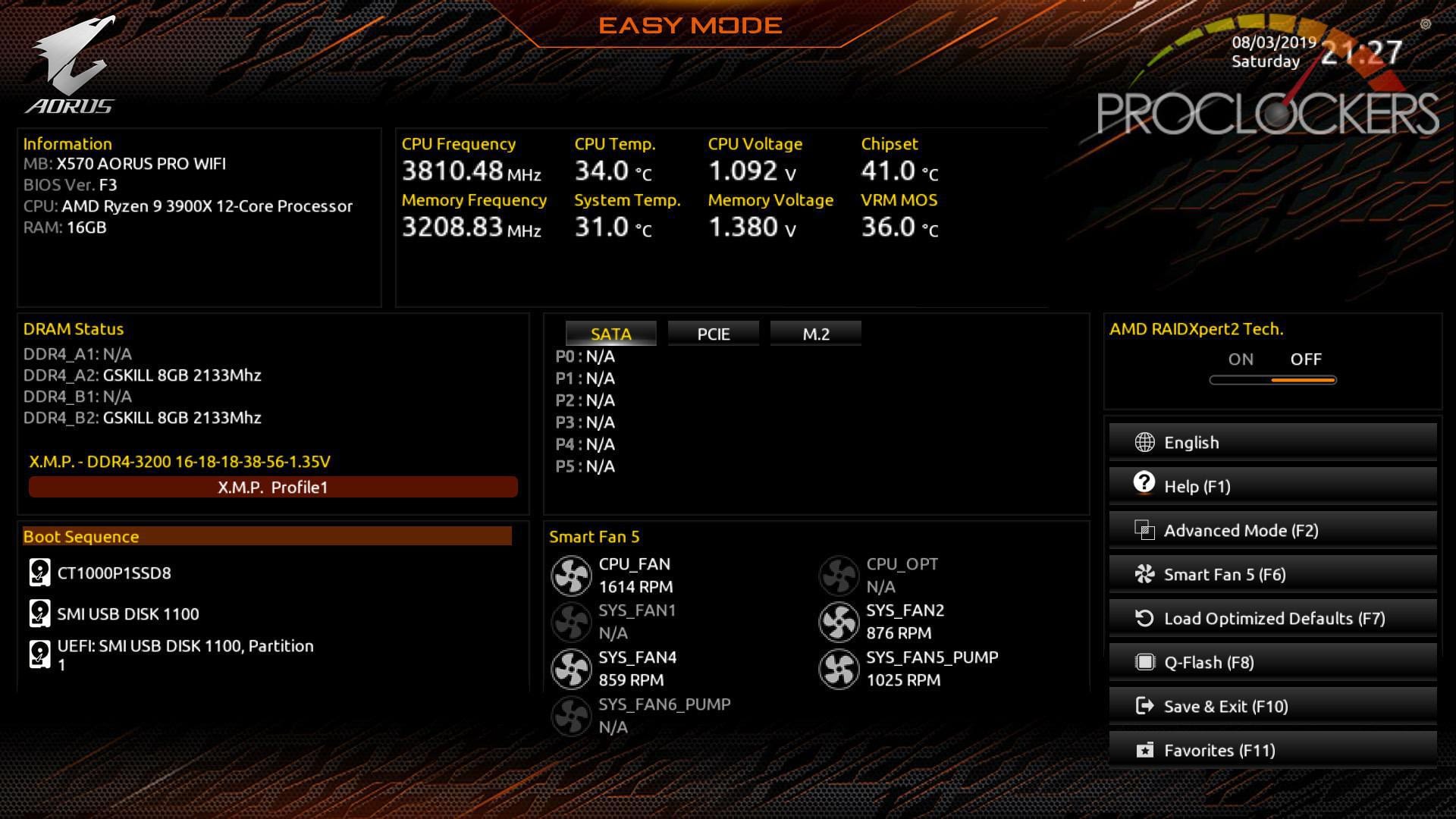 Now that we have had a look at "Easy Mode", let's take a dive into "Advanced Mode" by pressing F2. Within "Advanced Mode" you have access to pretty much any setting imaginable for your motherboard, CPU, RAM, etc. It starts you off in the "Tweaker" tab, which enables you to change settings such as CPU Clock Ratio, CPU vCore, and other various voltages.
Going into the "Advanced CPU Settings" you can further tweak your CPU with settings like Core Performance Boost, SVM Mode, and SMT Mode.
In the "Advance Memory Settings", you can view XMP profiles and change your Memory timings.
Under the last section "Advanced Voltage Settings", you can adjust various DRAM and CPU voltages such as DDRVPP Voltage and CPU Vcore Loadline Calibration.
Moving to the next tab "Settings", you can view/change settings which are organized in 7 sections that include:
Platform Power
IO Ports
Miscellaneous
AMD CBS
AMD Overclocking
PC Health
Smart Fan 5
Under "Platform Power" you can configure Soft-Off by PWR BTTN, Resume by alarm and Wake on LAN to name a few.
In the "IO Ports" section you can adjust various I/O Port related settings that include Initial Display output, HD Audio Controller and Onboard Lan Controller. You can also configure USB, SATA, and Network using the 4 menu items on the bottom.
Under "USB Configuration", you can enable/disable settings like Legacy USB support and USB mass Storage Driver support. You can also adjust any storage devices that are connected like our USB flash drive.
In "SATA Configuration" you can configure the SATA/Raid mode and view any devices connected to one of the 6 SATA ports of the x570 AORUS Pro Wifi.
For the last two Network menus, you can view/configure your NIC.
Moving to the "Miscellaneous" menu you can turn on/off the LEDs in various power states and configure things like PCIe Slot configuration and 3DMark01 Enhancement.
Under the last menu, "Trusting Computing", you can enable/disable Security Device Support (TPM) and Disable Block Sid.
Moving to "AMD CBS", there are advanced overclocking settings that allow you to adjust power states, DRAM controller options, and XFR settings.
Going under "Performance" you can customize your Custom Core Pstates which should only be done if you know what you are doing. Gigabyte has even included a warning message that adjusting these settings are not covered by your warranty when you enable this setting.
In "Prefetcher Settings" you can enable/disable your L1/L2 stream hardware prefetcher.
Moving to "DRAM Power Options" you can adjust your "Power Down Enable" setting.
Under the last menu item in "AMD CBS", "XFR Enhancement" you can adjust Ryzen's XFR boost settings. Again, we get another warning that any damage done by adjusting these settings are not covered by warranty. So only make adjustments here, if you are extremely knowledgeable in adjusting such settings.
Going to the "AMD Overclocking" section, we get our third warning that any damage caused by overclocking is not covered under warranty. Once you accept, you get a list of menu items giving you access to adjust various setting such as CPU, DRAM, Precision Boost, and voltages.
Under "Manual CPU Overclocking", you can adjust your CPU frequency, CPU Voltage, and also some CPU Core Count Control.
Under "DDR and Infinity Fabric Frequency and Timings" you can adjust various options for both your DRAM and Infinity Fabric.
In the "Precision Boost Overdrive" menu, you can enable/disable precision boost overdrive or customize a few more options by selecting "Advanced".
With the last 5 menu items, you can adjust various voltages such as SoC, VDDP, VDDG, and other Onboard voltages.
In the "PC Health" section you get a look at various voltages in the system.
Under the "Smart Fan 5" menu item, you can adjust various fan curves and setup temperature/CPU fan warnings.
Moving to the "System Info" tab, it displays information about the x570 AORUS Pro Wifi as well as your system language, processor information and your current set system time. Using the two menu items below, you can also see what devices are plugged in and use Q-Flash to update/save your BIOS.
Going to the "Boot" tab, you can adjust your boot priority as well as adjust various boot settings such as Fast Boot and LAN PXE Boot.
On the last tab, "Save & Exit", you have the choice to save/discard any change, boot a specific drive, or save/load other profiles.
You may have noticed that a few options throughout the BIOS had orange stars beside them. These stars can be added to any option using the "Insert" key when selected and what that will do is add them to your favorites list. The Favorites list can be accessed by clicking the "Favorites" tab or by pressing F11. When you go to the Favorites list, it will include any starred options, giving you a convenient spot to adjust settings you may use all the time.