Software
The x570 AOURS Pro WIFI makes use of the Gigabyte's APP Center ecosystem, which allows you to access all the installed system application in one place. We went ahead and installed all the ones available for the AOURS Pro WIFI, which totaled 13 different applications.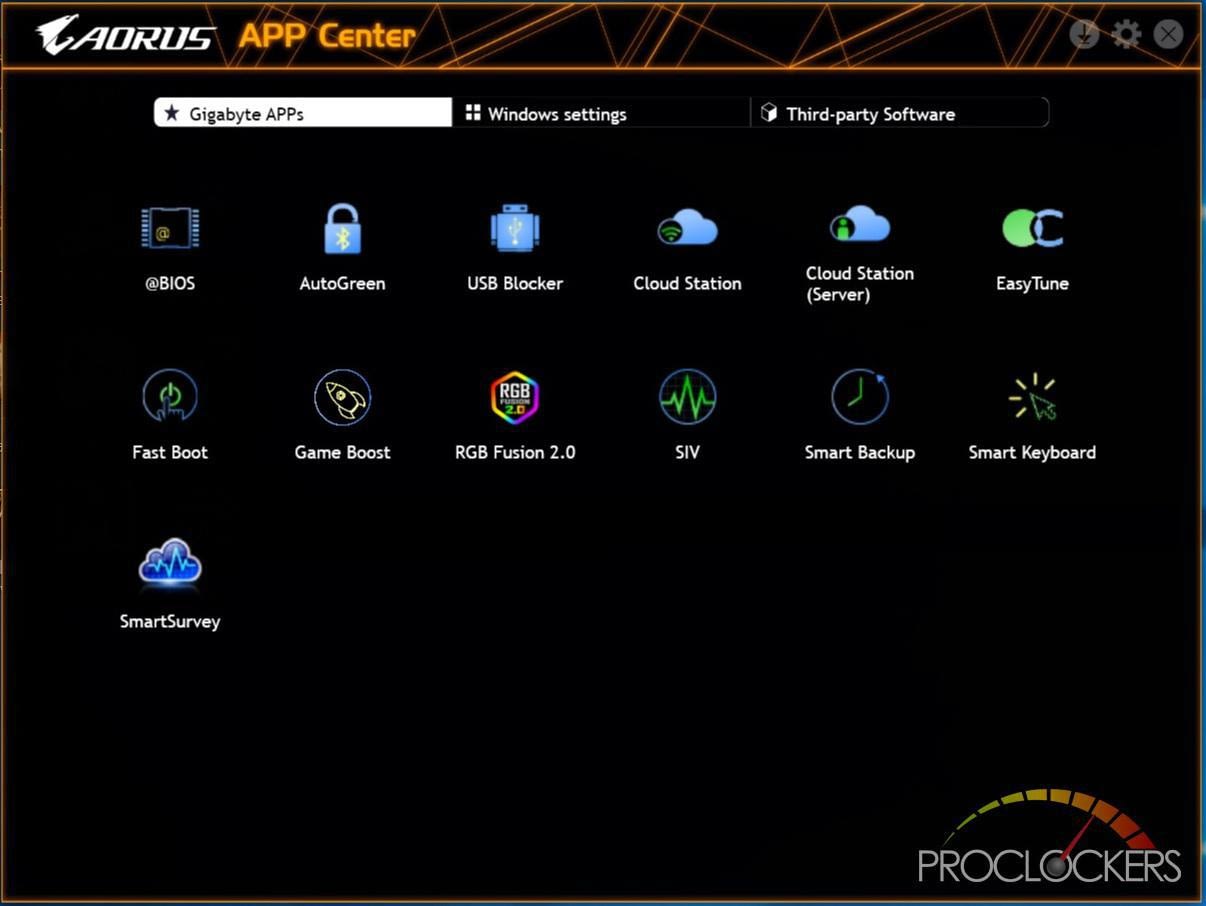 The APP Center also provides you with shortcuts to a variety of windows settings.
It also has quick launch links to your installed third-party applications such as our "Google Chrome".
@BIOS
Using the @BIOS application you can view and update the motherboard BIOS within windows.
AutoGreen
AutoGreen is an easy-to-use tool that provides users with simple options to enable system power savings via a Bluetooth-enabled smartphone/tablet device. When the device is out of the range of the computer's Bluetooth receiver, the system will enter the specified power-saving mode. Before using this app, you need to turn on Bluetooth on both your computer and smartphone/tablet device.
USB Blocker
Allows you to block certain types of USB devices which will be ignored by the operating system.
Cloud Station
Cloud Station Server is composed of HomeCloud, Gigabyte Remote, Remote OC, and HotSpot, which allow your smartphone, tablet device, and remote computer to communicate, share resources, and control the host computer via a wireless connection. Cloud Station allows your computer to share files with another computer that has Cloud Station (Server) installed.
EasyTune
EasyTune allows you to overclock your system within Windows and not require to go into the BIOS each time when changing your settings. This application would be good to help you find what overclock you can achieve. I recommend once you have found your optimal setting you then apply those settings to your BIOS.
Fast Boot
Allows you to enable or change your Fast boot settings within windows.
Game Boost
Game Boost will close unneeded application to prevent them from interfering with your game/system. Once you have applied Game Boost you get the option to revert which then will relaunch the closed applications.
RGB Fusion
RGB Fusion allows you to enable or change the display mode for the ambient motherboard LEDs.
System Information Viewer
This application displays your system's configuration and allows you to adjust various fan settings. On the system information tab, it displays your CPU/Memory configuration as well as your motherboard model and BIOS version.
The "Smart Fan 5 Auto" tab allows you to quickly configure your fans based on the profiles: Quiet, Standard, Performance, and Full Speed.
The "Smart Fan 5 Advanced" tab gives you the ability to apply your own fan profile.
Using the "System Alert", you can set up alerts for various voltage, temperature and fan thresholds.
If you are monitoring certain aspects of your system you can use the "Record" tab to monitor and graph various system attributes.
Smart Backup
Smart Backup allows you to back up a partition as an image file every hour. You can use these images to restore your system or files when needed.
Smart Keyboard
Designed to easily create keyboard macros.
Smart Survey
An application to send non-personal system information to Gigabyte. Also, give you an option to delete any data sent from Gigabyte's servers.